If you want to add value and appeal to your neighborhood, you might consider designing and building a new playground. A playground can provide the perfect space for family with young children to play and enjoy the fresh air. As you are planning your new playground, consider placing an aluminum fence around its perimeter. A company that offers fence installation serving Bergen County will be able to provide you with various fence designs that are perfectly suited for your playground. To help you embark on your project, here are some handy tips for designing a neighborhood playground.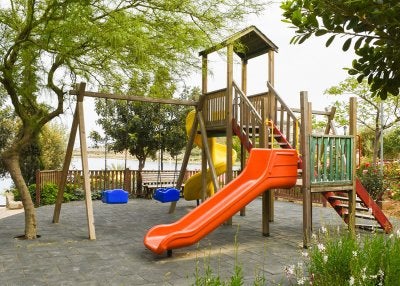 Find the Perfect Site
In order to design the perfect playground, you will need to find the right site for your installation. Ideally, your playground will be located in a park, school, or other outdoor area. You may want to find a site that is fairly flat so that you can easily install your play structures. It may also be beneficial to place your playground as far as possible from busy streets and intersections. If your neighborhood already has a central park, this may be the perfect site for your new playground.
Choose Your Play Structures
After you have chosen a site for your playground, you will be ready to choose the various play structures and other elements that can be used by children in your neighborhood. Today's playgrounds can be equipped with a variety of features, including slides, jungle gyms, spinning toys, and sensory environments. Consider asking other parents in your neighborhood about the elements that they would like to see in the new playground.
Plan for a Fence Installation
In order to keep children safe while they are at the playground, you may want to plan ahead to build a fence around the site. An aluminum fence can border the perimeter of your playground, and your durable fencing installation will prevent kids from wandering away during playtime. An experienced fencing contractor can help you build the perfect fence for your new playground.

You'll find premium vinyl fencing for your home in Bergen County at Anchor Fence Contractors, Inc. Homeowners often choose this material because it's aesthetically attractive, easy to maintain, and will last for years. We install all styles, including vinyl privacy fences. These tall, solid panels create a secure, private sanctuary in your front or back yard. Your children can play and your pets can roam free, without you having to worry that they'll wander off. These fences are equipped with a solid panel privacy gate.
If you would prefer the white picket fence look, we have quite a few options to choose from. Select a tall or short fence, either all the same length or with visually appealing height variations to add curves along the top silhouette. Our experienced contractors also install decorative vinyl fences. These feature solid panels for privacy, with decorative latticework on top. Whichever option you choose, you can rest assured you'll receive high-quality materials and expert installation from our team of in-house installers.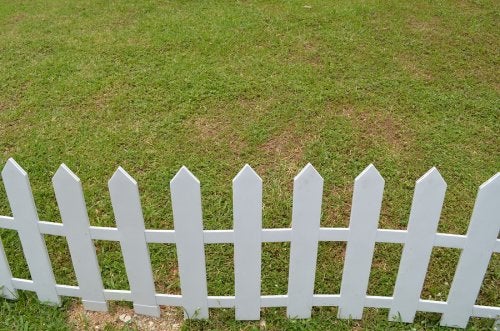 Gate styles should match the fencing on your Hillsdale property. The gate will be made of the same material, color, and design as your fence to provide a cohesive and attractive appearance to the entire property. If you are installing both the gate and the fence, then you have the chance to design an attractive gate that will complement your home and property. Let's take a closer look at how to choose a gate style for your fence.
Find a gate style that matches or complements your fence design. If you have a white vinyl fence, then your gate style should be of the same height, color, and design.
Consider adjusting the look of your entire fence to match your new gate. For example, most wooden fencing can be repainted or stained to match the color of a new gate. Ensure the gate is the same height and cut as the rest of the wooden fence.
If you have a standard metal fence, then your gate can have more intricate designs. If you wish to add more color, then install wooden slats between the metal bars.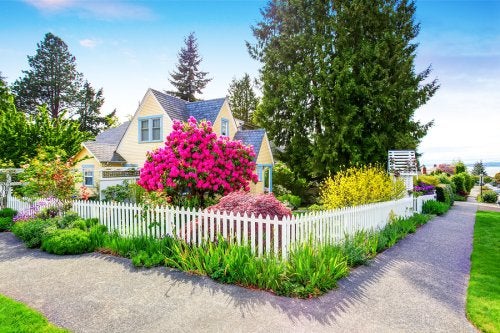 Vinyl fencing is a strong and dependable type of fencing in Bergen County. It can withstand adverse weather conditions and other damaging elements, such as warping. You can keep your vinyl fence in great shape for years to come with minimal maintenance. Spraying the fence with water and wiping down mild stains are simple ways to keep your vinyl fence looking beautiful and functional for years to come. Here is a quick look at how to make the most of your vinyl fence: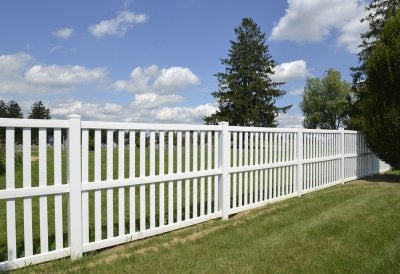 Remove Daily Buildup
It is important that any type of fencing be free of dirt and dust buildup. These damaging particles gather on your fence every day. Over time, your white vinyl fence will look dingy and dirty, and you may notice that the fence hardware deteriorates more quickly. You can prevent this unattractive and damaging buildup by spraying water and wiping down your fence. Ensure that water stains do not collect on your vinyl fence by spraying soft water or using a clean, dry cloth to wipe down excess moisture.
Use a Mild Detergent
There may be times when a mild stain develops on your fence, and spraying it with water will not erase the stain. Use a mild mixture of soap and water to wipe down stains. Use a clean cloth to scrub at these stains until they disappear, and use a dry cloth to remove the moisture. It is important to use a very mild soap to ensure your vinyl fence is not damaged.
Maintain Nearby Landscape
Your nearby landscape should be well-maintained to ensure the continued health of your vinyl fence. If you have overgrown plants or weeds near your fence, then you risk more dirt, dust, and damages to your new vinyl fence. Keep your landscape trimmed and away from your fence. Be careful while trimming and mowing your landscape. Your vinyl fence can be damaged by your lawnmower or gardening shears, so always be aware of how you are maintaining your fence's surroundings.

Whether you are trying to keep pets in your yard or give your property a new look, new fencing in Bergen County can help. Fencing contractors can help you find the perfect choice of fence for your home, improving its resale value as well as your appreciation for your living situation. Aluminum, wood, and chain link are 3 of the most common choices, and each of them works best in different situations. Take a look ahead if you are interested in exploring some of the popular residential fencing options.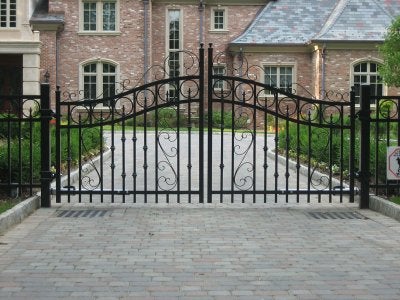 Aluminum
Are you looking to complete your modern home design? An aluminum fence might be the knot that ties your design scheme together. There's not much maintenance to do with this type of fence, and you can expect it to hold up year after year. The durability that aluminum fences provide will also increase the security of your home, which can make your family feel safer and make your home more valuable should you decide to sell it in the future.
Wood
If you're looking for an organically beautiful fence to add to your yard, wood might be the way to go. This type of fencing works particularly well if your home has a traditional design, and it can substantially increase the curb appeal and overall value of your home. You can also apply different stains to your fence to change its appearance. However, wooden fences do require more maintenance than most other materials. If you are looking for a naturally attractive fence and you don't mind putting in the maintenance work, talk to your fencing professional about a wood fence.
Chain Link
People tend to choose chain link fences for practical reasons rather than aesthetic, but that's not to say that you don't have viable options if you want a chain link fence for your property. These types of fences are durable and extremely low maintenance, making them a great choice for both commercial and residential spaces. A chain link fence can enclose your front yard as well as keep your pets and children away from the pool when you're not outside to watch them.

Once you've decided that you'd like to invest in a new Bergen County fence, you'll have to decide what type of material you are looking for. Each type of fencing material comes with its own advantages, and PVC fencing comes with a ton. This type of fencing is easy to maintain, which means it will keep up its appearance throughout its long working life. Vinyl fences also offer an extra level of privacy that other types of fences cannot. Take a look ahead to learn all about the benefits of installing a vinyl fence .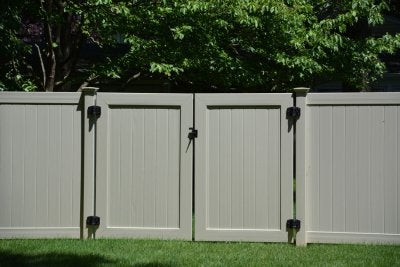 Maintenance
You can find a beautiful fence in any material, but some require much more maintenance than others. If you don't see yourself having time to maintain your fence, but you don't want your curb appeal to suffer either, then consider looking into vinyl fencing. All it takes to maintain your vinyl fence is a quick hosing down. This makes it an excellent choice for people with busy schedules and those who have trouble getting around. Your vinyl fence will retain its aesthetic appeal with a minimal amount of upkeep. Thanks to the versatility of vinyl fencing, you can even put up a fence that looks just like wood without any of the maintenance.
Durability
An investment that pays off for a long time is a good one, and vinyl fencing is built to last. Vinyl fencing is actually even stronger than wood, and it doesn't absorb moisture. You won't have to worry about how the elements will affect your PVC fence like you would with other materials, which also grants you some peace of mind. If you're looking for a durable fence that looks great and is easy to maintain, consider vinyl.
Privacy
Aluminum, wood, and picket fences can all add appeal to your home, but it's tough to beat the versatile options that vinyl fencing provides. Since the posts in your vinyl fence can be as close together or as far apart as you want them to be, you can control exactly how much privacy you have in your yard.

Polyvinyl chloride, also known as PVC or vinyl, is a popular fencing material. It can stand up to harsh weather, sun damage, and requires minimal maintenance throughout its long lifetime. If you are considering a vinyl fencing installation in Bergen County, then trust the process to your professional fencing contractors . Professional contractors have the necessary equipment to give you a quick and proper fence installation. Continue reading for more reasons why your vinyl fence installation should be left to the professionals.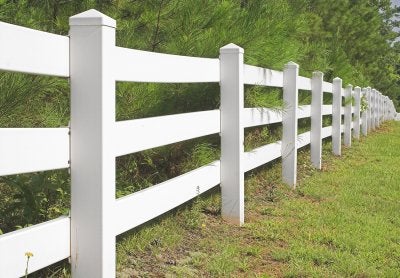 They will use the proper equipment.
By trusting professional fencing contractors with your vinyl fence installation, all of the necessary and proper equipment can be used. Fencing contractors have the right equipment—such as shovels and post stabilizers—to offer you a strong and stable fence installation. If you try to do a fence installation yourself, then you risk leaving a damaged or improperly installed fence on your property. This could lead to greater repair and replacement costs in the future.
They will provide a quick installation.
In addition to using the proper equipment, fencing contractors can quickly install your PVC fence. With professional-grade equipment and resources, your professional contractors can have your new fence installed in a matter of hours or days, depending on the length of the fence and nature of your property's terrain. This installation time is very short, especially in comparison to how long do-it-yourself installations may take. Fencing contractors have years of experience and training to quickly, efficiently, and correctly install your new PVC fence.
They will use the best fencing materials.
Working with fencing contractors will also ensure that you receive the best fencing materials. Professional contractors will work with you to provide the right color, design, and type of fence to suit your personal preferences and landscape terrain. These professionals offer in-depth consultations so that you will be completely satisfied with the fencing materials and the installation. This dedication ensures that you will end up with the best vinyl products and fence installation.

If you have considered installing an aluminum fence in your Hillsdale yard, then you have picked one of the most sturdy and low-maintenance fencing materials on the market. Aluminum fencing is one of the most popular materials because it creates beautiful, ornamental fences which are sturdy and long-lasting. On top of these many benefits, aluminum requires very little maintenance. Here is a closer look at what you should know when it comes to maintaining your aluminum fence:
There are many types of metal fences, but not many compare to aluminum. Aluminum is the most prevalent metal found on earth, and it is one of the easiest to work with and shape. It is also resistant to rust, which is a great addition to have in your next fence. Since your aluminum fence will not rust, it will not degrade or become damaged like other fencing materials. It also does not need to be repainted or coated with a sealant, which makes it very low-maintenance. To care for it properly, you will want to use a mild cleanser, clean rag, and a hose when you notice your fence becoming dirty or dusty.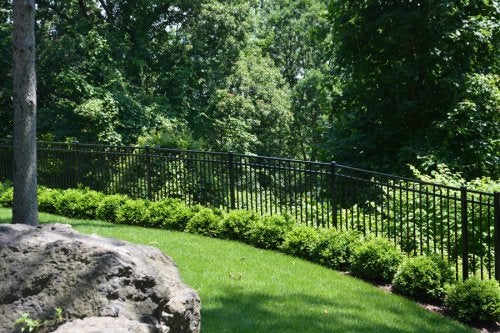 When it comes to adding a fence to your house, there are several factors to consider. If you're wondering if your property could benefit from the installation of a vinyl fence in Bergen County , then continue reading to learn what signs can mean that this type of fence is right for your home.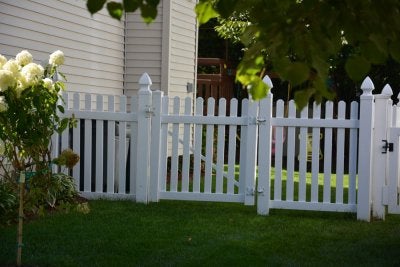 You want low-maintenance fencing.
Wood is a popular fence material that can give a property a more natural look and a rustic charm. However, wood fencing requires yearly upkeep to maintain its good condition. Unlike vinyl fences, those made from natural wood are vulnerable to warping, termites, fungus, and rot when not properly maintained.
You love traditional white picket fencing.
A white picket fence is still one of the most popular types of fencing for residential front yards, and this classic look can enhance the curb appeal of your property while at the same time adding a bit of security and keeping pets and people from wandering into your yard. Vinyl fencing comes in a broad range of designs that mimic the look of a wood picket fence but that require less maintenance.
You want fencing that looks attractive.
There are several reasons why homeowners choose to install vinyl fencing, and one of them is that this material is often aesthetically pleasing. Vinyl can do much more to enhance the look of your property than chain link fences can, and it is also available in a broad range of colors to match your home's exterior or your landscape design. Furthermore, you can find vinyl fences in styles that differ from many natural wood options.
You want more privacy for your home.
If you're like many people, then you like to make the most of your backyard by swimming, lounging, and entertaining guests. If this sounds like you, then you can probably benefit from the installation of a vinyl privacy fence. These popular options are tall and have no space between the slats, meaning that you can enjoy your backyard in greater comfort and privacy.

When you are ready to beautify your yard with a vinyl fence in Hillsdale , call the professionals to make sure the job is done correctly and safely the first time. In this video, you'll get a peek at what happens during the vinyl fence installation process.
Before fence installation begins, you and your fence contractor will determine where the corners of the fence will be. It is essential to plan ahead so that your fence runs parallel to other lines on your property, such as the curb or the driveway. The fence company will use professional equipment such as a power auger to create the holes in which the fence posts are rooted. Once your PVC fence is installed, you'll enjoy benefits such as minimal maintenance and a more private property.
Archives
2017
2016
2015
2014