Bergen County fences can hold up for years to come, but some need a little extra maintenance to keep up their looks. A wooden fence is a good example of a material that might need more maintenance than a vinyl or metal fence. You will also need to be careful not to damage your fence when you clean it, which means you should use the safest materials possible and do a little research so you know what you're doing. Continue to find out the best way to clean a wood fence.
Elements like the sun, the rain, and other forms of precipitation can take a toll on your wooden fence, leading to cracking and warping. Keep your fence in shape by giving it a thorough cleaning every so often. Apply a safe cleaner that's designed for fences to the surface of your wooden fence, and leave the cleaner on for about 15 minutes. Then, you can scrub or pressure wash the fence to work the cleaner in. After you've covered the whole fence, it's a good idea to have it stained or sealed for extra protection from ultraviolet rays, rain, and other harmful agents.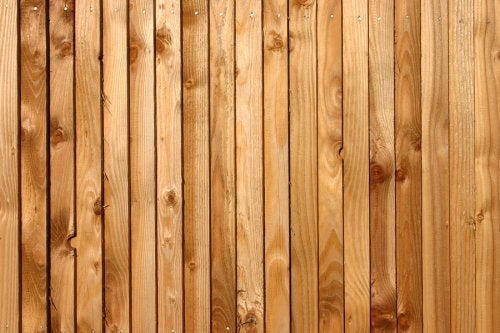 The right fence design may be just what your home needs . It can improve your curb appeal, increase the value of your home, and even help keep your family safe. The best part is that even though there are many different types of Bergen County fences, they can all offer a wealth of advantages. Your fences can keep burglars and criminals away from your house and keep children close to home, while also providing you with more privacy. Here's a closer look at the security advantages of a home fence: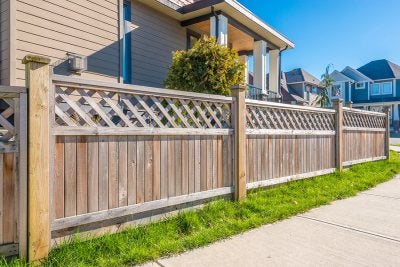 Stay Protected from Burglars
A fence is essentially a barricade that divides an area into separate sections. If you're worried about burglars and vandals attempting to cause trouble on your property, this type of barricade can be extremely helpful. Uninvited parties typically try to keep their presence unknown. If you keep your fence locked, the only way for criminals to intrude is to break the lock or climb over the fence. This will at least slow the criminals down and potentially discourage them from going through with the intrusion. Aluminum fences can also be difficult or even impossible to climb, so they might not even be physically capable of breaking in.
Keep Children Safe
Children are curious, and this sometimes leads them to venture away from home to explore. If you'd like to make sure your kids stay where you can keep an eye on them, a new fence can help. Not all kids are the sneaky type, and some children may just recognize the fence as a barrier that they're not allowed to cross without an adult. A great use for a security fence like this is surrounding your pool area to prevent injuries.
Enjoy More Privacy
It's important to feel secure and comfortable in your home. If you feel like you're too exposed when you spend time in your yard, consider adding a fence for comfort and security. This can also be helpful if you have large windows but you don't want to spend the money on bulky window treatments for them.

There are many ways to enhance your curb appeal , and there are many ways to keep your home safe and secure. Bergen County fences can accomplish both feats, but it's your job to choose the right type of fence for your property. If you want to improve the look of your home from the street, the color you choose for your fence design will play a role. Keep reading if you'd like some tips on choosing a fence color that will enhance your curb appeal.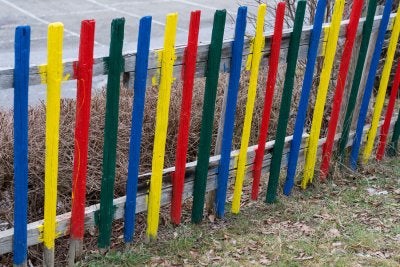 Consider the Effect on Maintenance
You're probably aware that different types of fence materials have different maintenance requirements, but did you know that your color selection may have an impact, as well? If you want a fence that can enhance your curb appeal without demanding an unreasonable amount of maintenance, you might want to steer towards darker colors. White fences can be beautiful, but it's much easier to notice dirt and grime on a white background than on a dark brown or black one. If you don't have the time or energy to afford your fence much maintenance, consider choosing a darker color.
Look at Your Existing Home Design
If you don't have any idea where to start when it comes to fence colors, stand on the curb and look at your house. Notice the colors of your roof, your shutters, your siding, and your front door. Pick a few different color options, take some samples, and see how you feel about each one within the context of the home design that you have already established.
Think About What You Want Out of Your Fence
Not everyone has the same opinions regarding what adds to and what takes away from your curb appeal. If you want to be on the safe side and make sure you keep the neighborhood happy, consider a fence color that fits in nicely with your neighbors' fences. If you're looking to stand out from the rest of the block, on the other hand, then you can choose a bolder color for your fence.

Your fencing in Bergen County can add quite the boost to your curb appeal, but you can take your fence design to the next level by adding a personal touch. Planting some flowers against your fence can increase your curb appeal and your enjoyment of your property. Watch this video for tips on planting roses along a fence.
If you want to complement your outdoor design with a few rosebushes, start by planning where you'll plant them. You should leave a few feet of space in between bushes, as they'll fill out as they grow and become established. Don't plant them too deep below ground level so they can soak up plenty of moisture when you water them. Keep in mind that vining roses should be woven into the fence, and you should fertilize your vining roses or rosebushes every couple of months so that they will thrive.
Archives
2017
2016
2015
2014