Before your residential fence installation in Bergen County , you may have a few questions. Fencing material, longevity, and maintenance are just a few concerns that typically pop up when planning out a new fence. Continue reading for some answers to the common questions you might have about your upcoming fence installation.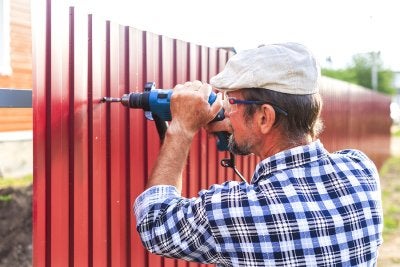 Which material is best for my property?
There are many types of fencing materials—wood, vinyl, aluminum, and chain link. Each of these materials have their attributes and drawbacks when it comes to residential fence installations. For example, vinyl fencing is low maintenance and comes in a variety of colors. Chain link fencing is inexpensive and secure, but it may not be as appealing in looks as a wood or ornamental fence. Consult with your fence company about the right fence material for your property.
How long will my fence last?
The longevity of your fence depends on the material you choose and how well you maintain it. With the right maintenance, professional repairs, and weather conditions, your fence can last for several years.
What will the upkeep entail?
Your maintenance requirements will differ depending on your fencing material. Wood fences typically require regular staining to keep the wood from rotting, warping, or splitting. Chain link may need a low-maintenance cleaning to reduce rust. Aluminum and vinyl require very little to no maintenance.
Should I tell my neighbors?
Depending on your neighborhood's policies, you may or may not need to inform your neighbors, but it is considered common courtesy. If your new fence installation will border your neighbors' property, then consult with them about your plans. They may wish to contribute to the installation or have some suggestions.
Should I call a fence company?
If you are tempted to start a do-it-yourself fence installation, then think again. Installing a new fence requires expertise in landscaping, leveling, and the fencing materials. To get a new fence installed correctly and quickly, call your local fence company.

When deciding on the color and style of your Hillsdale vinyl fencing, you have several options. Vinyl fencing can come in a variety of colors and styles , making it an ideal fence installation for any home. Let's take a look how you can select the right color and style for your home's new vinyl fencing.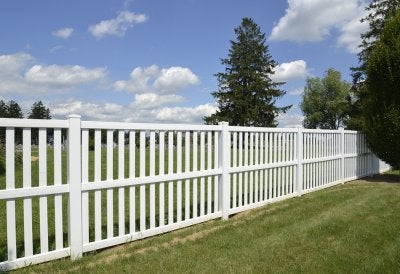 Review Neighborhood Policies
Many homes are part of a neighborhood or homeowner's association, sometimes called a HOA. Part of a HOA's job is to monitor the colors, designs, landscapes, and much more of a home's property, including a fence installation. Before you can have any new fencing installed, check with your neighborhood's regulations to see if there are specific requirements about the color and style of a new vinyl fence.
Check with Your Neighbors
As a common courtesy, it is nice to speak with your neighbors about new fencing, especially if that fence will be shared. Your neighbors may have some requests—such as not painting their side or choosing a style to complement both homes—so try to accommodate them as much as possible.
Match Your Home
After you have been given permission to install a new fence, look for the right fence design and color to match your home. For example, a rustic-looking home will match a brown, slatted vinyl fence over a white vinyl fence. Victorian and cottage houses will look best with short, white vinyl picket fences. Consider the style and color of your home to help you choose the right vinyl fence design. Ask your fence company for suggestions and look at different pictures of your house's style for ideas.
Complement Nearby Surroundings
Choose your fence color and style to encompass your neighborhood's style, but it should also incorporate your nearby landscaping. If you live in an urban area, then you may be able to choose a modern fence design with brighter colors. However, if you live in a quiet neighborhood surrounded by nature, then you should look to more natural colors, such as tan, brown, or dark green.

There are many reasons for a new fence installation in Hillsdale, such as keeping deer from eating away at your beautiful garden. If you wish to keep your yard looking beautiful to you and your neighborhood, though, consider installing an aluminum fence to deter deer from your yard. Here are a few tips that can help keep the deer out of your yard and keep it looking beautiful:
Technically, most fencing materials will protect your yard from deer, but aluminum will keep the yard visually open for you and the neighbors to see regularly. Just be sure your aluminum fence is tall to deter certain deer species that can jump great heights.
Plant pungent herbs and flowers near the fence border to deter the deer. These plants include garlic, lavender, and mint that will mask the odors of appealing plants nearby.
Keep your yard cleaned and trimmed; this will deter deer from munching on your grass. This will also keep your yard beautified through your new metal fence.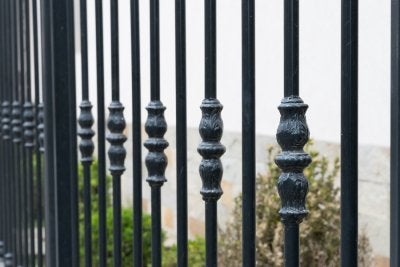 Have you noticed that your wooden fence in Bergen County seems a bit wobbly and unstable? If your answer is yes, then you may want to call your fence company right away for repairs. When your fencing sways or seems unstable, then you may have rotten fence posts that need to be replaced.
As you can see in the video, wooden fence posts can become rotted underground. This is typically due to excess moisture leaching into the fence posts from the surrounding area. If you have actually seen rot on the lower ends of your wooden fence posts, then you may have a more serious problem. In addition to routine maintenance, your fence company should come out to inspect and repair your fencing on a regular basis.
Archives
2017
2016
2015
2014