Quality Commercial Fencing
Bergen County Commercial Fence Installation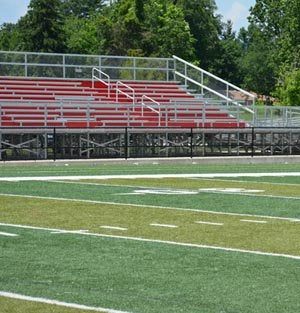 At
Anchor Fence Contractors Inc, we understand how important it is for you to keep your business secure
and safe and to have your privacy. We provide exceptional commercial fencing
services in Bergen County, giving you the protection you need at an affordable
cost. Our extensive fencing options for commercial buildings allow you
to feel comfortable that your business is safe and protected. It also
gives you the confidence to know it is aesthetic and does not draw away
from your building.
Our commercial fencing options include:
Wood Fencing
Ornamental Fencing
Aluminum Fencing
Backstops
Tennis Courts
Athletic Fields
Golf Netting
Motorized Gates and Access Controls
Temporary Fence / Rentals
Basketball Systems
If you own your own business, you clearly know a thing or two about making
investments for your future. A fence for your building can take part in
your investment by protecting the business you've worked so hard to
build. Call us today at (201) 722-0789 to learn more about your fencing options!
NJ Certified Home Improvement Contractor: License #13VH00674300 | New York State Rockland County License #H-10963-12-00-00
Why Choose Us?
Quality Product & Workmanship
Veteran & Family Owned & Operated
All Fence Installers Are Employees (No Subcontractors)
Knowledgeable Estimators with Years of Experience in the Fence Industry
Fully Licensed & Insured
Full Office Staff
Commitment to Honesty & Fairness