A fence can be a great addition to your property, whether you are looking to improve your curb appeal or you want to make your yard safer for your kids and pets. When you are choosing a fencing material for your yard, you have a number of options, including wood, aluminum, and PVC fencing in Bergen County . PVC is one of the most popular options for fencing, and for good reason. It is strong, durable, and comes in many different colors to match your aesthetic desires. Keep reading to learn more about choosing the best PVC fence for your property.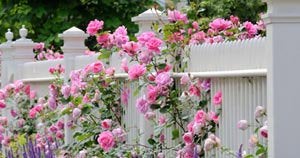 Determine Your Goals
Fences can do a variety of different jobs, so before you have one installed on your property, consider what you want yours to do. Your new vinyl fence can delineate the property boundaries between you and your neighbors; this can be accomplished with any style of fence. If you want to secure your yard so you can let your pets out without a leash, you'll need a PVC fence that is tall enough to hold your pets in even if they jump. You may also want a privacy fence so that you and your family can relax without feeling like you have the eyes of the neighborhood on you. Once you know why you want a fence, you can choose the best style for you.
Understand Fence Maintenance
One of the reasons that PVC fencing is so popular is that it requires very little maintenance to keep it looking great for years to come. Unlike certain other fencing materials, PVC won't rust, corrode, or warp in the wind and rain. Simply hosing down your vinyl fence should be enough to keep it looking good. If there are areas where it is dirtier or scuffed, you can use a diluted solution of warm water and soap to address these spots. Use bleach and water if you notice any mildew growing on your fence.