When you are preparing for a new fencing installation, you will have many factors to consider. Along with choosing a vinyl fence or metal fence material that meets your specifications, you will also need to figure out the perfect layout for your installation. A company that offers fencing in Bergen County can help you determine where your fence should be placed on your property. By following local restrictions regarding property lines and fencing, you can avoid a fine. Here is a look at how to determine whether your fence can be placed along your property line.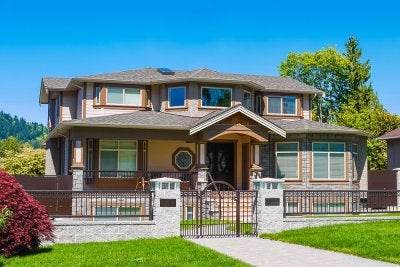 Schedule a Survey
If you want to place your fence as close as possible to your property line, you will need to make sure that you have your property line mapped correctly around your yard. In order to stake out the exact dimensions of your property line, it may be necessary to schedule a professional survey. During the survey, a team of technicians will use special equipment to figure out where your property line sits around your home.
Examine Local Regulations
Determining whether or not to place a fence on your property line may also be affected by your local regulations. Certain cities and counties have setback restrictions, which require homeowners to place their fences at a certain distance back from their property lines. If you are uncertain whether setback restrictions apply to your fencing installation project, do not hesitate to contact your local authorities.
Talk to Your Neighbors
Once you have surveyed your land and checked out your local regulations, your final step should be to have a conversation with your neighbors. When you build a fence right along your property line, you will be creating a border along their backyard, as well. If your neighbors are happy with your fencing installation plans, you should feel free to go ahead and begin construction. In the event that your neighbors feel that your fence may be encroaching on their property or view, you will need to reach an agreement prior to your installation.

Whether you've got a new vinyl, wood, or aluminum Bergen County fence, you can decorate it however you'd like to . You can add climbing plants to your metal fence, or you can use items like birdhouses to attract animals. You can also use your fence as a backdrop for a mural, which will add a perfectly unique flair to your backyard or place of business. A fence can be great during the holidays as well, and it will give you a place to hang up your decorations and beautify your house in celebration. Read on for some creative ways to decorate your new fence.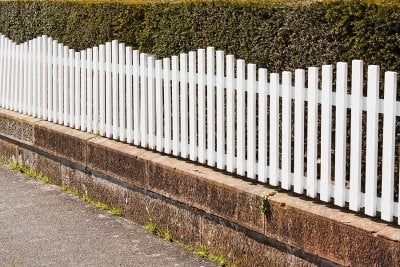 Plants and Animals
Depending on what kind of fence you go with, you might be able to adorn your new investment with climbing plants. Vines can fill in your slats and add more privacy and flair to your yard. You might also consider putting in a birdhouse, attracting some wildlife to the backyard and giving them a place to enjoy themselves. When you add a new attraction like a fence to your property, you can expect all kinds of species to show up.
Mural Backdrops
Whether you are friends with a professional artist, you have a knack for visual art, or you want to let your children express themselves, your fence could be a great place for a mural. You can commission a mural on the inside of your fence where it faces towards your yard, or you could talk to your neighbors and create a mural on the outside of your fence that brightens up your curb appeal. This is an interesting and unique way to add your own personal touch to your living space or add to the brand at your place of work.
Holiday Celebrations
It's always nice to see a house that's decorated for the holidays when you're driving around, and your fence gives you an extra opportunity to be festive. You can hang Christmas lights or an inflatable menorah during the winter months, red, white and blue decorations during July, or classic ghosts and pumpkins during October.

Gate styles should match the fencing on your Hillsdale property. The gate will be made of the same material, color, and design as your fence to provide a cohesive and attractive appearance to the entire property. If you are installing both the gate and the fence, then you have the chance to design an attractive gate that will complement your home and property. Let's take a closer look at how to choose a gate style for your fence.
Find a gate style that matches or complements your fence design. If you have a white vinyl fence, then your gate style should be of the same height, color, and design.
Consider adjusting the look of your entire fence to match your new gate. For example, most wooden fencing can be repainted or stained to match the color of a new gate. Ensure the gate is the same height and cut as the rest of the wooden fence.
If you have a standard metal fence, then your gate can have more intricate designs. If you wish to add more color, then install wooden slats between the metal bars.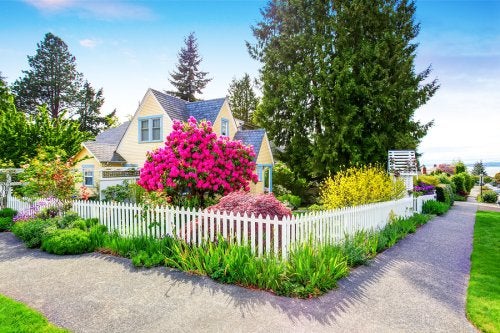 Whether you would like additional privacy from your neighbors, or you want to make sure that your backyard is totally secure, a new fence installation may be right for your needs. A brand new aluminum fence or chain link fence will enhance the safety, privacy, and beauty of your backyard. With services from a fence company that installs fencing in Hillsdale , you can receive valuable information about every aspect of your fence installation. To help you prepare for your upcoming fence project, here is a look at some essential facts that you need to know about residential fences.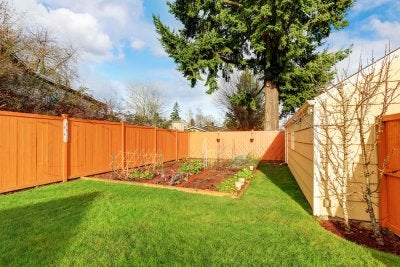 Choosing a Fence Material
When you are planning a new fence installation for your yard, you will need to select a fence material that meets your requirements for budget, style, and durability. If you want the ultimate in longevity, you may want to install an aluminum or chain link fence. Wooden fences are more susceptible to wear and tear than metal fences, but a wooden fence may provide your backyard with a better look and feel.
Determining Fence Placement
Another important aspect to consider when you are installing new residential fencing is where your fence needs to be installed throughout your yard. Depending on the laws and regulations that affect your local area, your fence may need to be placed at a certain distance from your neighbor's property line. Before you install a new residential fence, it is also courteous to inform your neighbors about your intention to fence the border between your property and theirs.
Hiring a Fence Contractor
Even though installing a new residential fence may seem like a fun DIY project, you will achieve much better results if you take the time to hire a fence contractor for your project. Your fence contractor will know how to properly place and install your fencing materials, and he will make sure that your fence is durable enough to withstand wear and tear from the elements. Hiring a fence contractor will also save you time and energy in the long run.

If you have been considering installing an ornamental fence in Hillsdale , then you will want to speak with your fence company about aluminum fences. Many decorative fences are designed out of aluminum because it is an easily customizable material. Aluminum fences are also strong enough to withstand intricate, decorative work and maintain their integrity as a functioning fence.
There are many options available when designing your decorative fence. Most often, your fence will feature long, strong aluminum rods or slats. In addition to these rods, though, you will have many options to make the fence more original to your property and your family. Many homeowners may request a specific design or curve over the rods. They may also commission a customized gate to match the decorative fencing. Aluminum fences are easily formed into almost any shape or design you may desire. Speak with your fence designers and installers about how to design the right fence to represent you.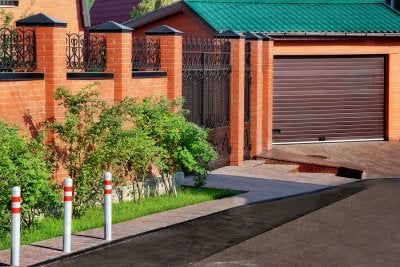 If you have been looking for fencing in Hillsdale, then you have probably heard about Anchor Fence Contractors. As one of the leading fence installers in New Jersey since 1999, Anchor Fence Contractors has all of the necessary credentials and experience to provide its customers with exceptional fence materials and installations.
Anchor Fence Contractors has a great deal of licenses and training in order to give customers peace of mind. Anchor Fence is certified by New Jersey and New York as a home improvement contractor. Anchor Fence has also been certified by official organizations, known as NYSCA, NJSDA, and DPMC as qualified contractors. As a leader in safety, Anchor Fence also requires 30-hour training in OSHA standards to all of its employees. On top of these impressive credentials, Anchor Fence Contractors is also fully insured and employs all of its workers, meaning they do not hire out to subcontractors. To learn even more about how qualified Anchor Fence Contractors is, and how its employees can help you, call today.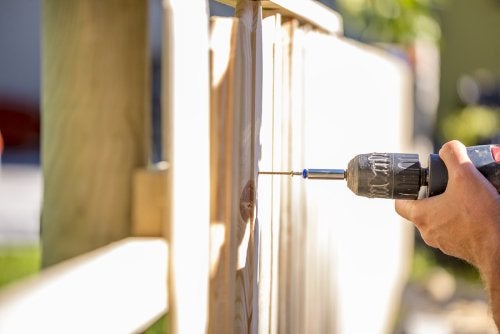 Installing a new fence is a major project for any homeowner. Whether you are looking for a luxurious privacy fence or you would like to boost your security with a chain link fence, you will have many different fence design options to choose from as you are planning your project. A company that installs fences in Bergen County can answer all of your questions about the various fencing materials that are available for your installation. To help you do your research in preparation for your upcoming fence project, here is a closer look at some of the different types of fencing materials.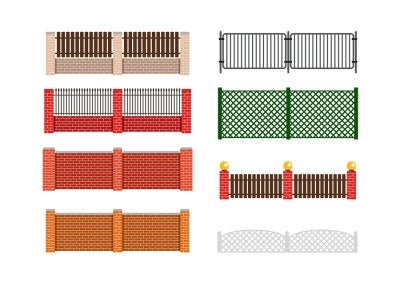 Wood Fencing
Wood fencing is among the most popular fencing materials that are available for today's properties. Many homeowners choose to install wood fences because they are drawn to the beauty and exceptional quality of natural wood. When you are planning a wood fence installation, you can design your new fence to pair beautifully with the exterior style of your home. However, if you are searching for a low-cost fencing material, wood may not be the best choice for your project.
Vinyl Fencing
With a new vinyl fence installation, you can achieve the beauty of natural wood, but at a lower cost. Vinyl fencing is also completely weather-resistant, so you will be required to perform little to no maintenance after your installation has been completed. Your new vinyl fence can also mimic a variety of fence styles, including a picket fence or wooden fence. The exceptional strength of vinyl fencing makes this fence material a great choice for any homeowner.
Chain Link Fencing
For those homeowners who are seeking a fence that favors function over style, chain link may be the ideal material. Chain link fences are extremely durable, and can be used to fully secure all or part of a property. By erecting a chain link fence on your property, you will send a clear message that you are keeping unwanted visitors out of your yard.

Fences in Bergen County are not just for surrounding your yard or your pool area; they can also serve as barriers that allow or deny access to your driveway. Just like there are many different types of fences, there are several different kinds of driveway gates as well. The right type of driveway gate will function smoothly while complementing the existing design scheme that your house displays. Read on for a quick look at some of the different driveway gate designs.
Gate Material
Whether your fence is at the end of your driveway or surrounding your backyard, material is one of the most important aspects. The type of material you choose may impact the necessary maintenance that you must offer your fence or gate, and it can have a pronounced effect on the aesthetic value of the structure. Driveway gate designs are typically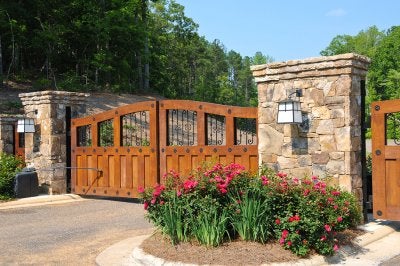 made of wood or metal. A metal driveway gate can offer an elegant and contemporary aesthetic that does not inhibit the passing of light; this means that your view will be relatively unobstructed, as will the view of your house by passersby. Wood fences tend to provide more privacy and are better suited for more traditional, rustic homes. Keep in mind that wood driveway gates may require some extra maintenance.
Opening Mechanism
A driveway gate may open in a number of ways: It may swing open to one side, swing open from the middle, or slide open. If you like the design that swings open to one side, it is important that you have enough room for it to make a path. Doors that meet in the middle and both swing open will require less room, and sliding driveway gates do not require any clearance room at all.
Prefabricated Versus Custom
If you are not entirely sure what you want out of your driveway gate design, you may want to go with a prefabricated choice. If you have elaborate plans for the gate of your dreams, on the other hand, a qualified fencing company can help you make those dreams your reality.
Archives
2017
2016
2015
2014