Whether you are trying to keep pets in your yard or give your property a new look, new fencing in Bergen County can help. Fencing contractors can help you find the perfect choice of fence for your home, improving its resale value as well as your appreciation for your living situation. Aluminum, wood, and chain link are 3 of the most common choices, and each of them works best in different situations. Take a look ahead if you are interested in exploring some of the popular residential fencing options.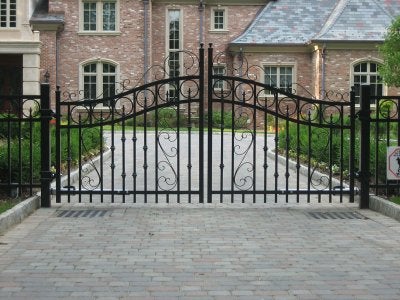 Aluminum
Are you looking to complete your modern home design? An aluminum fence might be the knot that ties your design scheme together. There's not much maintenance to do with this type of fence, and you can expect it to hold up year after year. The durability that aluminum fences provide will also increase the security of your home, which can make your family feel safer and make your home more valuable should you decide to sell it in the future.
Wood
If you're looking for an organically beautiful fence to add to your yard, wood might be the way to go. This type of fencing works particularly well if your home has a traditional design, and it can substantially increase the curb appeal and overall value of your home. You can also apply different stains to your fence to change its appearance. However, wooden fences do require more maintenance than most other materials. If you are looking for a naturally attractive fence and you don't mind putting in the maintenance work, talk to your fencing professional about a wood fence.
Chain Link
People tend to choose chain link fences for practical reasons rather than aesthetic, but that's not to say that you don't have viable options if you want a chain link fence for your property. These types of fences are durable and extremely low maintenance, making them a great choice for both commercial and residential spaces. A chain link fence can enclose your front yard as well as keep your pets and children away from the pool when you're not outside to watch them.

An aluminum fence in Bergen County can be as functional as it is aesthetic, making it a worthwhile investment for homeowners . However, how do you find out what kind of pool fence is right for your property? Aluminum fences are sturdy, aesthetically pleasing, and versatile. On top of that, they are easy to maintain and can stand the test of time. If you are looking for a way to close off your pool area while also improving the look of your yard, keep reading and find out how to choose your aluminum pool fence.
When you set out to find a new fence, it helps to start by thinking about your needs—you can worry about the design details afterwards. If you have small children and pets that you would like to keep out of the pool area when they're unsupervised, an aluminum fence may be the right solution. Make sure the fence you choose is tall enough that your pets can't jump over it, and the bars should be close enough together that kids and animals can't squeeze through them. In terms of design, look at your yard and think about what style best suits your taste.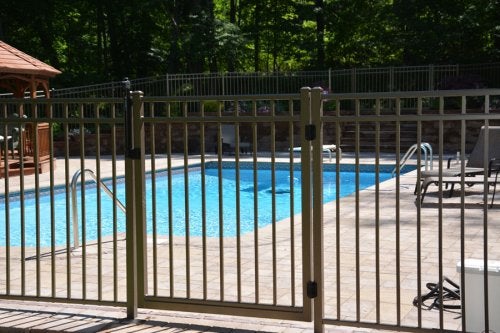 Once you've decided that you'd like to invest in a new Bergen County fence, you'll have to decide what type of material you are looking for. Each type of fencing material comes with its own advantages, and PVC fencing comes with a ton. This type of fencing is easy to maintain, which means it will keep up its appearance throughout its long working life. Vinyl fences also offer an extra level of privacy that other types of fences cannot. Take a look ahead to learn all about the benefits of installing a vinyl fence .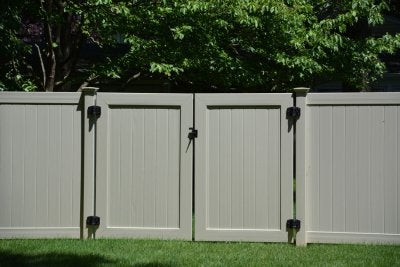 Maintenance
You can find a beautiful fence in any material, but some require much more maintenance than others. If you don't see yourself having time to maintain your fence, but you don't want your curb appeal to suffer either, then consider looking into vinyl fencing. All it takes to maintain your vinyl fence is a quick hosing down. This makes it an excellent choice for people with busy schedules and those who have trouble getting around. Your vinyl fence will retain its aesthetic appeal with a minimal amount of upkeep. Thanks to the versatility of vinyl fencing, you can even put up a fence that looks just like wood without any of the maintenance.
Durability
An investment that pays off for a long time is a good one, and vinyl fencing is built to last. Vinyl fencing is actually even stronger than wood, and it doesn't absorb moisture. You won't have to worry about how the elements will affect your PVC fence like you would with other materials, which also grants you some peace of mind. If you're looking for a durable fence that looks great and is easy to maintain, consider vinyl.
Privacy
Aluminum, wood, and picket fences can all add appeal to your home, but it's tough to beat the versatile options that vinyl fencing provides. Since the posts in your vinyl fence can be as close together or as far apart as you want them to be, you can control exactly how much privacy you have in your yard.

If you're looking to increase your curb appeal , a new Bergen County fence may be able to help. What's even better is that you can add foliage to your fence design for an even more pronounced effect. Take a look at this video on training vines to grow on your fence.
Like shrubs, bushes, and trees, vines can be used as decorations that improve the appeal of your property. If you want your vines to grow on your fence, you will want to train them. Once you've taken the plants from their pots and planted them by the fence, install a wire in your fence that you can wrap the vines around. Although they will eventually grow and attach to the wire, it's typically a good idea to first tie the vine to the wire. Cover the base of the plant in mulch, and make sure you water your plants liberally at first.
Archives
2017
2016
2015
2014