If you have been looking for fencing in Hillsdale, then you have probably heard about Anchor Fence Contractors. As one of the leading fence installers in New Jersey since 1999, Anchor Fence Contractors has all of the necessary credentials and experience to provide its customers with exceptional fence materials and installations.
Anchor Fence Contractors has a great deal of licenses and training in order to give customers peace of mind. Anchor Fence is certified by New Jersey and New York as a home improvement contractor. Anchor Fence has also been certified by official organizations, known as NYSCA, NJSDA, and DPMC as qualified contractors. As a leader in safety, Anchor Fence also requires 30-hour training in OSHA standards to all of its employees. On top of these impressive credentials, Anchor Fence Contractors is also fully insured and employs all of its workers, meaning they do not hire out to subcontractors. To learn even more about how qualified Anchor Fence Contractors is, and how its employees can help you, call today.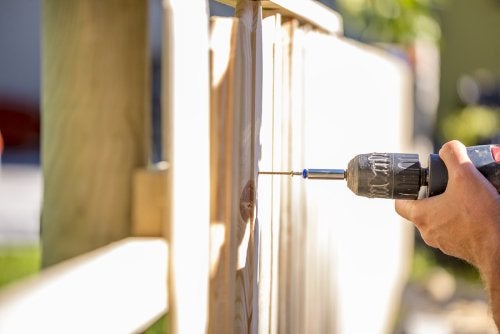 Vinyl fences in Bergen County have become a very popular fencing option. Vinyl fencing offers added privacy, if desired, as well as a durable fencing material that requires little upkeep. When you decide a vinyl fence is in your future, here is what you can expect from your fence installation.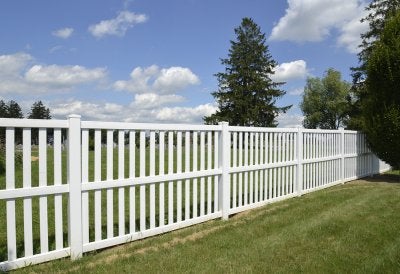 Step 1: Plan the Fence Layout
After you have made the decision to install new fencing, your fencing contractors will help determine an appropriate layout for your property. You and the contractors will account for any landscaping or buildings that might conflict with the layout. This first step will also include determining how slopes and other complications will be handled.
Step 2: Make Important Calls
Once a layout has been mapped, you should call your utility companies. These companies can send out any personnel required to turn off necessary utilities. This is also a good time to inform your neighbors of the upcoming construction. This is a courtesy, but it can also be helpful if a mistake in property lines was made during the layout step.
Step 3: Tie a String
Fence installation can officially start once a string has been tied and laid out along the perimeter of the proposed fence layout. Most likely, the fencing contractors will dig and install the corner posts so the string can attach to something. Once the string is taut, the contractors will measure the exact spacing between each post. This will help keep spacing equal and consistent throughout the fence installation.
Step 4: Dig the Postholes
The depth of the postholes will be determined by the soil, local regulations, and the length of the posts. Often, the hole will contain about 1/3 of the post to ensure it will be secure in the ground. The contractors will use gravel and concrete to securely set the post.
Step 5: Attach the Fence Panels
After all of the posts have been installed and the concrete has dried, the contractors will attach the vinyl fence panels. This step typically requires a little extra hardware to secure the panels to the posts.

After the fencing contractors have gone, you are left with a beautiful new aluminum fence in Bergen County. You have made a wise choice in new fencing. In order to keep it beautiful, though, you should look for the easiest ways to keep it looking brand new. Thankfully, aluminum fences are very simple to clean and maintain.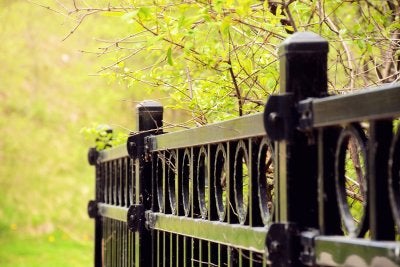 Simple Cleaning
Aluminum fencing is a simple material when it comes to cleaning. The aluminum will not rust, so using water and cleaning products should keep it in good condition for many years to come. If your fence gets any sort of stains on it, you can use warm water and gentle dish soap to clean it off. Along with this simple solution, use a bristle brush to remove difficult stains. Once you are content with the stain removal, spray the fence with a garden hose. Do not use a power washer because this can damage metal fencing. Rinse from top to bottom so your fence will not have dirt streaks.
Regular Inspections
You should make it a habit to inspect your fencing on a regular basis. Looking for broken rails, loose posts, uneven fencing and gates, and broken hardware can save you from expensive repairs in the future. As you find potential damages, repair them soon or call your fencing contractors. The quicker these repairs can be made, the less damage the rest of the fence will incur.
Avoid Damages
No matter what type of fencing material you have, you should always do what you can to avoid damages, especially when they are preventable. Do not leave the gate open because it can swing and cause damage to the gate, gate hinges, or surrounding fence. If you have gardening or weeds near the fence, cut them with a handheld trimmer or pull them by hand. Anything bigger can potentially cut and scrape at the aluminum fencing. Keep rocks and other landscaping away from the fence to avoid potential damages.

As seen in the video, a bordered fence consists of bricks laid under the fence. These bricks can help protect your Hillsdale fence as you mow any grass or weeds that border it.
Though the process may be a little time-consuming, creating a border under your fencing should not be very difficult. Your fencing contractors can help you lay out this border correctly. Tie a string to two or more stakes. This will help you keep a consistent distance from the fence as you dig out a trench underneath. Make sure the trenched ground is level and begin placing the bricks. Add dirt around the bricks to keep them in place, and use a leveler to keep the bricks at the same height. Once the bricks are placed and secure, remove the string. Now, you should be able to mow and garden without worry.
Archives
2017
2016
2015
2014