Once you've decided that you'd like to invest in a new Bergen County fence, you'll have to decide what type of material you are looking for. Each type of fencing material comes with its own advantages, and PVC fencing comes with a ton. This type of fencing is easy to maintain, which means it will keep up its appearance throughout its long working life. Vinyl fences also offer an extra level of privacy that other types of fences cannot. Take a look ahead to learn all about the benefits of installing a vinyl fence .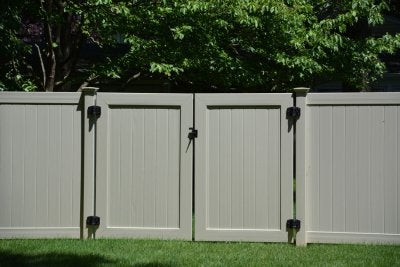 Maintenance
You can find a beautiful fence in any material, but some require much more maintenance than others. If you don't see yourself having time to maintain your fence, but you don't want your curb appeal to suffer either, then consider looking into vinyl fencing. All it takes to maintain your vinyl fence is a quick hosing down. This makes it an excellent choice for people with busy schedules and those who have trouble getting around. Your vinyl fence will retain its aesthetic appeal with a minimal amount of upkeep. Thanks to the versatility of vinyl fencing, you can even put up a fence that looks just like wood without any of the maintenance.
Durability
An investment that pays off for a long time is a good one, and vinyl fencing is built to last. Vinyl fencing is actually even stronger than wood, and it doesn't absorb moisture. You won't have to worry about how the elements will affect your PVC fence like you would with other materials, which also grants you some peace of mind. If you're looking for a durable fence that looks great and is easy to maintain, consider vinyl.
Privacy
Aluminum, wood, and picket fences can all add appeal to your home, but it's tough to beat the versatile options that vinyl fencing provides. Since the posts in your vinyl fence can be as close together or as far apart as you want them to be, you can control exactly how much privacy you have in your yard.