Vinyl fencing is a strong and dependable type of fencing in Bergen County. It can withstand adverse weather conditions and other damaging elements, such as warping. You can keep your vinyl fence in great shape for years to come with minimal maintenance. Spraying the fence with water and wiping down mild stains are simple ways to keep your vinyl fence looking beautiful and functional for years to come. Here is a quick look at how to make the most of your vinyl fence: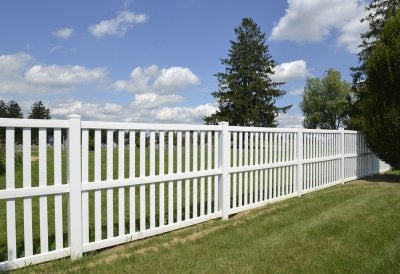 Remove Daily Buildup
It is important that any type of fencing be free of dirt and dust buildup. These damaging particles gather on your fence every day. Over time, your white vinyl fence will look dingy and dirty, and you may notice that the fence hardware deteriorates more quickly. You can prevent this unattractive and damaging buildup by spraying water and wiping down your fence. Ensure that water stains do not collect on your vinyl fence by spraying soft water or using a clean, dry cloth to wipe down excess moisture.
Use a Mild Detergent
There may be times when a mild stain develops on your fence, and spraying it with water will not erase the stain. Use a mild mixture of soap and water to wipe down stains. Use a clean cloth to scrub at these stains until they disappear, and use a dry cloth to remove the moisture. It is important to use a very mild soap to ensure your vinyl fence is not damaged.
Maintain Nearby Landscape
Your nearby landscape should be well-maintained to ensure the continued health of your vinyl fence. If you have overgrown plants or weeds near your fence, then you risk more dirt, dust, and damages to your new vinyl fence. Keep your landscape trimmed and away from your fence. Be careful while trimming and mowing your landscape. Your vinyl fence can be damaged by your lawnmower or gardening shears, so always be aware of how you are maintaining your fence's surroundings.