If you want to add style and appeal to your fencing installation, consider building a vertical garden. In this video, you will learn about the tools and materials that you will need to construct your vertical garden. Using some basic lumber and hardware, you can create planters that can be installed on your fence. A company that offers fencing in Bergen County can help you to plan out your design.
When you hire a team of garden fencing technicians to help you with your new fence, you will be able to build a fence that enhances the beauty of your landscaping. Whether you are seeking a strong metal fence or a lightweight PVC fence, your contractors can provide the right materials for your project.

As important as it is to have fencing in Bergen County that you love the look of, you also need to consider how much time you can spend on maintenance. Some fence designs offer surprisingly attractive aesthetics that mimic other materials, but you don't have to put nearly as much work into maintaining them. A vinyl fence may replicate the look of other fencing materials without demanding the same kinds of maintenance requirements. If you want to get the look of wood but the durability of vinyl fencing, keep reading.
If it's time to find a new fence, you'll want to find one that matches your home design and increases your curb appeal. Wooden fences are versatile and durable, and they may be just what your home's aesthetics need. Unfortunately, wood fences aren't the easiest to care for, which is a deal breaker for some people. If you want a fence that has the same cosmetic appeal as wood but doesn't have all the maintenance requirements, you should think about vinyl fencing. Vinyl fencing offers the best of both worlds, and it can stand the test of time, so it might be the right choice for you.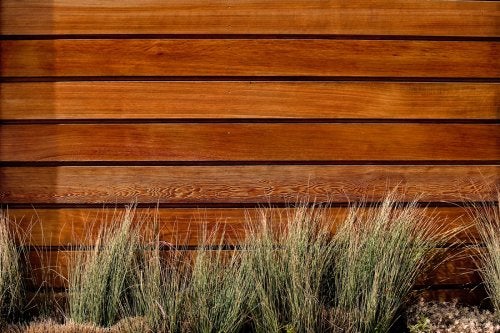 If you are a homeowner, there are a few terms regarding fencing in Bergen County that you might want to be able to identify. Knowing all about fence designs will make you better able to pick the best one, so you should keep up with the lingo. Some terms are straightforward, but others require a little more thought to figure out. Entrance gate, picket fence, and terminal post are only a couple of examples of common fencing terms, but not everyone knows exactly what these phrases mean. Keep reading for a closer look at some common fencing terms that all homeowners should know.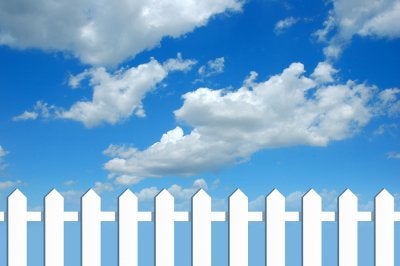 Entrance Gate
An entrance gate might refer to different types of gates and fencing installations. Some people use this term exclusively to refer to a gate that grants entry to the property, while others are more liberal with the verbiage. An entrance gate might also be one that leads into a courtyard, or even your pool area. Pool gates can be both aesthetic and effective in keeping your kids and your pets away from your pool when they aren't being supervised. In the same fashion, gates and fences that lead into your property should also be aesthetic as well as effective. If you want to keep intruders out, don't choose a fence that is easy to climb.
Picket Fence
A picket fence is often made of wood, but it doesn't necessarily have to be. A white picket fence has become a symbol of the American dream, and it can do a great job of defining the boundaries of your property. Although these types of fences are frequently made of wood, any fence that uses posts or vertical slats could be considered a picket fence. Small pickets that are spread out can tastefully surround a garden, while taller pickets can make for a privacy or pool fence.
Terminal Post
Every fence needs some support, and that's what terminal posts are for. A terminal post might be found at the end of the fence or on a corner. The posts that go up the stairs are also considered terminal posts.

For rental properties, aesthetic appeal and function are equally important to attract and retain desirable tenants. Landlords choose to fence in their properties because privacy and ornamental fences around homes in Hillsdale add value and look refined. If you already have tenants living at the property, try to give them advanced notice about the project. If you're showing the property to prospective tenants, let them know that you're planning a fencing project to enhance security and privacy for your tenants.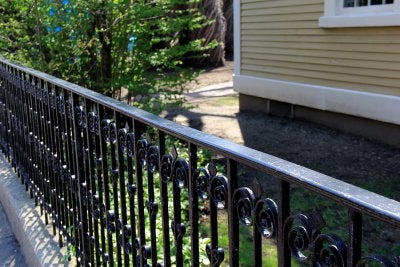 Deciding to Install Fencing
Landlords who install fences around their rental properties can look forward to increased property values and better curb appeal. Your investment should eventually pay for itself in higher rent payments. Plus, you may be more likely to attract more desirable tenants who will truly care about keeping your property in good condition. To a tenant, fenced-in property offers:
Enhanced privacy
Better security
Improved protection for pets and children
In some cases, fencing may be a necessity. If your rental property has a pool, you'll have to install a security fence with a lockable gate to protect neighborhood children. A security fence around the pool will also protect you from legal liability.
Selecting the Right Material
As a landlord, you already have a lot on your plate, between routine maintenance and service requests from tenants when something has broken. Although wood is an attractive material, it does require more upkeep than other options. Consider choosing an ornamental aluminum fence instead. Aluminum fences can make any property look more upscale. Although PVC fencing isn't quite as elegant as aluminum ornamental styles, it's another durable, low-maintenance, and cost-effective option that is popular among property owners.
Scheduling the Installation
After you've selected the right option for your property, let your tenants know about the installation, if you haven't already done so. Tenants are likely to be enthusiastic about the project, especially if they've made prior complaints about the neighbors. Ask your tenants to keep their dogs inside or leashed during the installation.
Adding the Finishing Touches
An aluminum ornamental or vinyl fence is a stand-alone feature, but you could dress up your property further by adding attractive landscaping. Add some flower planters to the area or invite your tenants to plant their favorite flowers along the fence.

There are many ways to enhance your curb appeal , and there are many ways to keep your home safe and secure. Bergen County fences can accomplish both feats, but it's your job to choose the right type of fence for your property. If you want to improve the look of your home from the street, the color you choose for your fence design will play a role. Keep reading if you'd like some tips on choosing a fence color that will enhance your curb appeal.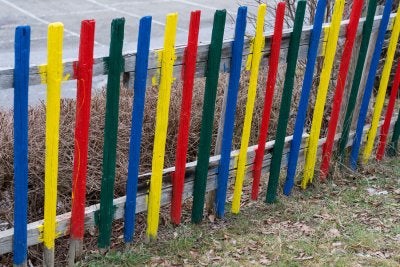 Consider the Effect on Maintenance
You're probably aware that different types of fence materials have different maintenance requirements, but did you know that your color selection may have an impact, as well? If you want a fence that can enhance your curb appeal without demanding an unreasonable amount of maintenance, you might want to steer towards darker colors. White fences can be beautiful, but it's much easier to notice dirt and grime on a white background than on a dark brown or black one. If you don't have the time or energy to afford your fence much maintenance, consider choosing a darker color.
Look at Your Existing Home Design
If you don't have any idea where to start when it comes to fence colors, stand on the curb and look at your house. Notice the colors of your roof, your shutters, your siding, and your front door. Pick a few different color options, take some samples, and see how you feel about each one within the context of the home design that you have already established.
Think About What You Want Out of Your Fence
Not everyone has the same opinions regarding what adds to and what takes away from your curb appeal. If you want to be on the safe side and make sure you keep the neighborhood happy, consider a fence color that fits in nicely with your neighbors' fences. If you're looking to stand out from the rest of the block, on the other hand, then you can choose a bolder color for your fence.

Your fencing in Bergen County can add quite the boost to your curb appeal, but you can take your fence design to the next level by adding a personal touch. Planting some flowers against your fence can increase your curb appeal and your enjoyment of your property. Watch this video for tips on planting roses along a fence.
If you want to complement your outdoor design with a few rosebushes, start by planning where you'll plant them. You should leave a few feet of space in between bushes, as they'll fill out as they grow and become established. Don't plant them too deep below ground level so they can soak up plenty of moisture when you water them. Keep in mind that vining roses should be woven into the fence, and you should fertilize your vining roses or rosebushes every couple of months so that they will thrive.

If you're looking to increase your curb appeal , a new Bergen County fence may be able to help. What's even better is that you can add foliage to your fence design for an even more pronounced effect. Take a look at this video on training vines to grow on your fence.
Like shrubs, bushes, and trees, vines can be used as decorations that improve the appeal of your property. If you want your vines to grow on your fence, you will want to train them. Once you've taken the plants from their pots and planted them by the fence, install a wire in your fence that you can wrap the vines around. Although they will eventually grow and attach to the wire, it's typically a good idea to first tie the vine to the wire. Cover the base of the plant in mulch, and make sure you water your plants liberally at first.

When it comes to putting a fence around your property, you have many materials to choose from, such as aluminum, wood, and vinyl. All have their attributes, but none can compare to a vinyl fence in Bergen County. With vinyl fencing, you will have little to no wear and tear that normally affects other fences, and your new fence will stand up against sun damage and high winds. To answer any more questions you might have about vinyl fencing , continue reading.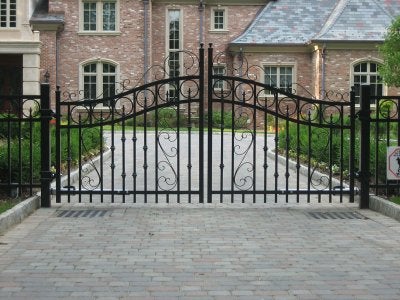 Will vinyl degrade?
Since vinyl is a manmade product, it has been reinforced to withstand the typical degrading effects that can compromise other fencing materials. While wood or metal may rot, rust, or deteriorate over the lifetime of the fence, a vinyl privacy fence will not suffer any of these effects. It will remain a durable and stable fence throughout its lifetime.
What maintenance does vinyl require?
Vinyl is made from polyvinyl chloride, which is one of the most popular construction materials used because of its low-maintenance capabilities. Your vinyl fence will not need to be sealed or repainted like other materials. To properly maintain it throughout its lifetime, wash any dirt, plants, or insect evidence off with a gentle cleanser and hose.
Will vinyl stand up to weather?
Vinyl is a strong material that can withstand the normal wear and tear that affects most fencing materials. It is made with a special ultraviolet inhibitor that can withstand the fading or yellowing effects brought on by the sun. It is also installed in such a way that it can stand up to high wind levels and heavy rains.
Does vinyl have many design options?
Due to the manmade material and construction, vinyl fences can come in near-limitless design options. Whether you wish for a privacy fence or white, picket fence to line your front yard, vinyl can accommodate. It can also come in a variety of colors to match whatever décor or color scheme you have on your property.

A fence can be a great addition to your property, whether you are looking to improve your curb appeal or you want to make your yard safer for your kids and pets. When you are choosing a fencing material for your yard, you have a number of options, including wood, aluminum, and PVC fencing in Bergen County . PVC is one of the most popular options for fencing, and for good reason. It is strong, durable, and comes in many different colors to match your aesthetic desires. Keep reading to learn more about choosing the best PVC fence for your property.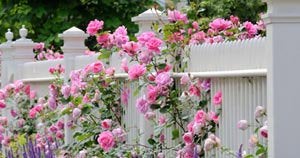 Determine Your Goals
Fences can do a variety of different jobs, so before you have one installed on your property, consider what you want yours to do. Your new vinyl fence can delineate the property boundaries between you and your neighbors; this can be accomplished with any style of fence. If you want to secure your yard so you can let your pets out without a leash, you'll need a PVC fence that is tall enough to hold your pets in even if they jump. You may also want a privacy fence so that you and your family can relax without feeling like you have the eyes of the neighborhood on you. Once you know why you want a fence, you can choose the best style for you.
Understand Fence Maintenance
One of the reasons that PVC fencing is so popular is that it requires very little maintenance to keep it looking great for years to come. Unlike certain other fencing materials, PVC won't rust, corrode, or warp in the wind and rain. Simply hosing down your vinyl fence should be enough to keep it looking good. If there are areas where it is dirtier or scuffed, you can use a diluted solution of warm water and soap to address these spots. Use bleach and water if you notice any mildew growing on your fence.

The summer season is here, and now is the perfect time to spend time with your friends and family enjoying your backyard pool. In order to make sure that your pool is safe and secure for your entire family to enjoy, it is a great idea to make sure that your pool area is equipped with secure pool fencing. A company offering fence installation serving Hillsdale can help you choose the right pool fence for the specific needs of your family. To highlight the benefits of contacting a fencing contractor this summer, read on for a look at the importance of fencing your pool.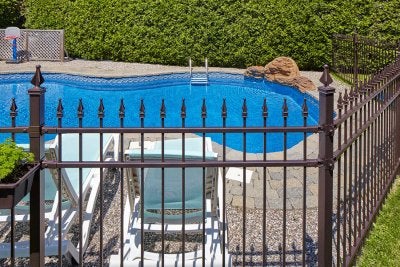 Pool Fences Enhance Safety
One of the most important reasons to fence around your pool is that your new pool fence will dramatically enhance the safety of your pool area. For example, if you are the parent of young children, a pool fence will ensure that your kids are not able to access your pool without an adult around. By taking the time to fence your pool, you can avoid accident or injury in or around your pool space.
Pool Fences Provide Security
Along with enhancing the safety of your pool space, a new pool fence can also provide additional security to your property. For example, a backyard swimming pool may be tempting to neighborhood children or pets. By creating a secure fence that surrounds the perimeter of your pool, you can make sure that only your family and guests are able to gain access to your pool area.
Pool Fences Complement Landscaping
Finally, a pool fence can also be used to enhance the beauty and appeal of your pool's landscaping and surrounding deck. When you are creating a new pool fence, you may want to choose materials that can be accented through trees, vines, or other special plants. To get started on your pool fence installation today, be sure to get in touch with a top rated fence contractor near you.
Archives
2017
2016
2015
2014