It's nice to find a fence company that will offer you their services at reasonable rates, but you shouldn't go for a contractor based on price alone. Plenty of other factors will influence your experience and your results, so you should take your time when you look for a professional in fencing in Bergen County. Look at this video clip for tips on finding the right fence contractor.
You might get caught up in the excitement of getting a new fence, but you shouldn't forget about the importance of its installation. A properly installed fence can serve you well for years. If you want the best fence contractor you can find, you have to look around. Do your research, and take to the Internet to look at different contractors' websites. Reading reviews and checking references can also be helpful.

You'll find premium vinyl fencing for your home in Bergen County at Anchor Fence Contractors, Inc. Homeowners often choose this material because it's aesthetically attractive, easy to maintain, and will last for years. We install all styles, including vinyl privacy fences. These tall, solid panels create a secure, private sanctuary in your front or back yard. Your children can play and your pets can roam free, without you having to worry that they'll wander off. These fences are equipped with a solid panel privacy gate.
If you would prefer the white picket fence look, we have quite a few options to choose from. Select a tall or short fence, either all the same length or with visually appealing height variations to add curves along the top silhouette. Our experienced contractors also install decorative vinyl fences. These feature solid panels for privacy, with decorative latticework on top. Whichever option you choose, you can rest assured you'll receive high-quality materials and expert installation from our team of in-house installers.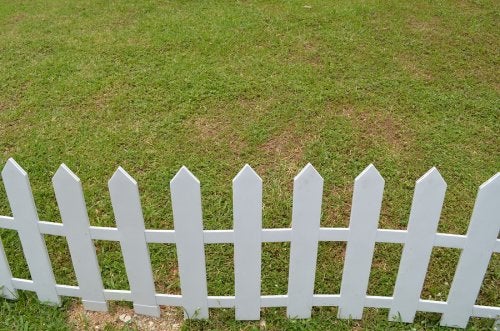 Good fences do make good neighbors, but only with advanced planning and courteous communication. Before scheduling a new fence installation , homeowners in Bergen County should check local ordinances and homeowners' association (HOA) rules, if applicable. And if you have neighbors whose property will be adjacent to the fence, be sure to let them know about your intentions.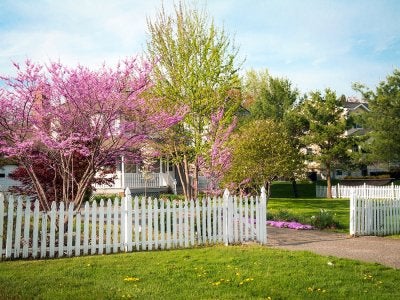 Check your property lines.
Checking your property lines before getting your new fence installed will save you plenty of headaches and dollars later if it turns out your land doesn't end where you thought it did. You can hire a land surveyor to eliminate any doubt of your property boundaries. Ask the surveyor to insert stakes along the property line so you can visualize your plans better.
Invite your neighbor over for coffee.
It's courteous to inform your neighbor about the new fence, even if you aren't required to. Ask him or her over for coffee and a friendly chat. Tell your neighbor that you'd like to put up a fence to secure your pets, keep your kids from wandering, or enhance your family's enjoyment of the yard. Your neighbor may want to see design plans or pictures of similar fences. Expect your neighbor to ask about the fence's location.
Consider a compromise.
It's possible that your neighbor might dispute the fence. If so, discussing your fence designs with your neighbor ahead of time may let you avoid conflict. Within reason, consider compromising so that both of your families are pleased with the outcome.
Collaborate with your neighbor.
In some cases, homeowners are pleasantly surprised to discover that their neighbors have also been considering getting a fence installed. The families may want to collaborate on the project by agreeing to install just one fence, right on the property line. Select a material and style that both of your families like. Collaboration with the neighbor should allow the families to split the cost of the new fence evenly.
Choose a fence with identical sides.
Some fences have one finished side and one rougher-looking side, while others are finished on both sides. Even if you and your neighbor aren't collaborating on the project, it's common courtesy to face the good side outward. Otherwise, select a style that is finished on both sides.

Properly maintained fencing can dramatically improve the look of your home's exterior. If you let your vinyl fencing fall into disrepair, however, it may start to detract from the curb appeal of your home. With services from a contractor that services Hillsdale fences , you can revamp your old fence and improve the appearance of your front yard. There are a few different techniques that can be used to improve the look of a vinyl or metal fence.
If your home is secured by a vinyl fence, you may want to consider hiring a fence contractor to paint the surface of your fencing. A new coat of paint that coordinates with the exterior of your home will help to visually blend your fencing into your exterior design. To enhance the curb appeal of your fence, it will also be necessary to repair any broken posts or rails. Finally, new flower stands or fence doors can transform your ordinary fence into a showstopper.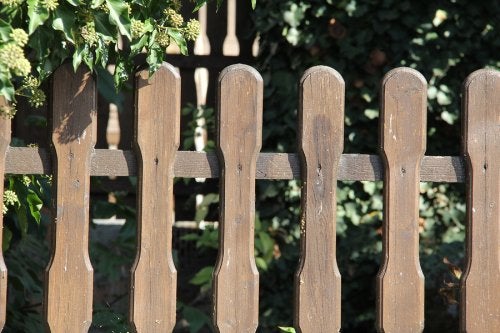 If you are seeking a new look for your aluminum fence, you will need to prepare the surface of your fencing. This video provides important tips and information about how to prepare your fencing to be painted. Before you start to apply new paint, you will need to scrape the old paint off using a paint scraper. Once you have completely cleaned and primed the surface, you will be ready to paint your Bergen County fence.
If painting an entire aluminum or vinyl fence seems like a lot of work to do on your own, you can hire a team of fencing contractors . Your fencing experts will be happy to remove your old fence paint and apply a fresh new coat to your fencing's surface.

An aluminum fence in Bergen County can be as functional as it is aesthetic, making it a worthwhile investment for homeowners . However, how do you find out what kind of pool fence is right for your property? Aluminum fences are sturdy, aesthetically pleasing, and versatile. On top of that, they are easy to maintain and can stand the test of time. If you are looking for a way to close off your pool area while also improving the look of your yard, keep reading and find out how to choose your aluminum pool fence.
When you set out to find a new fence, it helps to start by thinking about your needs—you can worry about the design details afterwards. If you have small children and pets that you would like to keep out of the pool area when they're unsupervised, an aluminum fence may be the right solution. Make sure the fence you choose is tall enough that your pets can't jump over it, and the bars should be close enough together that kids and animals can't squeeze through them. In terms of design, look at your yard and think about what style best suits your taste.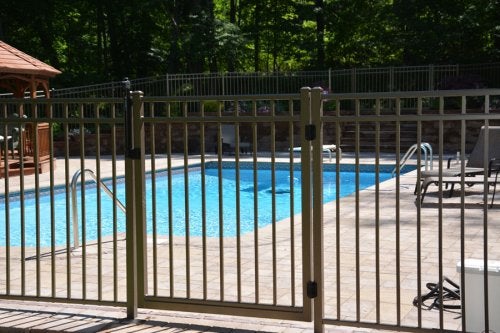 If you are looking for ways to beautify your Hillsdale fence , then look to nature for beautiful and useful climbing plants. Whether you want a flowering climber or more privacy for your fence, there is a climber for you. Watch the video and continue reading to learn about some popular climbing plants to complement your fence design.
For a hardy climber that will flower almost year-round, look for bougainvillea plants. These are strong, fast-growing plants that can cover your fence, no matter how tall it is. Wisteria is another vigorous plant that produces gorgeous flowers and a powerful perfume. If you simply want some privacy, then you may try planting a creeping fig. This is a strong plant that cannot be easily removed once it has taken hold. Consult with your fencing contractors to determine the right climber for you.

If you have considered installing an aluminum fence in your Hillsdale yard, then you have picked one of the most sturdy and low-maintenance fencing materials on the market. Aluminum fencing is one of the most popular materials because it creates beautiful, ornamental fences which are sturdy and long-lasting. On top of these many benefits, aluminum requires very little maintenance. Here is a closer look at what you should know when it comes to maintaining your aluminum fence:
There are many types of metal fences, but not many compare to aluminum. Aluminum is the most prevalent metal found on earth, and it is one of the easiest to work with and shape. It is also resistant to rust, which is a great addition to have in your next fence. Since your aluminum fence will not rust, it will not degrade or become damaged like other fencing materials. It also does not need to be repainted or coated with a sealant, which makes it very low-maintenance. To care for it properly, you will want to use a mild cleanser, clean rag, and a hose when you notice your fence becoming dirty or dusty.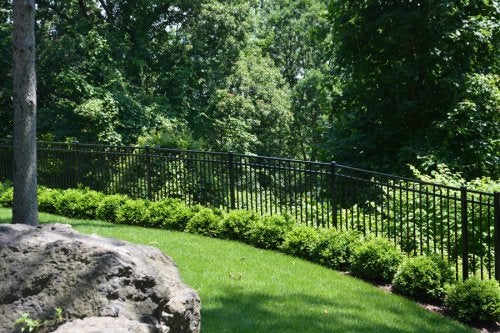 When it comes to putting a fence around your property, you have many materials to choose from, such as aluminum, wood, and vinyl. All have their attributes, but none can compare to a vinyl fence in Bergen County. With vinyl fencing, you will have little to no wear and tear that normally affects other fences, and your new fence will stand up against sun damage and high winds. To answer any more questions you might have about vinyl fencing , continue reading.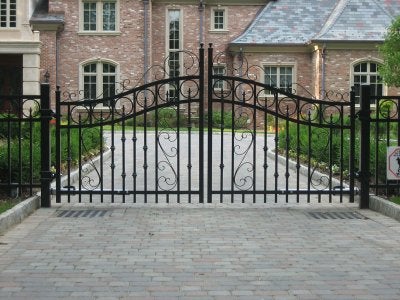 Will vinyl degrade?
Since vinyl is a manmade product, it has been reinforced to withstand the typical degrading effects that can compromise other fencing materials. While wood or metal may rot, rust, or deteriorate over the lifetime of the fence, a vinyl privacy fence will not suffer any of these effects. It will remain a durable and stable fence throughout its lifetime.
What maintenance does vinyl require?
Vinyl is made from polyvinyl chloride, which is one of the most popular construction materials used because of its low-maintenance capabilities. Your vinyl fence will not need to be sealed or repainted like other materials. To properly maintain it throughout its lifetime, wash any dirt, plants, or insect evidence off with a gentle cleanser and hose.
Will vinyl stand up to weather?
Vinyl is a strong material that can withstand the normal wear and tear that affects most fencing materials. It is made with a special ultraviolet inhibitor that can withstand the fading or yellowing effects brought on by the sun. It is also installed in such a way that it can stand up to high wind levels and heavy rains.
Does vinyl have many design options?
Due to the manmade material and construction, vinyl fences can come in near-limitless design options. Whether you wish for a privacy fence or white, picket fence to line your front yard, vinyl can accommodate. It can also come in a variety of colors to match whatever décor or color scheme you have on your property.

Many people choose aluminum fencing for their home or commercial property because this material can mimic the look of a wrought iron metal fence, but it offers better resistance to corrosion while still being durable and low-maintenance. If you're thinking about installing an aluminum fence in Bergen County, then you may be wondering how long you can expect it to last.
Aluminum fencing offers quite a few benefits, and one of the most prominent of these is that its durable quality and low maintenance requirements give it a long lifespan. Aluminum is one of the most corrosion-resistant fence materials, and it stands up well to chemicals, moisture, and temperature fluctuations. For these reasons, you can expect to enjoy your aluminum fence for decades to come. A few of the other advantages of choosing aluminum for your fence are that this material is highly versatile and is used to make fences in nearly endless styles. Additionally, aluminum fencing is environmentally friendly, cost-effective, lightweight, and attractive, making it an ideal choice for many locations.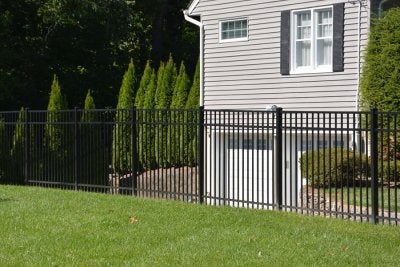 Archives
2017
2016
2015
2014