When you are preparing for a new fencing installation, you will have many factors to consider. Along with choosing a vinyl fence or metal fence material that meets your specifications, you will also need to figure out the perfect layout for your installation. A company that offers fencing in Bergen County can help you determine where your fence should be placed on your property. By following local restrictions regarding property lines and fencing, you can avoid a fine. Here is a look at how to determine whether your fence can be placed along your property line.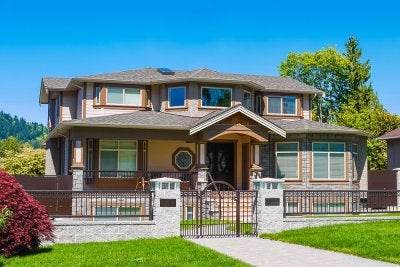 Schedule a Survey
If you want to place your fence as close as possible to your property line, you will need to make sure that you have your property line mapped correctly around your yard. In order to stake out the exact dimensions of your property line, it may be necessary to schedule a professional survey. During the survey, a team of technicians will use special equipment to figure out where your property line sits around your home.
Examine Local Regulations
Determining whether or not to place a fence on your property line may also be affected by your local regulations. Certain cities and counties have setback restrictions, which require homeowners to place their fences at a certain distance back from their property lines. If you are uncertain whether setback restrictions apply to your fencing installation project, do not hesitate to contact your local authorities.
Talk to Your Neighbors
Once you have surveyed your land and checked out your local regulations, your final step should be to have a conversation with your neighbors. When you build a fence right along your property line, you will be creating a border along their backyard, as well. If your neighbors are happy with your fencing installation plans, you should feel free to go ahead and begin construction. In the event that your neighbors feel that your fence may be encroaching on their property or view, you will need to reach an agreement prior to your installation.

If you want to add value and appeal to your neighborhood, you might consider designing and building a new playground. A playground can provide the perfect space for family with young children to play and enjoy the fresh air. As you are planning your new playground, consider placing an aluminum fence around its perimeter. A company that offers fence installation serving Bergen County will be able to provide you with various fence designs that are perfectly suited for your playground. To help you embark on your project, here are some handy tips for designing a neighborhood playground.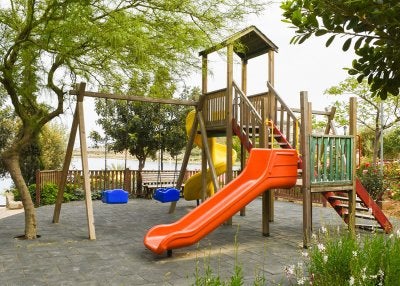 Find the Perfect Site
In order to design the perfect playground, you will need to find the right site for your installation. Ideally, your playground will be located in a park, school, or other outdoor area. You may want to find a site that is fairly flat so that you can easily install your play structures. It may also be beneficial to place your playground as far as possible from busy streets and intersections. If your neighborhood already has a central park, this may be the perfect site for your new playground.
Choose Your Play Structures
After you have chosen a site for your playground, you will be ready to choose the various play structures and other elements that can be used by children in your neighborhood. Today's playgrounds can be equipped with a variety of features, including slides, jungle gyms, spinning toys, and sensory environments. Consider asking other parents in your neighborhood about the elements that they would like to see in the new playground.
Plan for a Fence Installation
In order to keep children safe while they are at the playground, you may want to plan ahead to build a fence around the site. An aluminum fence can border the perimeter of your playground, and your durable fencing installation will prevent kids from wandering away during playtime. An experienced fencing contractor can help you build the perfect fence for your new playground.

Bergen County fences can hold up for years to come, but some need a little extra maintenance to keep up their looks. A wooden fence is a good example of a material that might need more maintenance than a vinyl or metal fence. You will also need to be careful not to damage your fence when you clean it, which means you should use the safest materials possible and do a little research so you know what you're doing. Continue to find out the best way to clean a wood fence.
Elements like the sun, the rain, and other forms of precipitation can take a toll on your wooden fence, leading to cracking and warping. Keep your fence in shape by giving it a thorough cleaning every so often. Apply a safe cleaner that's designed for fences to the surface of your wooden fence, and leave the cleaner on for about 15 minutes. Then, you can scrub or pressure wash the fence to work the cleaner in. After you've covered the whole fence, it's a good idea to have it stained or sealed for extra protection from ultraviolet rays, rain, and other harmful agents.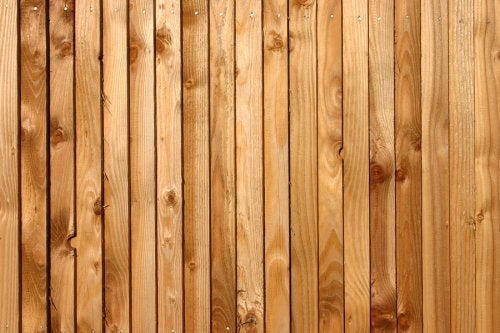 Your fencing in Bergen County can add quite the boost to your curb appeal, but you can take your fence design to the next level by adding a personal touch. Planting some flowers against your fence can increase your curb appeal and your enjoyment of your property. Watch this video for tips on planting roses along a fence.
If you want to complement your outdoor design with a few rosebushes, start by planning where you'll plant them. You should leave a few feet of space in between bushes, as they'll fill out as they grow and become established. Don't plant them too deep below ground level so they can soak up plenty of moisture when you water them. Keep in mind that vining roses should be woven into the fence, and you should fertilize your vining roses or rosebushes every couple of months so that they will thrive.

There are several fencing materials that can make your property more appealing and offer privacy or protection. However, wood and vinyl fences in Hillsdale are some of the most popular choices. Wood is a classic fencing choice that offers dependability and affordability. Vinyl is a sturdy material that can resist most damage over the years and seasons. It is crucial to understand the pros and cons of each fence type to decide which will be the best for your home . Read on for a better look at the pros and cons of wood and vinyl fences.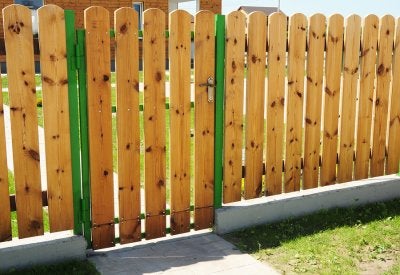 Wood Fencing Pros
Wood fencing is the oldest and most classical type of fencing you can install on your property. Wood fences come in a variety of colors, grain patterns, paints, and stains. They look most attractive against natural landscaping, they are typically more affordable and customizable, and they are easily repaired if any damages occur.
Vinyl Fencing Pros
Vinyl fencing, sometimes known as PVC fencing, can come in a variety of colors and styles. If you want a more natural appearance, then vinyl can be made to look like wood. However, you can also request vinyl fencing in a multitude of colors, such as red, purple, and gray. Vinyl fences never need to be repainted, and they are easily maintained with a mild detergent and water.
Wood Fencing Cons
The biggest drawback to installing a wood fence comes from the heavy maintenance these fences require. Wood must be repainted, refinished, or resealed to keep out moisture and bacteria. If moisture and bacteria invade a wooden fence, then the fence will likely warp or rot. Wood fences can also be damaged by fungi, termites, and pests.
Vinyl Fencing Cons
There are few cons surrounding vinyl fencing, because it resists most types of damage. However, vinyl fencing can be difficult and pricey to repair. It also requires a higher upfront cost than other fencing materials, though the low maintenance can offset this cost. Vinyl fencing, like other fencing materials will also fade with excessive sunlight exposure.

Have you been considering having professional fence installation in Bergen County ? Fences can increase your overall property value, which is important even if you are not thinking about selling your home in the near future. Once you have determined that you want a new fence on your property, you'll have to decide which material is right for you. Aluminum fencing can be used for the perimeter of your property, as security fencing, or as a pool gate to protect children and pets. Read on to find out what you should know about aluminum fencing.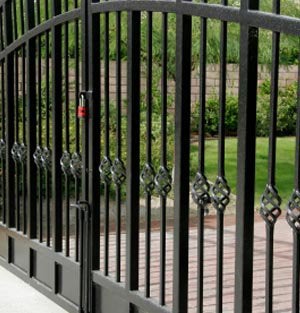 Benefits
Aluminum fencing is customizable, so no matter what you want your fence to look like, you can achieve it with aluminum. It is both lightweight and durable, and unlike wrought iron, will not rust over time. Aluminum fencing also will not warp or rot like wood can and is difficult to cut through, making your property safer from would-be intruders. If you are concerned about your impact on the environment, aluminum is a good choice for your fence because it is completely recyclable. In fact, your fence could have had previous lives before it is installed at your house. Perhaps the most attractive feature of an aluminum fence is its price, as it is a more economical choice than other ornamental fencing options.
Versatility
Different people want fences for different reasons. An aluminum fence design can be used in a variety of different ways, making it a good choice on almost any property. Your aluminum fence may be purely decoration, adding a level of aesthetic interest to your yard. You could have an aluminum fence at the entrance to your driveway with a single or double gate in various styles, or enclose your pool area with an aluminum fence. Because aluminum is welded together, it is stronger than fences that must be bolted or screwed during installation. This makes aluminum an excellent choice for a security fence.

Have you noticed that your wooden fence in Bergen County seems a bit wobbly and unstable? If your answer is yes, then you may want to call your fence company right away for repairs. When your fencing sways or seems unstable, then you may have rotten fence posts that need to be replaced.
As you can see in the video, wooden fence posts can become rotted underground. This is typically due to excess moisture leaching into the fence posts from the surrounding area. If you have actually seen rot on the lower ends of your wooden fence posts, then you may have a more serious problem. In addition to routine maintenance, your fence company should come out to inspect and repair your fencing on a regular basis.

Once your wooden fence in Hillsdale has been installed, you must keep it preserved and maintained to protect your investment. Wooden fences are a popular and beautiful addition to any home, as long as they are maintained and protected against water damage, bugs, and potential rot. Continue reading for some simple ways to keep your wooden fence looking beautiful for many years to come.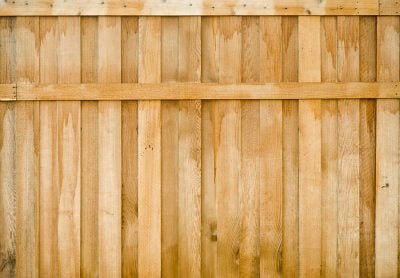 Use Wood Preservatives or Stains
To maintain your wooden fence best, you should periodically apply a water-repellant preservative or stain to the wooden panels. A preservative will help the wood to resist bug and water damage that can result in warping, splitting, and rot. Stains are also used as wood fencing sealants. If you want the option to customize the look of your wooden fence to match your landscaping, then you can apply a colored stain. These stains come in transparent, semi-transparent, and solid color options.
Keep Sprinklers Away
Even with a stain or preservative, wooden fences can degrade over time due to weather exposure and old age. To keep your fencing from degrading even more, keep your lawn sprinklers and watering efforts away from your fences. Frequent water or moisture can severely impact your fence designs, causing them to rot, split, and warp. Your wooden fencing may also develop mold, which can become harmful if allowed to spread into your home. Angle lawn sprinklers away from your fencing to keep off as much excess moisture as possible.
Plant Flowers Elsewhere
In addition to angling lawn sprinklers away from your wooden fence, it is best to keep plants and other landscaping away from the fence, as well. Vines, trees, and large shrubs can be the most damaging to wooden fences. If vines are allowed to crawl up a wooden fence, they can cause excess moisture or dry out a wooden fence, both to the point of irreparable damage. Shrubs and trees can also damage a wooden fence with large roots, bugs, and moisture.

Part of choosing and maintaining your wooden fence in Bergen County also means staining it regularly. By staining your wooden fence, it is protected against moisture, rot, and fading from the sun. This is an important part of fence maintenance, so consult with your fence company on the appropriate stain to use.
As seen in the video, there are three types of stains: Clear coat, solid body, and semi-transparent. The clear coat stain will have no pigmentation added to it, so you will see the natural color and grain of the wood. The solid body stain is filled completely with color, so you will see none of the wood's grain or natural color. The semi-transparent is the option between the two extremes. There will be a little bit of added pigmentation, but you will still be able to see some of the wood's natural grain.

When you are shopping for a stylish, durable, and affordable fencing solution for your home, you may want to consider installing vinyl fencing. A new vinyl fence will keep your property totally safe and secure, while also helping you boost the curb appeal of your home. A company that specializes in beautiful fence designs can help you plan every step of your fence installation serving Hillsdale . After your vinyl fence installation has been completed, it will be up to you to take all of the steps that are needed to keep your fence in great shape throughout the years and season. Read on for some handy tips for maintaining your vinyl fence.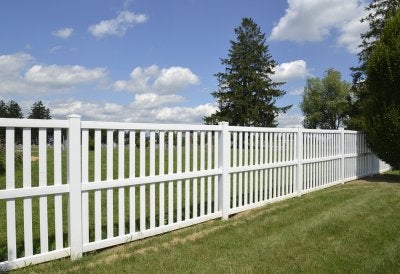 Wash Regularly
One of the best ways to keep your vinyl fence looking great is to wash it on a regular basis. When you wash your vinyl fence, you can use water and mild soap to gently remove any dirt or minor surface stains. To achieve a deeper level of clean, you can also scrub the surface of your fence with a cloth or brush.
Remove Surface Stains
Along with washing your vinyl fence regularly, you may also want to take the time to remove any surface stains that may be affecting the beauty of your fence. When your vinyl fence develops a stain, you can remove the blemish using a product called lacquer thinner. By rubbing the surface of your fence with a cloth that has been dipped in lacquer thinner, you can restore your fence to its original shine.
Prevent Mold and Mildew
Another important aspect of vinyl fence maintenance is to take all of the steps that are needed to prevent mold and mildew from growing on the surface of your fence. If you allow moisture to remain on the surface of your fence for too long, a mold problem could develop. Fortunately, any moldy areas on your fence can be thoroughly cleaned by rubbing the surface of your fence with a mixture of bleach and water.
Archives
2017
2016
2015
2014