You'll find premium vinyl fencing for your home in Bergen County at Anchor Fence Contractors, Inc. Homeowners often choose this material because it's aesthetically attractive, easy to maintain, and will last for years. We install all styles, including vinyl privacy fences. These tall, solid panels create a secure, private sanctuary in your front or back yard. Your children can play and your pets can roam free, without you having to worry that they'll wander off. These fences are equipped with a solid panel privacy gate.
If you would prefer the white picket fence look, we have quite a few options to choose from. Select a tall or short fence, either all the same length or with visually appealing height variations to add curves along the top silhouette. Our experienced contractors also install decorative vinyl fences. These feature solid panels for privacy, with decorative latticework on top. Whichever option you choose, you can rest assured you'll receive high-quality materials and expert installation from our team of in-house installers.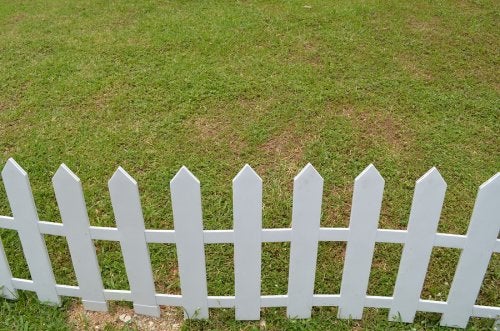 There are many ways to enhance your curb appeal , and there are many ways to keep your home safe and secure. Bergen County fences can accomplish both feats, but it's your job to choose the right type of fence for your property. If you want to improve the look of your home from the street, the color you choose for your fence design will play a role. Keep reading if you'd like some tips on choosing a fence color that will enhance your curb appeal.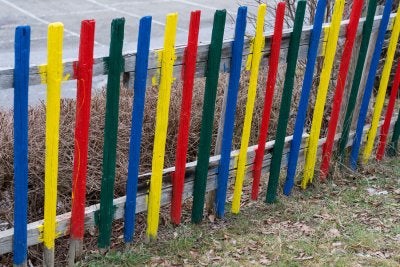 Consider the Effect on Maintenance
You're probably aware that different types of fence materials have different maintenance requirements, but did you know that your color selection may have an impact, as well? If you want a fence that can enhance your curb appeal without demanding an unreasonable amount of maintenance, you might want to steer towards darker colors. White fences can be beautiful, but it's much easier to notice dirt and grime on a white background than on a dark brown or black one. If you don't have the time or energy to afford your fence much maintenance, consider choosing a darker color.
Look at Your Existing Home Design
If you don't have any idea where to start when it comes to fence colors, stand on the curb and look at your house. Notice the colors of your roof, your shutters, your siding, and your front door. Pick a few different color options, take some samples, and see how you feel about each one within the context of the home design that you have already established.
Think About What You Want Out of Your Fence
Not everyone has the same opinions regarding what adds to and what takes away from your curb appeal. If you want to be on the safe side and make sure you keep the neighborhood happy, consider a fence color that fits in nicely with your neighbors' fences. If you're looking to stand out from the rest of the block, on the other hand, then you can choose a bolder color for your fence.

Your fencing in Bergen County can add quite the boost to your curb appeal, but you can take your fence design to the next level by adding a personal touch. Planting some flowers against your fence can increase your curb appeal and your enjoyment of your property. Watch this video for tips on planting roses along a fence.
If you want to complement your outdoor design with a few rosebushes, start by planning where you'll plant them. You should leave a few feet of space in between bushes, as they'll fill out as they grow and become established. Don't plant them too deep below ground level so they can soak up plenty of moisture when you water them. Keep in mind that vining roses should be woven into the fence, and you should fertilize your vining roses or rosebushes every couple of months so that they will thrive.

There are several fencing materials that can make your property more appealing and offer privacy or protection. However, wood and vinyl fences in Hillsdale are some of the most popular choices. Wood is a classic fencing choice that offers dependability and affordability. Vinyl is a sturdy material that can resist most damage over the years and seasons. It is crucial to understand the pros and cons of each fence type to decide which will be the best for your home . Read on for a better look at the pros and cons of wood and vinyl fences.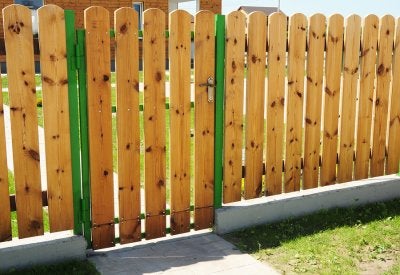 Wood Fencing Pros
Wood fencing is the oldest and most classical type of fencing you can install on your property. Wood fences come in a variety of colors, grain patterns, paints, and stains. They look most attractive against natural landscaping, they are typically more affordable and customizable, and they are easily repaired if any damages occur.
Vinyl Fencing Pros
Vinyl fencing, sometimes known as PVC fencing, can come in a variety of colors and styles. If you want a more natural appearance, then vinyl can be made to look like wood. However, you can also request vinyl fencing in a multitude of colors, such as red, purple, and gray. Vinyl fences never need to be repainted, and they are easily maintained with a mild detergent and water.
Wood Fencing Cons
The biggest drawback to installing a wood fence comes from the heavy maintenance these fences require. Wood must be repainted, refinished, or resealed to keep out moisture and bacteria. If moisture and bacteria invade a wooden fence, then the fence will likely warp or rot. Wood fences can also be damaged by fungi, termites, and pests.
Vinyl Fencing Cons
There are few cons surrounding vinyl fencing, because it resists most types of damage. However, vinyl fencing can be difficult and pricey to repair. It also requires a higher upfront cost than other fencing materials, though the low maintenance can offset this cost. Vinyl fencing, like other fencing materials will also fade with excessive sunlight exposure.

Have you been considering having professional fence installation in Bergen County ? Fences can increase your overall property value, which is important even if you are not thinking about selling your home in the near future. Once you have determined that you want a new fence on your property, you'll have to decide which material is right for you. Aluminum fencing can be used for the perimeter of your property, as security fencing, or as a pool gate to protect children and pets. Read on to find out what you should know about aluminum fencing.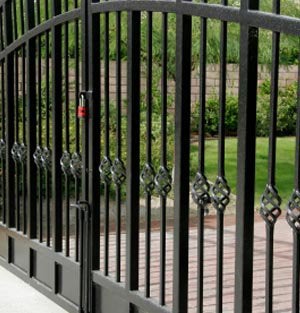 Benefits
Aluminum fencing is customizable, so no matter what you want your fence to look like, you can achieve it with aluminum. It is both lightweight and durable, and unlike wrought iron, will not rust over time. Aluminum fencing also will not warp or rot like wood can and is difficult to cut through, making your property safer from would-be intruders. If you are concerned about your impact on the environment, aluminum is a good choice for your fence because it is completely recyclable. In fact, your fence could have had previous lives before it is installed at your house. Perhaps the most attractive feature of an aluminum fence is its price, as it is a more economical choice than other ornamental fencing options.
Versatility
Different people want fences for different reasons. An aluminum fence design can be used in a variety of different ways, making it a good choice on almost any property. Your aluminum fence may be purely decoration, adding a level of aesthetic interest to your yard. You could have an aluminum fence at the entrance to your driveway with a single or double gate in various styles, or enclose your pool area with an aluminum fence. Because aluminum is welded together, it is stronger than fences that must be bolted or screwed during installation. This makes aluminum an excellent choice for a security fence.

Once your wooden fence in Hillsdale has been installed, you must keep it preserved and maintained to protect your investment. Wooden fences are a popular and beautiful addition to any home, as long as they are maintained and protected against water damage, bugs, and potential rot. Continue reading for some simple ways to keep your wooden fence looking beautiful for many years to come.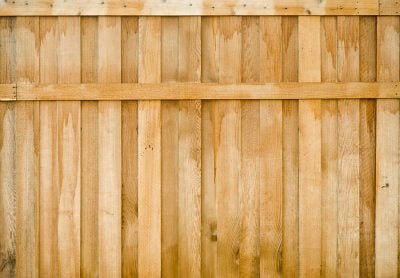 Use Wood Preservatives or Stains
To maintain your wooden fence best, you should periodically apply a water-repellant preservative or stain to the wooden panels. A preservative will help the wood to resist bug and water damage that can result in warping, splitting, and rot. Stains are also used as wood fencing sealants. If you want the option to customize the look of your wooden fence to match your landscaping, then you can apply a colored stain. These stains come in transparent, semi-transparent, and solid color options.
Keep Sprinklers Away
Even with a stain or preservative, wooden fences can degrade over time due to weather exposure and old age. To keep your fencing from degrading even more, keep your lawn sprinklers and watering efforts away from your fences. Frequent water or moisture can severely impact your fence designs, causing them to rot, split, and warp. Your wooden fencing may also develop mold, which can become harmful if allowed to spread into your home. Angle lawn sprinklers away from your fencing to keep off as much excess moisture as possible.
Plant Flowers Elsewhere
In addition to angling lawn sprinklers away from your wooden fence, it is best to keep plants and other landscaping away from the fence, as well. Vines, trees, and large shrubs can be the most damaging to wooden fences. If vines are allowed to crawl up a wooden fence, they can cause excess moisture or dry out a wooden fence, both to the point of irreparable damage. Shrubs and trees can also damage a wooden fence with large roots, bugs, and moisture.

Deer are unwelcome invaders in any garden. This video will provide you with essential tips and information about how to control deer. One of the most effective deer control methods is to build a tall and secure fence around your garden. A contractor that installs Bergen County fences will be able to create a fence design that is completely deer proof.
As you are planning out your new garden fencing, you will have several materials to choose from. An aluminum fence or PVC fence may the best choice for your garden fencing needs. By taking the time to gather information about the benefits of different fencing materials, you will be able to choose the right materials for your new installation. A fence contractor can answer any questions that you may have about your new fence installation.

There are many types of residential fencing, and they can be made from a variety of construction materials such as wood, metal, or vinyl. One of the most common types is chain link fencing—a highly practical and economical choice that can be used to keep unwanted animals or people out, or keep your own pets in. Wood fencing is versatile, and can be made to reflect a wide range of styles. Depending on your budget and preference, you can select from an assortment of tree species. Wood's natural look is aesthetically pleasing and can elevate the overall visual appeal of your home. And it's an excellent choice for a privacy fence. Vinyl is a very durable material. When used to manufacture fences, it creates waterproof and insect-proof products.
Building a fence on your property in Bergen County is not a particularly difficult task—it requires a bit of planning, a healthy budget, and some good carpentry and construction skills. If you're not confident with tackling the project on your own, hire a reputable contractor who specializes in building and installing fencing. That way, you can rest assured knowing that the job will be done properly.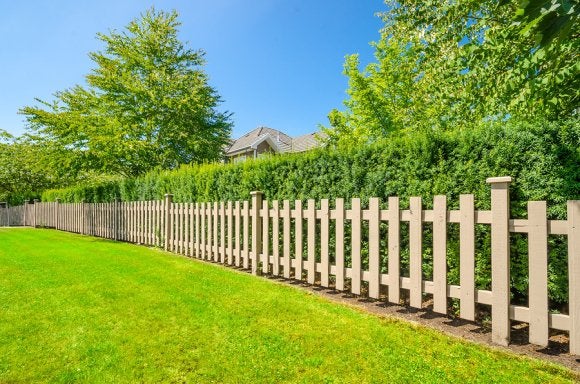 Chain link fencing has long been a cheaper and more versatile alternative to wooden, vinyl, or ornamental fencing. Nowadays, there are a wide variety of style, color and privacy options available beyond just a traditional metal chain link fence. If you're looking for fencing in Bergen County, New Jersey, consider chain link among your fencing options.
Durability of Chain Link
Once called hurricane fencing for its ability to withstand very high force winds, chain link is one of the most stable and durable fencing available. The fencing's stability is due to its construction: A woven pattern of galvanized steel wire is attached to steel posts planted deep into the ground and cemented in place.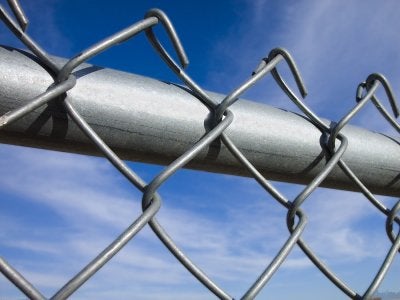 Chain Link Styles
It is possible to get a vinyl coated chain link fence in a few different colors, including green and black. Vinyl coating adds a pleasing aesthetic element to your fencing, and also prevents the metal from the elements, increasing its longevity. If you prefer the traditional look of chain link, a galvanized chain link fence is the right choice. Barbed wire chain link fencing affords you an extra level of security against intruders.
Privacy Options
If you are concerned with privacy and want to prevent passers-by from seeing into your yard, you may opt for privacy fencing . Privacy panels not only disguise the typical look of a chain link fence, they also block light, create a windbreak, and are available in weatherproof fabrics.
Chain Link Fencing Cost
As it is easier to install than other types of fences, chain link fences are also much lower in cost. Many fencing contractors in Bergen County offer free fence installation estimates based upon the size of your property. Chain link fencing costs vary depending on the type and size of chain link fence you desire. Other price factors include the gauge of the fence, whether you want to include a gate or gates, and the height of your fence.
Archives
2017
2016
2015
2014