As important as it is to have fencing in Bergen County that you love the look of, you also need to consider how much time you can spend on maintenance. Some fence designs offer surprisingly attractive aesthetics that mimic other materials, but you don't have to put nearly as much work into maintaining them. A vinyl fence may replicate the look of other fencing materials without demanding the same kinds of maintenance requirements. If you want to get the look of wood but the durability of vinyl fencing, keep reading.
If it's time to find a new fence, you'll want to find one that matches your home design and increases your curb appeal. Wooden fences are versatile and durable, and they may be just what your home's aesthetics need. Unfortunately, wood fences aren't the easiest to care for, which is a deal breaker for some people. If you want a fence that has the same cosmetic appeal as wood but doesn't have all the maintenance requirements, you should think about vinyl fencing. Vinyl fencing offers the best of both worlds, and it can stand the test of time, so it might be the right choice for you.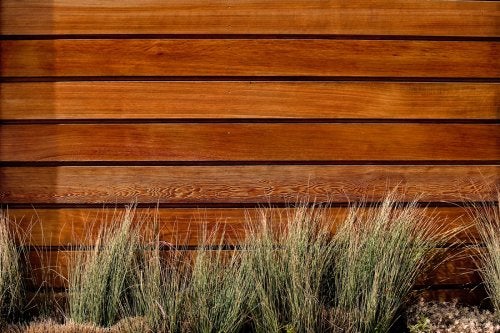 If you are a homeowner, there are a few terms regarding fencing in Bergen County that you might want to be able to identify. Knowing all about fence designs will make you better able to pick the best one, so you should keep up with the lingo. Some terms are straightforward, but others require a little more thought to figure out. Entrance gate, picket fence, and terminal post are only a couple of examples of common fencing terms, but not everyone knows exactly what these phrases mean. Keep reading for a closer look at some common fencing terms that all homeowners should know.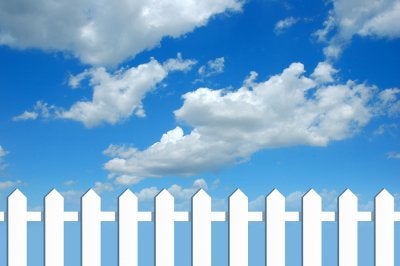 Entrance Gate
An entrance gate might refer to different types of gates and fencing installations. Some people use this term exclusively to refer to a gate that grants entry to the property, while others are more liberal with the verbiage. An entrance gate might also be one that leads into a courtyard, or even your pool area. Pool gates can be both aesthetic and effective in keeping your kids and your pets away from your pool when they aren't being supervised. In the same fashion, gates and fences that lead into your property should also be aesthetic as well as effective. If you want to keep intruders out, don't choose a fence that is easy to climb.
Picket Fence
A picket fence is often made of wood, but it doesn't necessarily have to be. A white picket fence has become a symbol of the American dream, and it can do a great job of defining the boundaries of your property. Although these types of fences are frequently made of wood, any fence that uses posts or vertical slats could be considered a picket fence. Small pickets that are spread out can tastefully surround a garden, while taller pickets can make for a privacy or pool fence.
Terminal Post
Every fence needs some support, and that's what terminal posts are for. A terminal post might be found at the end of the fence or on a corner. The posts that go up the stairs are also considered terminal posts.

It's nice to find a fence company that will offer you their services at reasonable rates, but you shouldn't go for a contractor based on price alone. Plenty of other factors will influence your experience and your results, so you should take your time when you look for a professional in fencing in Bergen County. Look at this video clip for tips on finding the right fence contractor.
You might get caught up in the excitement of getting a new fence, but you shouldn't forget about the importance of its installation. A properly installed fence can serve you well for years. If you want the best fence contractor you can find, you have to look around. Do your research, and take to the Internet to look at different contractors' websites. Reading reviews and checking references can also be helpful.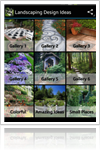 Putting up some beautiful, new fencing might get you in the mood to garden. Unless you're a natural born designer, you may need some inspiration to get started. Download the Landscaping Ideas app and get instant access to extensive galleries of landscaping and hardscaping masterpieces. Walk around your yard with your phone to compare how these ideas might look set against your own new fencing at your home in Bergen County.
With Landscaping Ideas, you can save and share your favorites from hundreds of exterior design samples. The content is organized into themed galleries, including a gallery for small spaces. You'll also find some unique lawn edging ideas for the areas along your fence. From Zen-like rock gardens to retaining walls to lighting features, this app has it all.
https://play.google.com/store/apps/details?id=com.LandscapingDesignIdeas.devOscar.app

Good fences do make good neighbors, but only with advanced planning and courteous communication. Before scheduling a new fence installation , homeowners in Bergen County should check local ordinances and homeowners' association (HOA) rules, if applicable. And if you have neighbors whose property will be adjacent to the fence, be sure to let them know about your intentions.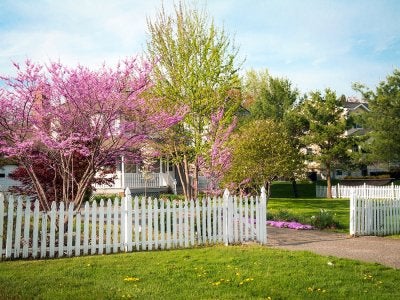 Check your property lines.
Checking your property lines before getting your new fence installed will save you plenty of headaches and dollars later if it turns out your land doesn't end where you thought it did. You can hire a land surveyor to eliminate any doubt of your property boundaries. Ask the surveyor to insert stakes along the property line so you can visualize your plans better.
Invite your neighbor over for coffee.
It's courteous to inform your neighbor about the new fence, even if you aren't required to. Ask him or her over for coffee and a friendly chat. Tell your neighbor that you'd like to put up a fence to secure your pets, keep your kids from wandering, or enhance your family's enjoyment of the yard. Your neighbor may want to see design plans or pictures of similar fences. Expect your neighbor to ask about the fence's location.
Consider a compromise.
It's possible that your neighbor might dispute the fence. If so, discussing your fence designs with your neighbor ahead of time may let you avoid conflict. Within reason, consider compromising so that both of your families are pleased with the outcome.
Collaborate with your neighbor.
In some cases, homeowners are pleasantly surprised to discover that their neighbors have also been considering getting a fence installed. The families may want to collaborate on the project by agreeing to install just one fence, right on the property line. Select a material and style that both of your families like. Collaboration with the neighbor should allow the families to split the cost of the new fence evenly.
Choose a fence with identical sides.
Some fences have one finished side and one rougher-looking side, while others are finished on both sides. Even if you and your neighbor aren't collaborating on the project, it's common courtesy to face the good side outward. Otherwise, select a style that is finished on both sides.

Bergen County chain link fences can withstand adverse weather, plant life, and minimal maintenance. Once you install a new fence, your fencing contractors will give you some tips on how to keep your chain link fence in good shape. Continue reading to see how you can keep your fence looking great.
The homeowner in this video paints his chain link fence a black or brown color to protect the metal from the elements and provide an attractive addition to his landscape. In addition to painting, you can keep your fence protected by keeping plants, gardens, and lawns at least a few inches away. Wipe down your chain link fence with a mild detergent and water to remove bug damage and rust. Ensure that it is free from excessive moisture, because this can cause rust or mold to form on the chain link.

Whether you would like additional privacy from your neighbors, or you want to make sure that your backyard is totally secure, a new fence installation may be right for your needs. A brand new aluminum fence or chain link fence will enhance the safety, privacy, and beauty of your backyard. With services from a fence company that installs fencing in Hillsdale , you can receive valuable information about every aspect of your fence installation. To help you prepare for your upcoming fence project, here is a look at some essential facts that you need to know about residential fences.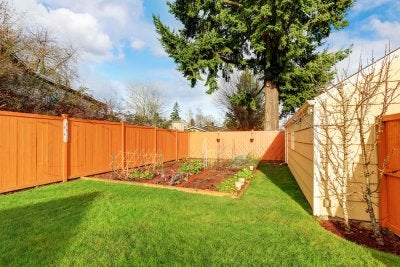 Choosing a Fence Material
When you are planning a new fence installation for your yard, you will need to select a fence material that meets your requirements for budget, style, and durability. If you want the ultimate in longevity, you may want to install an aluminum or chain link fence. Wooden fences are more susceptible to wear and tear than metal fences, but a wooden fence may provide your backyard with a better look and feel.
Determining Fence Placement
Another important aspect to consider when you are installing new residential fencing is where your fence needs to be installed throughout your yard. Depending on the laws and regulations that affect your local area, your fence may need to be placed at a certain distance from your neighbor's property line. Before you install a new residential fence, it is also courteous to inform your neighbors about your intention to fence the border between your property and theirs.
Hiring a Fence Contractor
Even though installing a new residential fence may seem like a fun DIY project, you will achieve much better results if you take the time to hire a fence contractor for your project. Your fence contractor will know how to properly place and install your fencing materials, and he will make sure that your fence is durable enough to withstand wear and tear from the elements. Hiring a fence contractor will also save you time and energy in the long run.

Whether you are trying to keep pets in your yard or give your property a new look, new fencing in Bergen County can help. Fencing contractors can help you find the perfect choice of fence for your home, improving its resale value as well as your appreciation for your living situation. Aluminum, wood, and chain link are 3 of the most common choices, and each of them works best in different situations. Take a look ahead if you are interested in exploring some of the popular residential fencing options.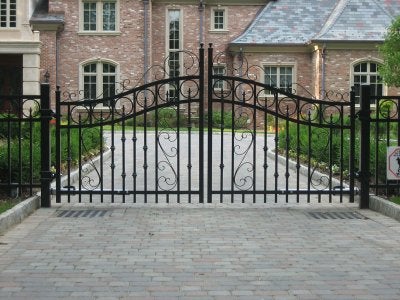 Aluminum
Are you looking to complete your modern home design? An aluminum fence might be the knot that ties your design scheme together. There's not much maintenance to do with this type of fence, and you can expect it to hold up year after year. The durability that aluminum fences provide will also increase the security of your home, which can make your family feel safer and make your home more valuable should you decide to sell it in the future.
Wood
If you're looking for an organically beautiful fence to add to your yard, wood might be the way to go. This type of fencing works particularly well if your home has a traditional design, and it can substantially increase the curb appeal and overall value of your home. You can also apply different stains to your fence to change its appearance. However, wooden fences do require more maintenance than most other materials. If you are looking for a naturally attractive fence and you don't mind putting in the maintenance work, talk to your fencing professional about a wood fence.
Chain Link
People tend to choose chain link fences for practical reasons rather than aesthetic, but that's not to say that you don't have viable options if you want a chain link fence for your property. These types of fences are durable and extremely low maintenance, making them a great choice for both commercial and residential spaces. A chain link fence can enclose your front yard as well as keep your pets and children away from the pool when you're not outside to watch them.

When you want to beautify your property or install a pool, then you can benefit with an aluminum fence in Hillsdale . With an ornamental aluminum fence, you can create a completely original fence design that will be secure and stable for many years to come. Aluminum fences will not rot or rust, which reduces the amount of maintenance needed, and they are completely recyclable. Learn more about aluminum fences, and the signs you could benefit from one, by reading below.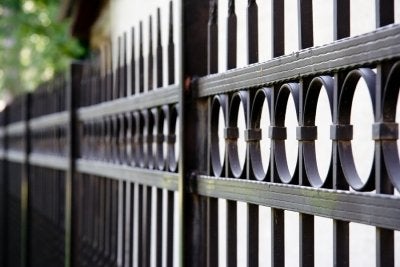 You have recently installed a pool.
By law, pool installations must have some sort of locked fencing around them. This is to help prevent children and pets from entering the pool area and possibly falling in, which could result in significant injury or drowning. If you have recently had a pool installed, then you need a secure pool fence and gate to keep your family protected. Aluminum fences are the most common fence installation for pools, because they are attractive and will not rot or rust throughout their lifetime.
You want to beautify your property.
Aluminum fences are one of the more attractive fencing materials. They are made to look like wrought iron, and they can be manufactured in a number of styles and designs. If you have been looking for perimeter fencing that will beautify your property, then ornamental aluminum fencing is the right choice. Speak with your fencing contractors about the right fence designs to complement your property and landscaping.
You are conscious of the environment.
If you look for ways to minimize your carbon footprint and impact on the environment, then aluminum fencing is the perfect addition to your property. Aluminum metal is the most recycled material on the planet, and a high percentage of current aluminum usage comes from original metal. By choosing aluminum fencing, you are likely using recycled metal that can be recycled again after fence removal. With an aluminum fence on your property, your impact on the environment will be minimal and you can rest assured that your carbon footprint will be reduced.

Privacy fences in Bergen County are beautiful and functional. However, if you are planning on installing a new fence, then you need to factor in your local regulations and be courteous to your neighbors. These are simple tasks, but they are necessary to build the new fence of your dreams . Let's get an in-depth look at what you must consider before installing a new privacy fence.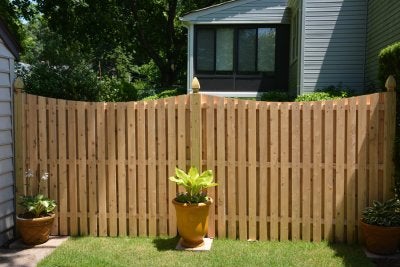 Your Reasons
Before installing any type of fence, examine your reasons for wanting a fence around your property. Do you wish to keep your home safer from onlookers or prevent your pets from getting out of your yard? Or do you want an ornamental fence that will beautify your property for you and your entire neighborhood to enjoy? These are some of the reasons to examine why you wish to install a new fence, whether it is a privacy fence or not. Once you know why you want a fence and potential fence designs, then call your fence company to continue the process.
Your Local Regulations
It is important to consider your local regulating boards and the rules they might have set forth about installing fences. These boards will likely include your neighborhood association and a county or city zoning group. Before you can install a new fence, look up the rules and regulations from these governing boards. Many neighborhood associations and zoning boards will allow fencing, but it must follow certain specifications, such as height, style, and adjacency to your property borders.
Your Neighbors
Though your reason for building a privacy fence may concern some of your neighbors, it is still courteous to inform them of your future project. If your fence will encroach on their property line, then you will need their permission to build. If the project is likely to be loud, or if you are using a nonstandard color for your new fence, then notify your neighbors. They may have an opinion, but if you have followed the local regulations, then you should still be able to build without repercussions.
Archives
2017
2016
2015
2014