When you are shopping for garden fencing materials, you may want to explore the many advantages that PVC fencing has to offer you. When you choose PVC fencing over wood fencing or other materials, you will gain several important benefits. For example, a PVC fence is typically much more budget friendly than a conventional wood fence. Along with being affordable, a PVC fence will also be very easy to maintain. Since this type of fencing material is very easy to assemble, you can also rest assured that your fencing contractor will be able to install your new fence quickly and easily. With your new PVC fence in place, you will be able to enjoy fantastic privacy and security in your backyard. If you have decided that PVC fencing is the right choice for your needs, be sure to get in touch with a contractor that can help you design and install a quality garden fence on your property.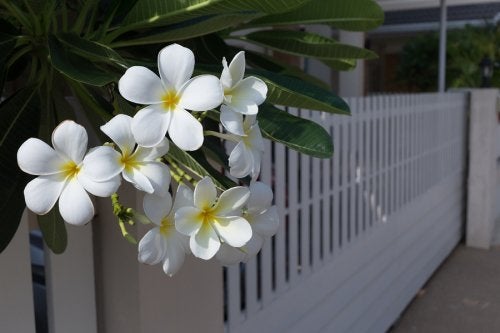 The summer season is here, and now is the perfect time to spend time with your friends and family enjoying your backyard pool. In order to make sure that your pool is safe and secure for your entire family to enjoy, it is a great idea to make sure that your pool area is equipped with secure pool fencing. A company offering fence installation serving Hillsdale can help you choose the right pool fence for the specific needs of your family. To highlight the benefits of contacting a fencing contractor this summer, read on for a look at the importance of fencing your pool.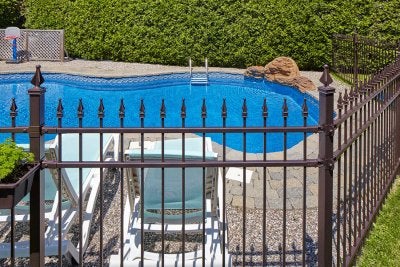 Pool Fences Enhance Safety
One of the most important reasons to fence around your pool is that your new pool fence will dramatically enhance the safety of your pool area. For example, if you are the parent of young children, a pool fence will ensure that your kids are not able to access your pool without an adult around. By taking the time to fence your pool, you can avoid accident or injury in or around your pool space.
Pool Fences Provide Security
Along with enhancing the safety of your pool space, a new pool fence can also provide additional security to your property. For example, a backyard swimming pool may be tempting to neighborhood children or pets. By creating a secure fence that surrounds the perimeter of your pool, you can make sure that only your family and guests are able to gain access to your pool area.
Pool Fences Complement Landscaping
Finally, a pool fence can also be used to enhance the beauty and appeal of your pool's landscaping and surrounding deck. When you are creating a new pool fence, you may want to choose materials that can be accented through trees, vines, or other special plants. To get started on your pool fence installation today, be sure to get in touch with a top rated fence contractor near you.

When you are shopping for a stylish, durable, and affordable fencing solution for your home, you may want to consider installing vinyl fencing. A new vinyl fence will keep your property totally safe and secure, while also helping you boost the curb appeal of your home. A company that specializes in beautiful fence designs can help you plan every step of your fence installation serving Hillsdale . After your vinyl fence installation has been completed, it will be up to you to take all of the steps that are needed to keep your fence in great shape throughout the years and season. Read on for some handy tips for maintaining your vinyl fence.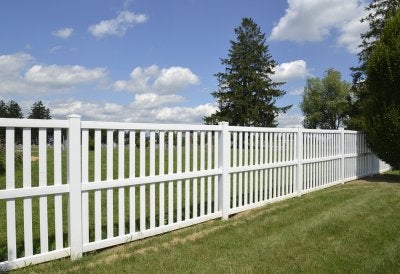 Wash Regularly
One of the best ways to keep your vinyl fence looking great is to wash it on a regular basis. When you wash your vinyl fence, you can use water and mild soap to gently remove any dirt or minor surface stains. To achieve a deeper level of clean, you can also scrub the surface of your fence with a cloth or brush.
Remove Surface Stains
Along with washing your vinyl fence regularly, you may also want to take the time to remove any surface stains that may be affecting the beauty of your fence. When your vinyl fence develops a stain, you can remove the blemish using a product called lacquer thinner. By rubbing the surface of your fence with a cloth that has been dipped in lacquer thinner, you can restore your fence to its original shine.
Prevent Mold and Mildew
Another important aspect of vinyl fence maintenance is to take all of the steps that are needed to prevent mold and mildew from growing on the surface of your fence. If you allow moisture to remain on the surface of your fence for too long, a mold problem could develop. Fortunately, any moldy areas on your fence can be thoroughly cleaned by rubbing the surface of your fence with a mixture of bleach and water.

Fences are an important addition to any backyard. If you are gearing up to install new fencing in Bergen County , you will want to consider several important factors. For example, when you are planning your fence installation, you want to research the fencing codes and restrictions from your city or county. Additionally, you will want to consider the function of your new fence. For example, a vinyl privacy fence can be used to boost the security of your yard, while also highlighting certain landscaping features. With the help of a company that specializes in fencing near your local area, you can create the beautiful new fence of your dreams. Watch this video to take a look at some essential tips and information to keep in mind when you are planning your new fence.
Archives
2017
2016
2015
2014