A fence can serve a lot of purposes for your home. In addition to adding curb appeal, a fence can provide security, become part of your landscaping design, increase privacy, and much more. The trick is selecting the right fence for the right purpose. For instance, if you aren't concerned about privacy but want a fence for keeping a pet in your yard or your young children from running into the street, then chain link fencing could be the right choice for you. On the other hand, if you want to make a dramatic style statement, consider wrought iron fencing or wood fencing. Learn more about the different types of fences in this infographic from Anchor Fence Contractors, Inc . Our Bergen County fences and fence installation services are just what you need to make the right fencing choice for your property. Help your fellow homeowners make the best fence choices for their own properties by sharing this information with them.


Whether you've got just a few tomatoes or an entire crop of farm-fresh fruits and veggies, your garden isn't complete with a garden fence. Not only will a good fence protect your garden from animals and pests, but it will also elevate the aesthetic appeal of your garden and your entire outdoor living space. A fence company in Bergen County can help you design the perfect garden fence. In the meantime, here are some tips to help get you started on a new garden fence.
Consider Fence Height
For starters, think about the desired height of your garden fence. If you mostly have herbs and root vegetables, you will probably want a shorter fence so you can keep animals and pests at bay without blocking the view of your garden. You may also need to consider the shadow created by the fence during the day and how it will affect the amount of sunlight your plants receive.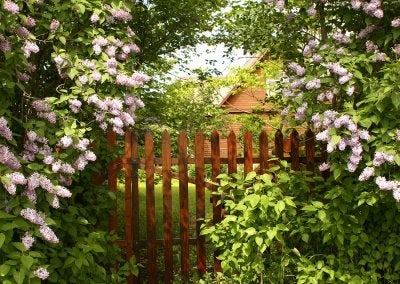 Make Your Fence Functional
A fence will protect your garden from hungry intruders like rabbits and squirrels, but it can also make your life easier while gardening. Your Hillsdale fence contractor can help you pick out fence hardware and accessories that will make your garden fence part storage shed and part boundary fence. You can install different types of hooks and bolts to organize your gardening tools along the fence for easy access whenever you need them.
Merge Fence with Nature
To make your family's garden look like something out of a movie or magazine, plant bushes and crawling vines around your garden fence to give it a reclaimed-by-nature look. Plants and vines can also increase the privacy of your garden fence so you don't need to worry about anyone spying on you while you're relaxing and tending to your garden.

"Curb appeal" refers to the beauty and visual interest of a home's exterior. The idea is to make your home as visually appealing from the front curb to wow onlookers and potential buyers. The good news is that it doesn't take a full remodeling project to improve your home's curb appeal and up its value. Watch this video from Better Homes and Gardens to learn some exterior home makeover tips that can transform your home into the best one on the block.
As you will see in this video, adding a metal fence can provide quite the boost to a home's curb appeal. If you want to make your home stand out, contact a residential fencing contractor in Bergen County to begin designing a new custom fence. There are a variety of different fencing options that can revitalize and transform your home's exterior, including ornamental wrought iron and beautiful cedar fencing.

The vinyl fence revolution is changing the face of neighborhoods across America. This cost-effective and long-lasting fence material offers a weatherproof, pest-resistant barrier that can be tailored to your exact fencing needs. Different colors and finishes can even give your vinyl fence the appearance of cedar without the maintenance requirements and performance issues of real wood. Before you contact a fencing company in Bergen County, here are some things you should know vinyl fencing.
Benefits of Vinyl Fencing
When vinyl fencing first came out, it was prohibitively expensive and only for the very wealthy. Now, thanks to a price that is competitive with other fencing materials, average people are starting to experience the benefits of vinyl fencing for themselves. One of the best things about vinyl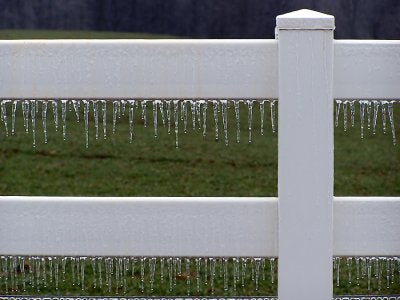 fencing in Hillsdale is that it won't crack, split, or splinter—not something you can say about wood fencing. Vinyl fences never need painting, staining, or sealing and they are virtually maintenance free.
Vinyl Fence Maintenance
Although vinyl fencing is just about the closest thing you can find to completely maintenance-free fencing, it is not 100 percent "no-care." About the only thing you'll need to do in order to keep your fence looking like new is to rinse off with a hose on occasion and scrub with soapy water or a vinyl cleaning solution when the fence becomes dirty. That's it!
Designing a Vinyl Fence
There are a lot of factors to consider when designing a custom vinyl fence. For starters, determine how much privacy you want with your new fence. Nothing is more classically American than white vinyl picket fencing, but don't be afraid to experiment with different colors to add a splash of visual interest around your home. Your Bergen County fencing contractor can also show you different accents and decorative components to make your fence stand out.

Fencing is an important consideration for businesses, factories, warehouses, restaurants, and any other commercial or industrial properties that need safe and secure barriers. When you work with a commercial fencing contractor in Bergen County you can find the perfect fence for your property at an affordable cost. Depending on your budget and fencing needs, you will have a wide variety of commercial fencing options to choose from. Popular commercial fencing materials in Hillsdale include chain link, aluminum, and even ornamental wrought iron (typically reserved for businesses that want to impress customers and guests).
Talk with a fencing company in Bergen County about your commercial fencing needs. A fence contractor can discuss different materials and designs to help you select the perfect fence to protect your business and provide security for your employees.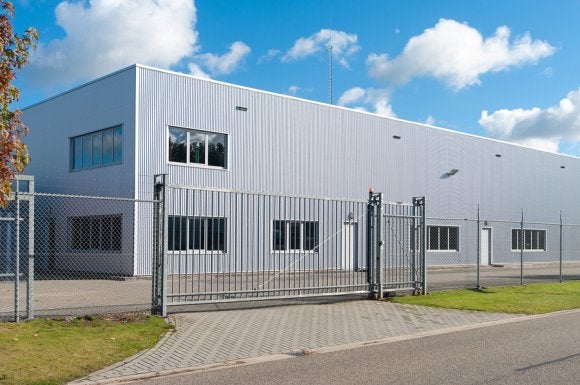 Archives
2017
2016
2015
2014