Wood fences can enhance your home's overall curb appeal when well maintained, but a neglected wood fence can make your home stand out like a sore thumb in your neighborhood. Your home should be something you can be proud of, and your fencing is part of that home. If your wooden fence in Hillsdale has seen better days, there are many ways to revitalize it. Here are some helpful tips on caring for your wood fencing.
Use a Power Washer
Rain, wind, and sunlight are not gentle to outdoor structures. Over the years, your wooden fence may become dirty and dull. This can happen when wood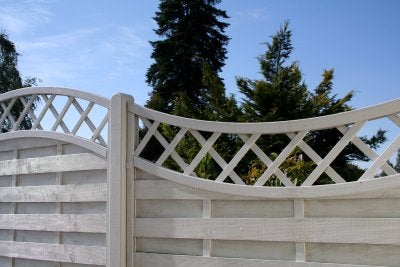 stains or sealers fade and erode away, exposing wood to the elements. Dust and dirt can accumulate in the grains of your fence's boards, discoloring them further. By using a power washer, you can strip away the layers of dirt and old wood cells with ease. However, due to its aggressive nature, a power washer can actually damage your fence if you overuse or misuse it. Be careful and follow the instructions listed in your machine's user guide. When in doubt, enlist the help of a specialist.
Repair Damaged Areas
Check your fence for damage that needs to be addressed before you stain it. Worn out boards that cannot be refastened or fixed should be replaced. Screws or nails that are jutting out should be screwed back or hammered in. Cracked boards can be repaired using waterproof glue or specialized patches. Rotted fence posts should be replaced with pressure-treated posts, and new concrete foundations should be poured.
Stain and Seal Your Fence
Once you have a cleaned and mended fence, reapply a stain and sealer to its wood. Stains are made to protect your wood's surfaces, thus extending its life. Take advantage of having a blank canvas to explore different colors or gloss treatments. Choose products that inhibit ultraviolet light, mold, and mildew. Generally, stains can last anywhere from two to five years.

Wood fencing in Bergen County is regarded for the beauty of its natural appearance. If you do decide to install a wood fence, it is important that you know how to maintain it in order to preserve this natural beauty. Watch this video clip if you would like to learn some wood fence repair tips.
If you have a board that is bowed out from the rest of the fence, you may be able to alleviate the problem by attaching a third runner. This is only recommended if the fence is not too dry or old. If the board is not distressed when you push it back in line with the rest of the fence, set a middle runner between the posts. You can then attach the bowed board to the middle runner with screws. If you are replacing a broken board, remember to leave some room for expansion and contraction.

Fences in Bergen County are not just for surrounding your yard or your pool area; they can also serve as barriers that allow or deny access to your driveway. Just like there are many different types of fences, there are several different kinds of driveway gates as well. The right type of driveway gate will function smoothly while complementing the existing design scheme that your house displays. Read on for a quick look at some of the different driveway gate designs.
Gate Material
Whether your fence is at the end of your driveway or surrounding your backyard, material is one of the most important aspects. The type of material you choose may impact the necessary maintenance that you must offer your fence or gate, and it can have a pronounced effect on the aesthetic value of the structure. Driveway gate designs are typically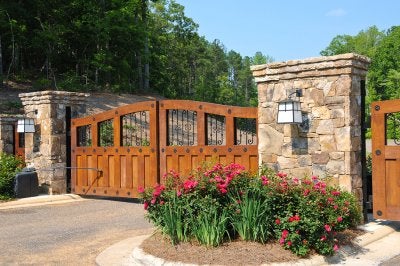 made of wood or metal. A metal driveway gate can offer an elegant and contemporary aesthetic that does not inhibit the passing of light; this means that your view will be relatively unobstructed, as will the view of your house by passersby. Wood fences tend to provide more privacy and are better suited for more traditional, rustic homes. Keep in mind that wood driveway gates may require some extra maintenance.
Opening Mechanism
A driveway gate may open in a number of ways: It may swing open to one side, swing open from the middle, or slide open. If you like the design that swings open to one side, it is important that you have enough room for it to make a path. Doors that meet in the middle and both swing open will require less room, and sliding driveway gates do not require any clearance room at all.
Prefabricated Versus Custom
If you are not entirely sure what you want out of your driveway gate design, you may want to go with a prefabricated choice. If you have elaborate plans for the gate of your dreams, on the other hand, a qualified fencing company can help you make those dreams your reality.

If you are looking for a beautiful fence in Bergen County that is equally practical, you may want to consider looking into wrought iron fences. Wrought iron is one of the most ornamental types of fences and can substantially boost your home's curb appeal. If you want your home to emanate elegance and luxury, keep reading to learn about the benefits of wrought iron fences.
Wood and PVC fencing can both yield beautiful results; however, there is something special about wrought iron fences. Their designs know no bounds and are often extravagant, turning heads and drawing eyes of passersby. Aesthetic prowess is not wrought iron's only strong suit. A wrought iron fence can be effective when it comes to protecting your property as well. It is difficult for someone to break through a wrought iron fence, and cutting it down is not an easy task either. This means that this durable fence can protect your property as well as it decorates it. Another benefit is that these fences can provide this security without inhibiting your view. Most wrought iron fences tend to feature evenly spaced slats that, much like chain link fences, can restrict access without compromising your view.
Archives
2017
2016
2015
2014