Bergen County pool fences need to be durable, secure, and able to withstand outside forces with little to no maintenance. There are many types of fencing used to keep a pool secure against unattended children and pets, but aluminum is one of the best choices . Aluminum is the most prevalent and recyclable metal on the planet, making it a low-cost choice to create a beautiful, yet strong, pool fence.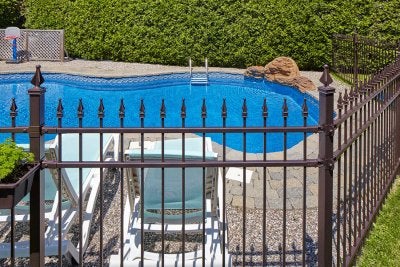 Low Maintenance Fencing
Aluminum fencing is one of the best and most cost-effective choices for any type of fencing, including a pool fence. Aluminum is manufactured in such a way that it requires very little maintenance. It can be made to look like wrought iron fencing, which is a very popular fence choice, but it will not require the maintenance that wrought iron fences need. Coupled with the low cost of aluminum, homeowners will have to spend very little to keep their aluminum pool fence maintained, resulting in a low-cost fencing choice.
Durable Fencing
Compared with wood and wrought iron fencing, aluminum fences will not rust, rot, or fade, making this material the perfect choice for a pool fence. A pool fence needs to withstand frequent water splashes, pool chemicals, and excess moisture. With aluminum, a pool fence will not rust or rot over the years. Vinyl fencing will also resist rotting and damage, but it is not as strong as aluminum. An aluminum pool fence is the optimal and durable choice to surround any type of pool installation.
Secure Fencing
Due to its durable construction, aluminum fencing is unlikely to break or become damaged. Wood fencing can potentially rot, which could affect the structure of the entire fence, or an intruder could easily kick in a wood panel. If a wood fence is compromised, it may become damaged further by a strong storm or wind. An aluminum fence cannot be easily destroyed, meaning the pool area will be protected from children and pets running around the yard.

Once your wooden fence in Hillsdale has been installed, you must keep it preserved and maintained to protect your investment. Wooden fences are a popular and beautiful addition to any home, as long as they are maintained and protected against water damage, bugs, and potential rot. Continue reading for some simple ways to keep your wooden fence looking beautiful for many years to come.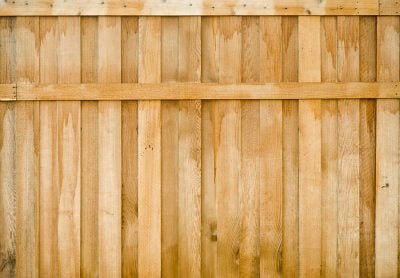 Use Wood Preservatives or Stains
To maintain your wooden fence best, you should periodically apply a water-repellant preservative or stain to the wooden panels. A preservative will help the wood to resist bug and water damage that can result in warping, splitting, and rot. Stains are also used as wood fencing sealants. If you want the option to customize the look of your wooden fence to match your landscaping, then you can apply a colored stain. These stains come in transparent, semi-transparent, and solid color options.
Keep Sprinklers Away
Even with a stain or preservative, wooden fences can degrade over time due to weather exposure and old age. To keep your fencing from degrading even more, keep your lawn sprinklers and watering efforts away from your fences. Frequent water or moisture can severely impact your fence designs, causing them to rot, split, and warp. Your wooden fencing may also develop mold, which can become harmful if allowed to spread into your home. Angle lawn sprinklers away from your fencing to keep off as much excess moisture as possible.
Plant Flowers Elsewhere
In addition to angling lawn sprinklers away from your wooden fence, it is best to keep plants and other landscaping away from the fence, as well. Vines, trees, and large shrubs can be the most damaging to wooden fences. If vines are allowed to crawl up a wooden fence, they can cause excess moisture or dry out a wooden fence, both to the point of irreparable damage. Shrubs and trees can also damage a wooden fence with large roots, bugs, and moisture.

Choosing the right fencing material in Hillsdale can seem like a difficult process, at times, because of the multitude of materials available . Fencing materials include aluminum, wood, vinyl, and chain link, among others. Part of choosing a fencing material also involves determining what the fence will be used for.
As seen in the video, fence designs can be used for security, privacy, and decoration. Each application has a fencing material better suited for the job. For example, aluminum fences are often used for ornamental purposes, although they are secure enough to double as pool fences and security fences. Vinyl fencing is a sturdy and maintenance-free fence best used as a security fence. Wood can be used as a security and ornamental fence, although it must be maintained periodically to keep the wood in good shape.

Bergen County chain link fences are sturdy and trustworthy additions to any yard. This type of fencing has been used for residential and commercial applications as a means to establish a perimeter and protect inhabitants from potential danger. However, chain link fences are only as strong as their maintenance. Even though chain link fencing does not need extensive maintenance, it should be done periodically and regularly.
Unlike aluminum fences, chain link is a type of metal fence that can rust. To keep a chain link fence in good shape, there should be very little foliage or excess moisture near the fence. This will help deter excessive rust. If rust is found, then it should be cleaned off immediately with steel wool or a rust remover. There are also protective coatings that can be applied to chain link to help resist rust. This type of fencing should also be inspected periodically for damages, such as broken or missing chain links. If these are found, contact the fence company right away.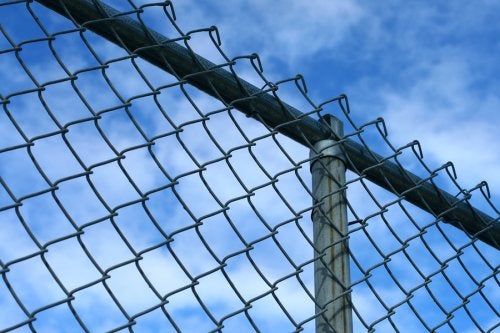 Archives
2017
2016
2015
2014