As important as it is to have fencing in Bergen County that you love the look of, you also need to consider how much time you can spend on maintenance. Some fence designs offer surprisingly attractive aesthetics that mimic other materials, but you don't have to put nearly as much work into maintaining them. A vinyl fence may replicate the look of other fencing materials without demanding the same kinds of maintenance requirements. If you want to get the look of wood but the durability of vinyl fencing, keep reading.
If it's time to find a new fence, you'll want to find one that matches your home design and increases your curb appeal. Wooden fences are versatile and durable, and they may be just what your home's aesthetics need. Unfortunately, wood fences aren't the easiest to care for, which is a deal breaker for some people. If you want a fence that has the same cosmetic appeal as wood but doesn't have all the maintenance requirements, you should think about vinyl fencing. Vinyl fencing offers the best of both worlds, and it can stand the test of time, so it might be the right choice for you.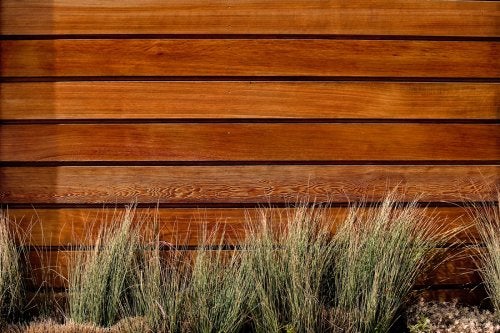 The right fence design may be just what your home needs . It can improve your curb appeal, increase the value of your home, and even help keep your family safe. The best part is that even though there are many different types of Bergen County fences, they can all offer a wealth of advantages. Your fences can keep burglars and criminals away from your house and keep children close to home, while also providing you with more privacy. Here's a closer look at the security advantages of a home fence: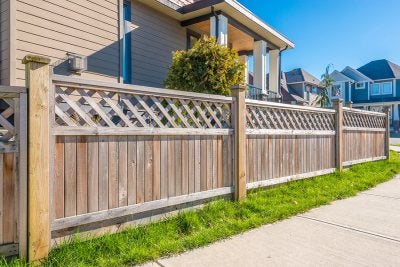 Stay Protected from Burglars
A fence is essentially a barricade that divides an area into separate sections. If you're worried about burglars and vandals attempting to cause trouble on your property, this type of barricade can be extremely helpful. Uninvited parties typically try to keep their presence unknown. If you keep your fence locked, the only way for criminals to intrude is to break the lock or climb over the fence. This will at least slow the criminals down and potentially discourage them from going through with the intrusion. Aluminum fences can also be difficult or even impossible to climb, so they might not even be physically capable of breaking in.
Keep Children Safe
Children are curious, and this sometimes leads them to venture away from home to explore. If you'd like to make sure your kids stay where you can keep an eye on them, a new fence can help. Not all kids are the sneaky type, and some children may just recognize the fence as a barrier that they're not allowed to cross without an adult. A great use for a security fence like this is surrounding your pool area to prevent injuries.
Enjoy More Privacy
It's important to feel secure and comfortable in your home. If you feel like you're too exposed when you spend time in your yard, consider adding a fence for comfort and security. This can also be helpful if you have large windows but you don't want to spend the money on bulky window treatments for them.

Bergen County chain link fences can withstand adverse weather, plant life, and minimal maintenance. Once you install a new fence, your fencing contractors will give you some tips on how to keep your chain link fence in good shape. Continue reading to see how you can keep your fence looking great.
The homeowner in this video paints his chain link fence a black or brown color to protect the metal from the elements and provide an attractive addition to his landscape. In addition to painting, you can keep your fence protected by keeping plants, gardens, and lawns at least a few inches away. Wipe down your chain link fence with a mild detergent and water to remove bug damage and rust. Ensure that it is free from excessive moisture, because this can cause rust or mold to form on the chain link.

The summer season is nearly here, and it is important to start planning ahead for when you open up your backyard pool for the season. To ensure that your children and pets are safe around your pool, you may want to consider installing fencing around the perimeter of your pool deck. A contractor that specializes in fence installation can help you design a stylish pool fence or privacy fence in Bergen County. If you are wondering about how you can get started on your pool fence design, read these tips for choosing a fence for a swimming pool.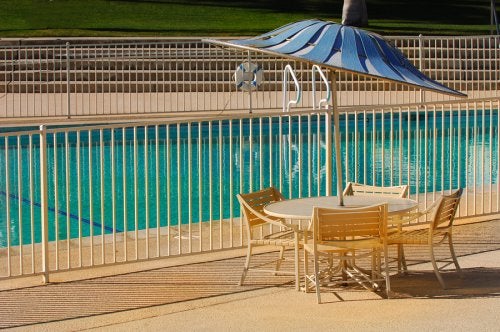 Compare Different Materials
When you are designing a swimming pool fence, you will want to carefully compare the different materials that are available for your project. While some homeowners choose utilitarian chain link fences to secure their swimming pools, others prefer materials that have more style and flair. A wood pool fence, for example, can be integrated into the overall landscaping design scheme of your pool deck.
Determine the Correct Height
One of the main functions of a pool fence is to make sure that children and pets are not able to enter the pool area without supervision. To rest assured that your pool is fully secure, you will need to determine the correct height for your fencing installation. Typically, pool fences measure around 54 inches in height. A fence that is any shorter may allow unsupervised children to climb into the pool area.
Consider Durability and Maintenance
Since a pool fence is a fairly significant investment for any family, you will want to build a fence that will last for decades or longer before it needs to be replaced. Metal fences, such as aluminum and chain link fences, are highly regarded for their outstanding durability. You can also rest assured that your pool water will not damage your metal fence if it happens to splash on the fence's surface. A pool fence contractor can answer any additional questions that you might have about building a fence for your pool.

When it comes to adding a fence to your house, there are several factors to consider. If you're wondering if your property could benefit from the installation of a vinyl fence in Bergen County , then continue reading to learn what signs can mean that this type of fence is right for your home.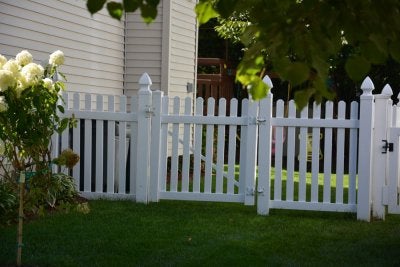 You want low-maintenance fencing.
Wood is a popular fence material that can give a property a more natural look and a rustic charm. However, wood fencing requires yearly upkeep to maintain its good condition. Unlike vinyl fences, those made from natural wood are vulnerable to warping, termites, fungus, and rot when not properly maintained.
You love traditional white picket fencing.
A white picket fence is still one of the most popular types of fencing for residential front yards, and this classic look can enhance the curb appeal of your property while at the same time adding a bit of security and keeping pets and people from wandering into your yard. Vinyl fencing comes in a broad range of designs that mimic the look of a wood picket fence but that require less maintenance.
You want fencing that looks attractive.
There are several reasons why homeowners choose to install vinyl fencing, and one of them is that this material is often aesthetically pleasing. Vinyl can do much more to enhance the look of your property than chain link fences can, and it is also available in a broad range of colors to match your home's exterior or your landscape design. Furthermore, you can find vinyl fences in styles that differ from many natural wood options.
You want more privacy for your home.
If you're like many people, then you like to make the most of your backyard by swimming, lounging, and entertaining guests. If this sounds like you, then you can probably benefit from the installation of a vinyl privacy fence. These popular options are tall and have no space between the slats, meaning that you can enjoy your backyard in greater comfort and privacy.

If you have an older fence on your property, there may come a time when you need to repair or simply replace it. While fences can last a long time when they are properly maintained, they will eventually need replacement. A new fence in Hillsdale will improve the aesthetic appearance of your property, and will perform better at keeping kids and pets safe.
If you have a wood fence, you may notice that some pickets are missing, or that entire sections are bending and falling down. This is a sure sign that it's time to replace your fence. Wood can warp and rot over time to the point where it is no longer effective. Vinyl and metal fencing will need replacement at some point, too. While these materials do not warp or rot, their overall appearance should indicate to you that they need replacement. If you can no longer bring the fence back to its original appearance through cleaning and maintenance, call the professionals to discuss fence installation on your property.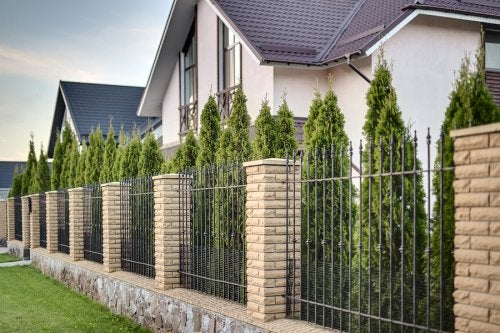 Bergen County pool fences need to be durable, secure, and able to withstand outside forces with little to no maintenance. There are many types of fencing used to keep a pool secure against unattended children and pets, but aluminum is one of the best choices . Aluminum is the most prevalent and recyclable metal on the planet, making it a low-cost choice to create a beautiful, yet strong, pool fence.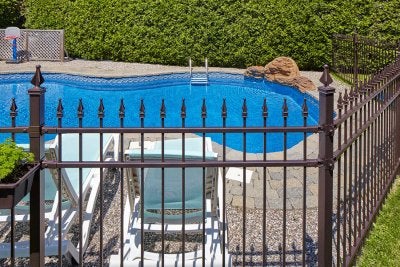 Low Maintenance Fencing
Aluminum fencing is one of the best and most cost-effective choices for any type of fencing, including a pool fence. Aluminum is manufactured in such a way that it requires very little maintenance. It can be made to look like wrought iron fencing, which is a very popular fence choice, but it will not require the maintenance that wrought iron fences need. Coupled with the low cost of aluminum, homeowners will have to spend very little to keep their aluminum pool fence maintained, resulting in a low-cost fencing choice.
Durable Fencing
Compared with wood and wrought iron fencing, aluminum fences will not rust, rot, or fade, making this material the perfect choice for a pool fence. A pool fence needs to withstand frequent water splashes, pool chemicals, and excess moisture. With aluminum, a pool fence will not rust or rot over the years. Vinyl fencing will also resist rotting and damage, but it is not as strong as aluminum. An aluminum pool fence is the optimal and durable choice to surround any type of pool installation.
Secure Fencing
Due to its durable construction, aluminum fencing is unlikely to break or become damaged. Wood fencing can potentially rot, which could affect the structure of the entire fence, or an intruder could easily kick in a wood panel. If a wood fence is compromised, it may become damaged further by a strong storm or wind. An aluminum fence cannot be easily destroyed, meaning the pool area will be protected from children and pets running around the yard.

Choosing the right fencing material in Hillsdale can seem like a difficult process, at times, because of the multitude of materials available . Fencing materials include aluminum, wood, vinyl, and chain link, among others. Part of choosing a fencing material also involves determining what the fence will be used for.
As seen in the video, fence designs can be used for security, privacy, and decoration. Each application has a fencing material better suited for the job. For example, aluminum fences are often used for ornamental purposes, although they are secure enough to double as pool fences and security fences. Vinyl fencing is a sturdy and maintenance-free fence best used as a security fence. Wood can be used as a security and ornamental fence, although it must be maintained periodically to keep the wood in good shape.

If you are looking for a classic home with a timeless fence surrounding your property, then look at Bergen County picket fences. Whether you choose a white vinyl fence or stained wooden fencing, the border created by your picket fence will bring a timeless look to your home. Picket fences are not only good for decoration, though. They can bring a sense of security and comfort to your family.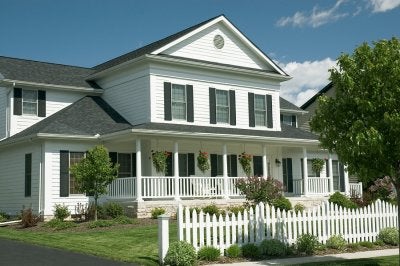 Decorative Fencing
Picket fencing has long been a part of the American suburban dream. How many men and women have envisioned the perfect home and lot surrounded by a white, picket fence? This type of fencing has been in the United States for hundreds of years. It is a great type of fencing that marks a boundary, yet still looks beautiful against the backdrop of the house.
Efficient Fencing
Picket fences are typically kept short to not obstruct the view, but they can still contain animals and children in the safety of the yard. While they may be considered a somewhat decorative fence, they still add security and boundaries to your property.
Vinyl Fencing
In more recent years, picket fences have been made in polyvinyl chloride, also known as PVC or vinyl. Vinyl fencing is an inexpensive and durable option for your picket fence. It will resist damage from moisture, which may cause rot, warping, and corrosion in other fencing materials. Vinyl, or PVC, is created in a white tone, but it can be colored to add a modern twist to your fencing. Vinyl fences can easily resemble wood stains, exotic colors, or a simple white stain, if you choose.
Wooden Fencing
Wood is still a common material, especially for a picket fence. Before PVC's commercial usage began in the 1920s, wood was the accepted material for all types of fences. It is a readily available and reusable material that can be shaped, stained, and colored to almost any look homeowners desire. To be made into a picket fence, each wood board must be shaped into a point and evenly lined up to create a border around the property.

Wood fencing is a popular choice for homeowners around the country. As you are planning a new wood fence installation in Bergen County, you will want to talk to your fencing contractors about the different types of wood that are available for your project. A wood fence is typically constructed from one of several different types of species of wood. Three of the most common wood species used for fences are pine, fir, and spruce. These durable and affordable wood types can be easily cut and assembled into a beautiful fence design. Some luxurious wood species that are used for fence designs include cedar, cypress, and redwood. While these species are more expensive, they also offer greater weather resistance and strength.
If you would like to tour some of the fencing materials that are available for your home, you can contact a fence contractor. Your fence design expert can provide you with in-depth information about all of the different types of woods that you can use to create a beautiful new fence.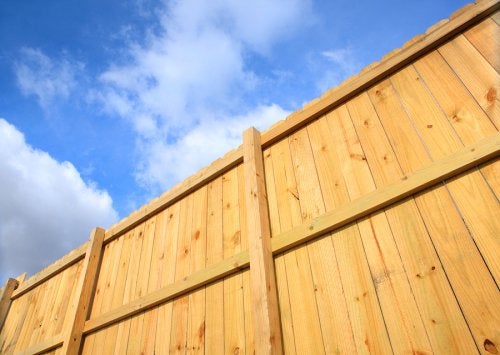 Archives
2017
2016
2015
2014