For rental properties, aesthetic appeal and function are equally important to attract and retain desirable tenants. Landlords choose to fence in their properties because privacy and ornamental fences around homes in Hillsdale add value and look refined. If you already have tenants living at the property, try to give them advanced notice about the project. If you're showing the property to prospective tenants, let them know that you're planning a fencing project to enhance security and privacy for your tenants.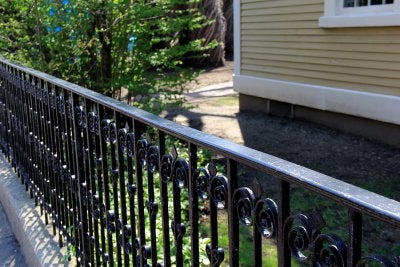 Deciding to Install Fencing
Landlords who install fences around their rental properties can look forward to increased property values and better curb appeal. Your investment should eventually pay for itself in higher rent payments. Plus, you may be more likely to attract more desirable tenants who will truly care about keeping your property in good condition. To a tenant, fenced-in property offers:
Enhanced privacy
Better security
Improved protection for pets and children
In some cases, fencing may be a necessity. If your rental property has a pool, you'll have to install a security fence with a lockable gate to protect neighborhood children. A security fence around the pool will also protect you from legal liability.
Selecting the Right Material
As a landlord, you already have a lot on your plate, between routine maintenance and service requests from tenants when something has broken. Although wood is an attractive material, it does require more upkeep than other options. Consider choosing an ornamental aluminum fence instead. Aluminum fences can make any property look more upscale. Although PVC fencing isn't quite as elegant as aluminum ornamental styles, it's another durable, low-maintenance, and cost-effective option that is popular among property owners.
Scheduling the Installation
After you've selected the right option for your property, let your tenants know about the installation, if you haven't already done so. Tenants are likely to be enthusiastic about the project, especially if they've made prior complaints about the neighbors. Ask your tenants to keep their dogs inside or leashed during the installation.
Adding the Finishing Touches
An aluminum ornamental or vinyl fence is a stand-alone feature, but you could dress up your property further by adding attractive landscaping. Add some flower planters to the area or invite your tenants to plant their favorite flowers along the fence.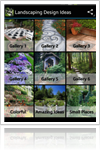 Putting up some beautiful, new fencing might get you in the mood to garden. Unless you're a natural born designer, you may need some inspiration to get started. Download the Landscaping Ideas app and get instant access to extensive galleries of landscaping and hardscaping masterpieces. Walk around your yard with your phone to compare how these ideas might look set against your own new fencing at your home in Bergen County.
With Landscaping Ideas, you can save and share your favorites from hundreds of exterior design samples. The content is organized into themed galleries, including a gallery for small spaces. You'll also find some unique lawn edging ideas for the areas along your fence. From Zen-like rock gardens to retaining walls to lighting features, this app has it all.
https://play.google.com/store/apps/details?id=com.LandscapingDesignIdeas.devOscar.app

You'll find premium vinyl fencing for your home in Bergen County at Anchor Fence Contractors, Inc. Homeowners often choose this material because it's aesthetically attractive, easy to maintain, and will last for years. We install all styles, including vinyl privacy fences. These tall, solid panels create a secure, private sanctuary in your front or back yard. Your children can play and your pets can roam free, without you having to worry that they'll wander off. These fences are equipped with a solid panel privacy gate.
If you would prefer the white picket fence look, we have quite a few options to choose from. Select a tall or short fence, either all the same length or with visually appealing height variations to add curves along the top silhouette. Our experienced contractors also install decorative vinyl fences. These feature solid panels for privacy, with decorative latticework on top. Whichever option you choose, you can rest assured you'll receive high-quality materials and expert installation from our team of in-house installers.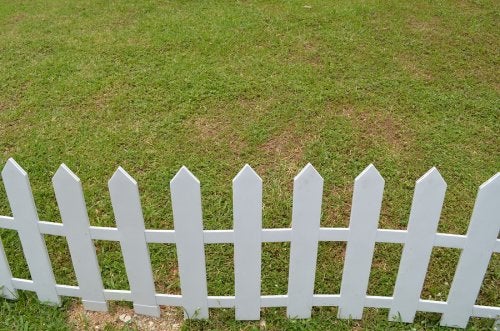 Good fences do make good neighbors, but only with advanced planning and courteous communication. Before scheduling a new fence installation , homeowners in Bergen County should check local ordinances and homeowners' association (HOA) rules, if applicable. And if you have neighbors whose property will be adjacent to the fence, be sure to let them know about your intentions.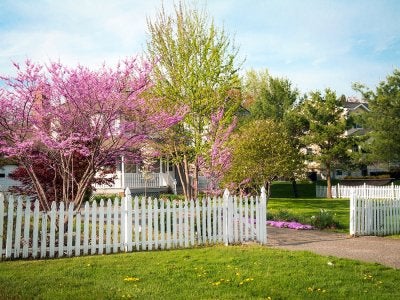 Check your property lines.
Checking your property lines before getting your new fence installed will save you plenty of headaches and dollars later if it turns out your land doesn't end where you thought it did. You can hire a land surveyor to eliminate any doubt of your property boundaries. Ask the surveyor to insert stakes along the property line so you can visualize your plans better.
Invite your neighbor over for coffee.
It's courteous to inform your neighbor about the new fence, even if you aren't required to. Ask him or her over for coffee and a friendly chat. Tell your neighbor that you'd like to put up a fence to secure your pets, keep your kids from wandering, or enhance your family's enjoyment of the yard. Your neighbor may want to see design plans or pictures of similar fences. Expect your neighbor to ask about the fence's location.
Consider a compromise.
It's possible that your neighbor might dispute the fence. If so, discussing your fence designs with your neighbor ahead of time may let you avoid conflict. Within reason, consider compromising so that both of your families are pleased with the outcome.
Collaborate with your neighbor.
In some cases, homeowners are pleasantly surprised to discover that their neighbors have also been considering getting a fence installed. The families may want to collaborate on the project by agreeing to install just one fence, right on the property line. Select a material and style that both of your families like. Collaboration with the neighbor should allow the families to split the cost of the new fence evenly.
Choose a fence with identical sides.
Some fences have one finished side and one rougher-looking side, while others are finished on both sides. Even if you and your neighbor aren't collaborating on the project, it's common courtesy to face the good side outward. Otherwise, select a style that is finished on both sides.
Archives
2017
2016
2015
2014