If you want to add style and appeal to your fencing installation, consider building a vertical garden. In this video, you will learn about the tools and materials that you will need to construct your vertical garden. Using some basic lumber and hardware, you can create planters that can be installed on your fence. A company that offers fencing in Bergen County can help you to plan out your design.
When you hire a team of garden fencing technicians to help you with your new fence, you will be able to build a fence that enhances the beauty of your landscaping. Whether you are seeking a strong metal fence or a lightweight PVC fence, your contractors can provide the right materials for your project.

Whether you've got a new vinyl, wood, or aluminum Bergen County fence, you can decorate it however you'd like to . You can add climbing plants to your metal fence, or you can use items like birdhouses to attract animals. You can also use your fence as a backdrop for a mural, which will add a perfectly unique flair to your backyard or place of business. A fence can be great during the holidays as well, and it will give you a place to hang up your decorations and beautify your house in celebration. Read on for some creative ways to decorate your new fence.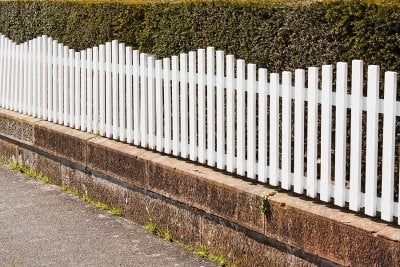 Plants and Animals
Depending on what kind of fence you go with, you might be able to adorn your new investment with climbing plants. Vines can fill in your slats and add more privacy and flair to your yard. You might also consider putting in a birdhouse, attracting some wildlife to the backyard and giving them a place to enjoy themselves. When you add a new attraction like a fence to your property, you can expect all kinds of species to show up.
Mural Backdrops
Whether you are friends with a professional artist, you have a knack for visual art, or you want to let your children express themselves, your fence could be a great place for a mural. You can commission a mural on the inside of your fence where it faces towards your yard, or you could talk to your neighbors and create a mural on the outside of your fence that brightens up your curb appeal. This is an interesting and unique way to add your own personal touch to your living space or add to the brand at your place of work.
Holiday Celebrations
It's always nice to see a house that's decorated for the holidays when you're driving around, and your fence gives you an extra opportunity to be festive. You can hang Christmas lights or an inflatable menorah during the winter months, red, white and blue decorations during July, or classic ghosts and pumpkins during October.

For rental properties, aesthetic appeal and function are equally important to attract and retain desirable tenants. Landlords choose to fence in their properties because privacy and ornamental fences around homes in Hillsdale add value and look refined. If you already have tenants living at the property, try to give them advanced notice about the project. If you're showing the property to prospective tenants, let them know that you're planning a fencing project to enhance security and privacy for your tenants.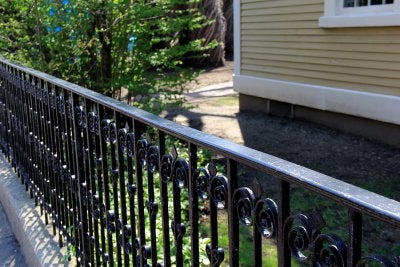 Deciding to Install Fencing
Landlords who install fences around their rental properties can look forward to increased property values and better curb appeal. Your investment should eventually pay for itself in higher rent payments. Plus, you may be more likely to attract more desirable tenants who will truly care about keeping your property in good condition. To a tenant, fenced-in property offers:
Enhanced privacy
Better security
Improved protection for pets and children
In some cases, fencing may be a necessity. If your rental property has a pool, you'll have to install a security fence with a lockable gate to protect neighborhood children. A security fence around the pool will also protect you from legal liability.
Selecting the Right Material
As a landlord, you already have a lot on your plate, between routine maintenance and service requests from tenants when something has broken. Although wood is an attractive material, it does require more upkeep than other options. Consider choosing an ornamental aluminum fence instead. Aluminum fences can make any property look more upscale. Although PVC fencing isn't quite as elegant as aluminum ornamental styles, it's another durable, low-maintenance, and cost-effective option that is popular among property owners.
Scheduling the Installation
After you've selected the right option for your property, let your tenants know about the installation, if you haven't already done so. Tenants are likely to be enthusiastic about the project, especially if they've made prior complaints about the neighbors. Ask your tenants to keep their dogs inside or leashed during the installation.
Adding the Finishing Touches
An aluminum ornamental or vinyl fence is a stand-alone feature, but you could dress up your property further by adding attractive landscaping. Add some flower planters to the area or invite your tenants to plant their favorite flowers along the fence.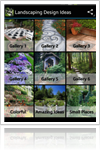 Putting up some beautiful, new fencing might get you in the mood to garden. Unless you're a natural born designer, you may need some inspiration to get started. Download the Landscaping Ideas app and get instant access to extensive galleries of landscaping and hardscaping masterpieces. Walk around your yard with your phone to compare how these ideas might look set against your own new fencing at your home in Bergen County.
With Landscaping Ideas, you can save and share your favorites from hundreds of exterior design samples. The content is organized into themed galleries, including a gallery for small spaces. You'll also find some unique lawn edging ideas for the areas along your fence. From Zen-like rock gardens to retaining walls to lighting features, this app has it all.
https://play.google.com/store/apps/details?id=com.LandscapingDesignIdeas.devOscar.app

Bergen County fences can hold up for years to come, but some need a little extra maintenance to keep up their looks. A wooden fence is a good example of a material that might need more maintenance than a vinyl or metal fence. You will also need to be careful not to damage your fence when you clean it, which means you should use the safest materials possible and do a little research so you know what you're doing. Continue to find out the best way to clean a wood fence.
Elements like the sun, the rain, and other forms of precipitation can take a toll on your wooden fence, leading to cracking and warping. Keep your fence in shape by giving it a thorough cleaning every so often. Apply a safe cleaner that's designed for fences to the surface of your wooden fence, and leave the cleaner on for about 15 minutes. Then, you can scrub or pressure wash the fence to work the cleaner in. After you've covered the whole fence, it's a good idea to have it stained or sealed for extra protection from ultraviolet rays, rain, and other harmful agents.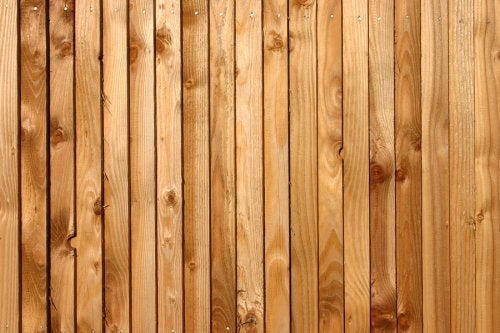 Vinyl fencing is a strong and dependable type of fencing in Bergen County. It can withstand adverse weather conditions and other damaging elements, such as warping. You can keep your vinyl fence in great shape for years to come with minimal maintenance. Spraying the fence with water and wiping down mild stains are simple ways to keep your vinyl fence looking beautiful and functional for years to come. Here is a quick look at how to make the most of your vinyl fence: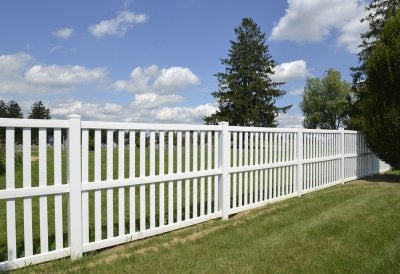 Remove Daily Buildup
It is important that any type of fencing be free of dirt and dust buildup. These damaging particles gather on your fence every day. Over time, your white vinyl fence will look dingy and dirty, and you may notice that the fence hardware deteriorates more quickly. You can prevent this unattractive and damaging buildup by spraying water and wiping down your fence. Ensure that water stains do not collect on your vinyl fence by spraying soft water or using a clean, dry cloth to wipe down excess moisture.
Use a Mild Detergent
There may be times when a mild stain develops on your fence, and spraying it with water will not erase the stain. Use a mild mixture of soap and water to wipe down stains. Use a clean cloth to scrub at these stains until they disappear, and use a dry cloth to remove the moisture. It is important to use a very mild soap to ensure your vinyl fence is not damaged.
Maintain Nearby Landscape
Your nearby landscape should be well-maintained to ensure the continued health of your vinyl fence. If you have overgrown plants or weeds near your fence, then you risk more dirt, dust, and damages to your new vinyl fence. Keep your landscape trimmed and away from your fence. Be careful while trimming and mowing your landscape. Your vinyl fence can be damaged by your lawnmower or gardening shears, so always be aware of how you are maintaining your fence's surroundings.

An aluminum fence in Bergen County can be as functional as it is aesthetic, making it a worthwhile investment for homeowners . However, how do you find out what kind of pool fence is right for your property? Aluminum fences are sturdy, aesthetically pleasing, and versatile. On top of that, they are easy to maintain and can stand the test of time. If you are looking for a way to close off your pool area while also improving the look of your yard, keep reading and find out how to choose your aluminum pool fence.
When you set out to find a new fence, it helps to start by thinking about your needs—you can worry about the design details afterwards. If you have small children and pets that you would like to keep out of the pool area when they're unsupervised, an aluminum fence may be the right solution. Make sure the fence you choose is tall enough that your pets can't jump over it, and the bars should be close enough together that kids and animals can't squeeze through them. In terms of design, look at your yard and think about what style best suits your taste.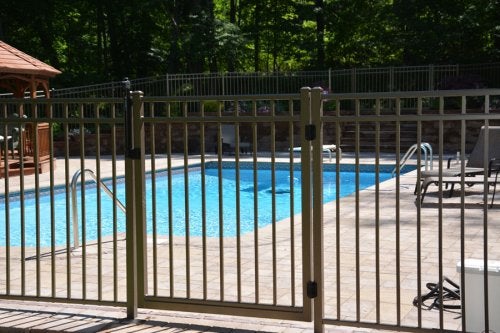 If you're looking to increase your curb appeal , a new Bergen County fence may be able to help. What's even better is that you can add foliage to your fence design for an even more pronounced effect. Take a look at this video on training vines to grow on your fence.
Like shrubs, bushes, and trees, vines can be used as decorations that improve the appeal of your property. If you want your vines to grow on your fence, you will want to train them. Once you've taken the plants from their pots and planted them by the fence, install a wire in your fence that you can wrap the vines around. Although they will eventually grow and attach to the wire, it's typically a good idea to first tie the vine to the wire. Cover the base of the plant in mulch, and make sure you water your plants liberally at first.

Polyvinyl chloride, also known as PVC or vinyl, is a popular fencing material. It can stand up to harsh weather, sun damage, and requires minimal maintenance throughout its long lifetime. If you are considering a vinyl fencing installation in Bergen County, then trust the process to your professional fencing contractors . Professional contractors have the necessary equipment to give you a quick and proper fence installation. Continue reading for more reasons why your vinyl fence installation should be left to the professionals.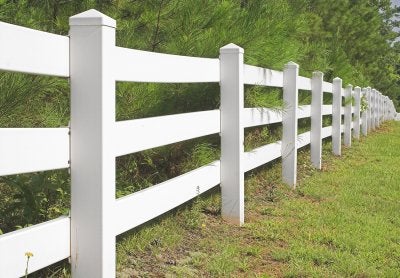 They will use the proper equipment.
By trusting professional fencing contractors with your vinyl fence installation, all of the necessary and proper equipment can be used. Fencing contractors have the right equipment—such as shovels and post stabilizers—to offer you a strong and stable fence installation. If you try to do a fence installation yourself, then you risk leaving a damaged or improperly installed fence on your property. This could lead to greater repair and replacement costs in the future.
They will provide a quick installation.
In addition to using the proper equipment, fencing contractors can quickly install your PVC fence. With professional-grade equipment and resources, your professional contractors can have your new fence installed in a matter of hours or days, depending on the length of the fence and nature of your property's terrain. This installation time is very short, especially in comparison to how long do-it-yourself installations may take. Fencing contractors have years of experience and training to quickly, efficiently, and correctly install your new PVC fence.
They will use the best fencing materials.
Working with fencing contractors will also ensure that you receive the best fencing materials. Professional contractors will work with you to provide the right color, design, and type of fence to suit your personal preferences and landscape terrain. These professionals offer in-depth consultations so that you will be completely satisfied with the fencing materials and the installation. This dedication ensures that you will end up with the best vinyl products and fence installation.

If you are looking for ways to beautify your Hillsdale fence , then look to nature for beautiful and useful climbing plants. Whether you want a flowering climber or more privacy for your fence, there is a climber for you. Watch the video and continue reading to learn about some popular climbing plants to complement your fence design.
For a hardy climber that will flower almost year-round, look for bougainvillea plants. These are strong, fast-growing plants that can cover your fence, no matter how tall it is. Wisteria is another vigorous plant that produces gorgeous flowers and a powerful perfume. If you simply want some privacy, then you may try planting a creeping fig. This is a strong plant that cannot be easily removed once it has taken hold. Consult with your fencing contractors to determine the right climber for you.
Archives
2017
2016
2015
2014