For rental properties, aesthetic appeal and function are equally important to attract and retain desirable tenants. Landlords choose to fence in their properties because privacy and ornamental fences around homes in Hillsdale add value and look refined. If you already have tenants living at the property, try to give them advanced notice about the project. If you're showing the property to prospective tenants, let them know that you're planning a fencing project to enhance security and privacy for your tenants.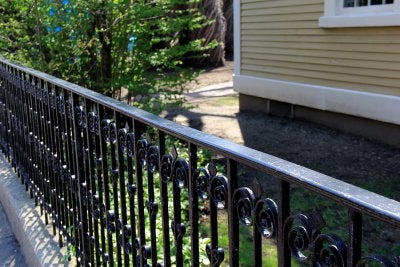 Deciding to Install Fencing
Landlords who install fences around their rental properties can look forward to increased property values and better curb appeal. Your investment should eventually pay for itself in higher rent payments. Plus, you may be more likely to attract more desirable tenants who will truly care about keeping your property in good condition. To a tenant, fenced-in property offers:
Enhanced privacy
Better security
Improved protection for pets and children
In some cases, fencing may be a necessity. If your rental property has a pool, you'll have to install a security fence with a lockable gate to protect neighborhood children. A security fence around the pool will also protect you from legal liability.
Selecting the Right Material
As a landlord, you already have a lot on your plate, between routine maintenance and service requests from tenants when something has broken. Although wood is an attractive material, it does require more upkeep than other options. Consider choosing an ornamental aluminum fence instead. Aluminum fences can make any property look more upscale. Although PVC fencing isn't quite as elegant as aluminum ornamental styles, it's another durable, low-maintenance, and cost-effective option that is popular among property owners.
Scheduling the Installation
After you've selected the right option for your property, let your tenants know about the installation, if you haven't already done so. Tenants are likely to be enthusiastic about the project, especially if they've made prior complaints about the neighbors. Ask your tenants to keep their dogs inside or leashed during the installation.
Adding the Finishing Touches
An aluminum ornamental or vinyl fence is a stand-alone feature, but you could dress up your property further by adding attractive landscaping. Add some flower planters to the area or invite your tenants to plant their favorite flowers along the fence.