There are many ways to enhance your curb appeal , and there are many ways to keep your home safe and secure. Bergen County fences can accomplish both feats, but it's your job to choose the right type of fence for your property. If you want to improve the look of your home from the street, the color you choose for your fence design will play a role. Keep reading if you'd like some tips on choosing a fence color that will enhance your curb appeal.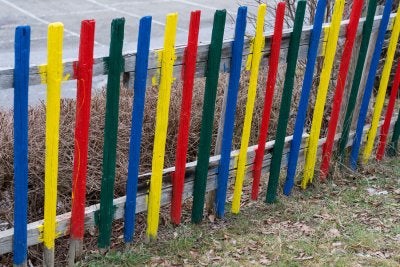 Consider the Effect on Maintenance
You're probably aware that different types of fence materials have different maintenance requirements, but did you know that your color selection may have an impact, as well? If you want a fence that can enhance your curb appeal without demanding an unreasonable amount of maintenance, you might want to steer towards darker colors. White fences can be beautiful, but it's much easier to notice dirt and grime on a white background than on a dark brown or black one. If you don't have the time or energy to afford your fence much maintenance, consider choosing a darker color.
Look at Your Existing Home Design
If you don't have any idea where to start when it comes to fence colors, stand on the curb and look at your house. Notice the colors of your roof, your shutters, your siding, and your front door. Pick a few different color options, take some samples, and see how you feel about each one within the context of the home design that you have already established.
Think About What You Want Out of Your Fence
Not everyone has the same opinions regarding what adds to and what takes away from your curb appeal. If you want to be on the safe side and make sure you keep the neighborhood happy, consider a fence color that fits in nicely with your neighbors' fences. If you're looking to stand out from the rest of the block, on the other hand, then you can choose a bolder color for your fence.