The summer season is here, and now is the perfect time to spend time with your friends and family enjoying your backyard pool. In order to make sure that your pool is safe and secure for your entire family to enjoy, it is a great idea to make sure that your pool area is equipped with secure pool fencing. A company offering fence installation serving Hillsdale can help you choose the right pool fence for the specific needs of your family. To highlight the benefits of contacting a fencing contractor this summer, read on for a look at the importance of fencing your pool.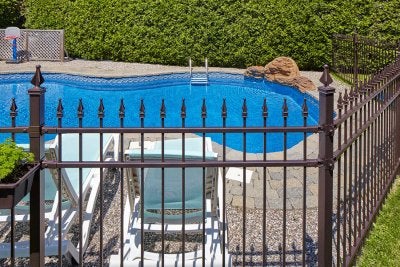 Pool Fences Enhance Safety
One of the most important reasons to fence around your pool is that your new pool fence will dramatically enhance the safety of your pool area. For example, if you are the parent of young children, a pool fence will ensure that your kids are not able to access your pool without an adult around. By taking the time to fence your pool, you can avoid accident or injury in or around your pool space.
Pool Fences Provide Security
Along with enhancing the safety of your pool space, a new pool fence can also provide additional security to your property. For example, a backyard swimming pool may be tempting to neighborhood children or pets. By creating a secure fence that surrounds the perimeter of your pool, you can make sure that only your family and guests are able to gain access to your pool area.
Pool Fences Complement Landscaping
Finally, a pool fence can also be used to enhance the beauty and appeal of your pool's landscaping and surrounding deck. When you are creating a new pool fence, you may want to choose materials that can be accented through trees, vines, or other special plants. To get started on your pool fence installation today, be sure to get in touch with a top rated fence contractor near you.