If you are looking for a classic home with a timeless fence surrounding your property, then look at Bergen County picket fences. Whether you choose a white vinyl fence or stained wooden fencing, the border created by your picket fence will bring a timeless look to your home. Picket fences are not only good for decoration, though. They can bring a sense of security and comfort to your family.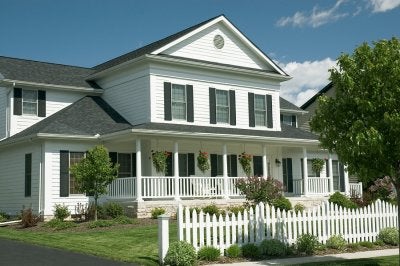 Decorative Fencing
Picket fencing has long been a part of the American suburban dream. How many men and women have envisioned the perfect home and lot surrounded by a white, picket fence? This type of fencing has been in the United States for hundreds of years. It is a great type of fencing that marks a boundary, yet still looks beautiful against the backdrop of the house.
Efficient Fencing
Picket fences are typically kept short to not obstruct the view, but they can still contain animals and children in the safety of the yard. While they may be considered a somewhat decorative fence, they still add security and boundaries to your property.
Vinyl Fencing
In more recent years, picket fences have been made in polyvinyl chloride, also known as PVC or vinyl. Vinyl fencing is an inexpensive and durable option for your picket fence. It will resist damage from moisture, which may cause rot, warping, and corrosion in other fencing materials. Vinyl, or PVC, is created in a white tone, but it can be colored to add a modern twist to your fencing. Vinyl fences can easily resemble wood stains, exotic colors, or a simple white stain, if you choose.
Wooden Fencing
Wood is still a common material, especially for a picket fence. Before PVC's commercial usage began in the 1920s, wood was the accepted material for all types of fences. It is a readily available and reusable material that can be shaped, stained, and colored to almost any look homeowners desire. To be made into a picket fence, each wood board must be shaped into a point and evenly lined up to create a border around the property.