The summer season is nearly here, and it is important to start planning ahead for when you open up your backyard pool for the season. To ensure that your children and pets are safe around your pool, you may want to consider installing fencing around the perimeter of your pool deck. A contractor that specializes in fence installation can help you design a stylish pool fence or privacy fence in Bergen County. If you are wondering about how you can get started on your pool fence design, read these tips for choosing a fence for a swimming pool.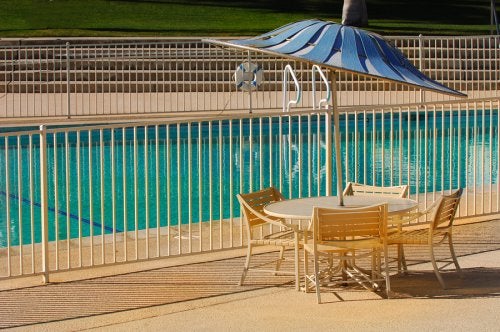 Compare Different Materials
When you are designing a swimming pool fence, you will want to carefully compare the different materials that are available for your project. While some homeowners choose utilitarian chain link fences to secure their swimming pools, others prefer materials that have more style and flair. A wood pool fence, for example, can be integrated into the overall landscaping design scheme of your pool deck.
Determine the Correct Height
One of the main functions of a pool fence is to make sure that children and pets are not able to enter the pool area without supervision. To rest assured that your pool is fully secure, you will need to determine the correct height for your fencing installation. Typically, pool fences measure around 54 inches in height. A fence that is any shorter may allow unsupervised children to climb into the pool area.
Consider Durability and Maintenance
Since a pool fence is a fairly significant investment for any family, you will want to build a fence that will last for decades or longer before it needs to be replaced. Metal fences, such as aluminum and chain link fences, are highly regarded for their outstanding durability. You can also rest assured that your pool water will not damage your metal fence if it happens to splash on the fence's surface. A pool fence contractor can answer any additional questions that you might have about building a fence for your pool.