The right fence design may be just what your home needs . It can improve your curb appeal, increase the value of your home, and even help keep your family safe. The best part is that even though there are many different types of Bergen County fences, they can all offer a wealth of advantages. Your fences can keep burglars and criminals away from your house and keep children close to home, while also providing you with more privacy. Here's a closer look at the security advantages of a home fence: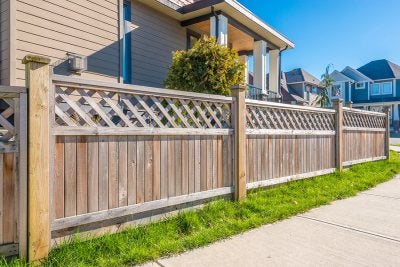 Stay Protected from Burglars
A fence is essentially a barricade that divides an area into separate sections. If you're worried about burglars and vandals attempting to cause trouble on your property, this type of barricade can be extremely helpful. Uninvited parties typically try to keep their presence unknown. If you keep your fence locked, the only way for criminals to intrude is to break the lock or climb over the fence. This will at least slow the criminals down and potentially discourage them from going through with the intrusion. Aluminum fences can also be difficult or even impossible to climb, so they might not even be physically capable of breaking in.
Keep Children Safe
Children are curious, and this sometimes leads them to venture away from home to explore. If you'd like to make sure your kids stay where you can keep an eye on them, a new fence can help. Not all kids are the sneaky type, and some children may just recognize the fence as a barrier that they're not allowed to cross without an adult. A great use for a security fence like this is surrounding your pool area to prevent injuries.
Enjoy More Privacy
It's important to feel secure and comfortable in your home. If you feel like you're too exposed when you spend time in your yard, consider adding a fence for comfort and security. This can also be helpful if you have large windows but you don't want to spend the money on bulky window treatments for them.