Good fences do make good neighbors, but only with advanced planning and courteous communication. Before scheduling a new fence installation , homeowners in Bergen County should check local ordinances and homeowners' association (HOA) rules, if applicable. And if you have neighbors whose property will be adjacent to the fence, be sure to let them know about your intentions.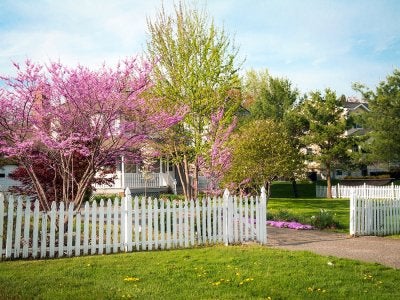 Check your property lines.
Checking your property lines before getting your new fence installed will save you plenty of headaches and dollars later if it turns out your land doesn't end where you thought it did. You can hire a land surveyor to eliminate any doubt of your property boundaries. Ask the surveyor to insert stakes along the property line so you can visualize your plans better.
Invite your neighbor over for coffee.
It's courteous to inform your neighbor about the new fence, even if you aren't required to. Ask him or her over for coffee and a friendly chat. Tell your neighbor that you'd like to put up a fence to secure your pets, keep your kids from wandering, or enhance your family's enjoyment of the yard. Your neighbor may want to see design plans or pictures of similar fences. Expect your neighbor to ask about the fence's location.
Consider a compromise.
It's possible that your neighbor might dispute the fence. If so, discussing your fence designs with your neighbor ahead of time may let you avoid conflict. Within reason, consider compromising so that both of your families are pleased with the outcome.
Collaborate with your neighbor.
In some cases, homeowners are pleasantly surprised to discover that their neighbors have also been considering getting a fence installed. The families may want to collaborate on the project by agreeing to install just one fence, right on the property line. Select a material and style that both of your families like. Collaboration with the neighbor should allow the families to split the cost of the new fence evenly.
Choose a fence with identical sides.
Some fences have one finished side and one rougher-looking side, while others are finished on both sides. Even if you and your neighbor aren't collaborating on the project, it's common courtesy to face the good side outward. Otherwise, select a style that is finished on both sides.