Chain link fencing has long been a cheaper and more versatile alternative to wooden, vinyl, or ornamental fencing. Nowadays, there are a wide variety of style, color and privacy options available beyond just a traditional metal chain link fence. If you're looking for fencing in Bergen County, New Jersey, consider chain link among your fencing options.
Durability of Chain Link
Once called hurricane fencing for its ability to withstand very high force winds, chain link is one of the most stable and durable fencing available. The fencing's stability is due to its construction: A woven pattern of galvanized steel wire is attached to steel posts planted deep into the ground and cemented in place.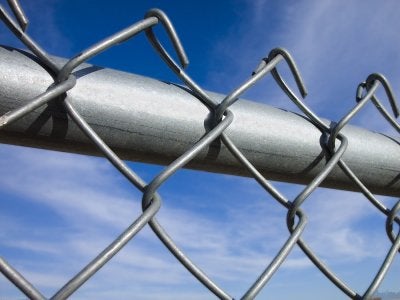 Chain Link Styles
It is possible to get a vinyl coated chain link fence in a few different colors, including green and black. Vinyl coating adds a pleasing aesthetic element to your fencing, and also prevents the metal from the elements, increasing its longevity. If you prefer the traditional look of chain link, a galvanized chain link fence is the right choice. Barbed wire chain link fencing affords you an extra level of security against intruders.
Privacy Options
If you are concerned with privacy and want to prevent passers-by from seeing into your yard, you may opt for privacy fencing . Privacy panels not only disguise the typical look of a chain link fence, they also block light, create a windbreak, and are available in weatherproof fabrics.
Chain Link Fencing Cost
As it is easier to install than other types of fences, chain link fences are also much lower in cost. Many fencing contractors in Bergen County offer free fence installation estimates based upon the size of your property. Chain link fencing costs vary depending on the type and size of chain link fence you desire. Other price factors include the gauge of the fence, whether you want to include a gate or gates, and the height of your fence.