Fences in Bergen County are not just for surrounding your yard or your pool area; they can also serve as barriers that allow or deny access to your driveway. Just like there are many different types of fences, there are several different kinds of driveway gates as well. The right type of driveway gate will function smoothly while complementing the existing design scheme that your house displays. Read on for a quick look at some of the different driveway gate designs.
Gate Material
Whether your fence is at the end of your driveway or surrounding your backyard, material is one of the most important aspects. The type of material you choose may impact the necessary maintenance that you must offer your fence or gate, and it can have a pronounced effect on the aesthetic value of the structure. Driveway gate designs are typically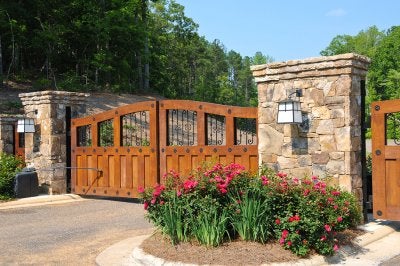 made of wood or metal. A metal driveway gate can offer an elegant and contemporary aesthetic that does not inhibit the passing of light; this means that your view will be relatively unobstructed, as will the view of your house by passersby. Wood fences tend to provide more privacy and are better suited for more traditional, rustic homes. Keep in mind that wood driveway gates may require some extra maintenance.
Opening Mechanism
A driveway gate may open in a number of ways: It may swing open to one side, swing open from the middle, or slide open. If you like the design that swings open to one side, it is important that you have enough room for it to make a path. Doors that meet in the middle and both swing open will require less room, and sliding driveway gates do not require any clearance room at all.
Prefabricated Versus Custom
If you are not entirely sure what you want out of your driveway gate design, you may want to go with a prefabricated choice. If you have elaborate plans for the gate of your dreams, on the other hand, a qualified fencing company can help you make those dreams your reality.