The white picket fence is one of the most iconic images of the "American Dream." The Americana charm and feel of white picket fencing looks great around virtually any style of home, but is especially beautiful around country and cottage style homes. In this video you'll see how the white picket fence is constructed and what factors and considerations go into designing the perfect white picket fence.
If you want to create that classic white picket fence look around your home, contact a residential fence company in Bergen County . A fence contractor can help you design a practical and beautiful white picket fence that meets your security and privacy needs while also improving your home's curb appeal. And if you want the look of a white picket fence without the cost or maintenance requirements of wood, ask your fence contractor about white picket vinyl fencing.

Just because you need a fence to serve a practical and functional purpose doesn't mean you're only option is the same old traditional fence you see throughout your neighborhood. A fence can dramatically enhance your home's curb appeal while keeping pets and children safe and keeping unwelcome visitors out. There are a myriad of materials to choose from, and a fencing contractor in Bergen County can help you design a fence that is unique to your home and reflects your personal tastes and preferences. Here are some popular fence design trends to help inspire you before you meet with your fence builder.
Estate Fencing
Post-and-rail fencing, also known as estate fencing, is a contemporary take on the classic split-rail fence. Although estate fencing does not offer much in terms of security or privacy, the classic look can add a great amount of charm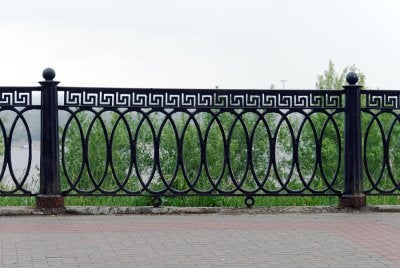 and appeal to your home.
Lattice Fencing
For a more decorative looking wood fence, consider the lattice design. Lattice fences may be constructed using cedar, pressure-treated pine, or natural whitewood, and can be customized with decorative posts and post caps for a personalized look and feel.
Wrought Iron Fencing
Decorative wrought iron fencing has experienced something of a revival in American as of late, and for good reason. Not only is wrought iron durable and lost-lasting, but it's also one of the strongest fencing materials and can provide you with supreme confidence in the safety and security of your new fencing. If you want to achieve the look of wrought iron but don't have the budget, consider aluminum as an affordable alternative.
Custom Fencing
Do you want a one-of-a-kind fence that will be the envy of your neighbors? If so, work with a fencing contractor in Bergen County who can help you design a truly custom fence. Combine different materials and fencing styles to give your property fencing a unique, customized look.

There's a good argument to be made that commercial fencing is more important than residential fencing since it is sometimes used to keep expensive equipment secure and prevent theft that can result in thousands of dollars in losses. Commercial fencing also needs to look good, since the aesthetic around the building can be a big factor in drawing new clients and customers. If your business needs commercial fencing, a commercial fence contractor in Bergen County can help you explore your options and choose the best fencing solution that keeps your business secure while also improving its curb appeal. Some of the commercial fence materials you can choose from include:
Chain link fencing
Wood fencing
Wrought iron fencing
Aluminum fencing
PVC fencing
Your commercial fence contractor can also discuss gates, access control systems, and other features that can help make your fence more secure. If safety and security is not a major concern, your fence builder will help you design a fence that makes your business more attractive.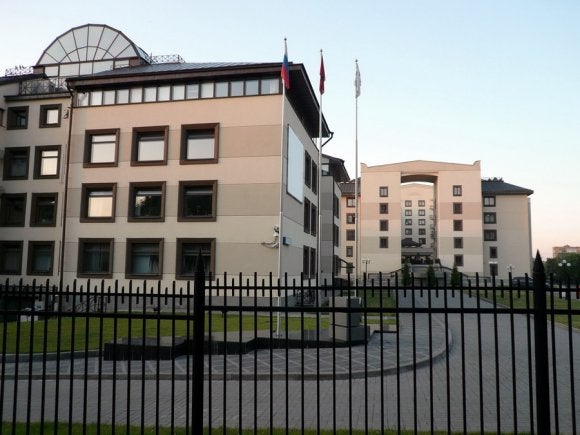 Although wrought iron fencing in America dates back to the Industrial Revolution of the 19 th century, there is still a lot of misconception surrounding this quintessentially American ornamental fencing. If you are considering installing a new fence around your home and have entertained the possibility of wrought iron fencing, here are some facts you should know to help you make a decision. A fence company in Bergen County can answer any questions you have after reading through this.
Pros and Cons
Like any other fencing material, there are pros and cons to consider when it comes to wrought iron. On the plus side, wrought iron is highly durable and incredibly strong. It is also hard to climb over or squeeze threw, making it a high security fence as well. That being said, wrought iron is one of the most expensive fencing materials and does not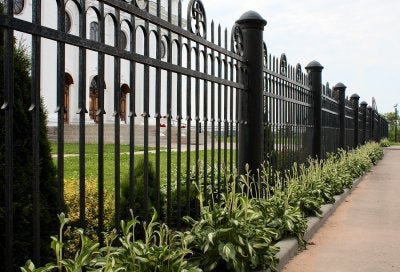 provide a lot of privacy.
Wrought Iron Fence Maintenance
If you decide to have a wrought iron fence installed around your home, you will need to perform routine maintenance to prevent rust . Once or twice a year you will need to visually inspect your fence for early signs of rust and remove any with a fine wire brush. You will also need to apply a rust converter to any areas where there is already rust and apply a thin coat of spray-on primer to the entire fence. You should also clean the fence with soap and water every six months to maintain the paint job.
Cost of Wrought Iron
The cost of a wrought iron fence depends on many different factors, including its dimensions and whether you are adding personalized touches such as decorative post toppers. In any case, a residential fencing contractor in Bergen County can provide you with an estimate on what your wrought iron fence will cost based on the design you have in mind.
Iron vs. Aluminum
If you want to achieve the look and feel of wrought iron for a fraction of the cost, aluminum is an affordable alternative that is indistinguishable from iron fencing. However, aluminum is not as strong as wrought iron and is more easily damaged. There are more pros and cons to consider between wrought iron and aluminum, so talk to your fence builder to decide which fencing material is right for you.

There are many different kinds of fences that you can install around the perimeter of your yard. From vinyl to aluminum to wrought iron, you can design fencing made out of a handful of materials. Before you install Bergen County fences, you should think about what purpose you want the fencing to serve. Watch this video to see some of the best fencing options.
When you decide which type of fencing to install, you should reach out to several fencing contractors to see how much it will cost you to design a fence with them. Outside of asking about the price of their fences, you should also ask companies for references and follow up on them to see which company is best for you. Do your homework before installing a fence, and you will get the most bang for your buck once your new fence goes up.

Whether you want to install vinyl fencing that is easy to maintain or wrought iron fencing that looks elegant and is great for security, you will have plenty of options when it comes to picking out the perfect fencing for your home. Prior to doing it, you should consider what you need a fence for and how much maintenance you are willing to do on it. Here are some of the best fencing options for those looking for fencing in Hillsdale.
Vinyl
When you put up vinyl fencing around the perimeter of your yard, you can choose between a solid privacy fence, a semi-private fence, or a post-and-rail fence that provides very little privacy. Vinyl is a durable material that will last for many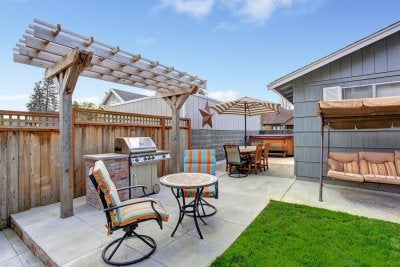 years, and people like having it because it never needs to be repainted or refinished.
Wood
While vinyl fencing is typically only available in white, you can make a wooden fence any color you want by painting or staining it. Wooden fences are also usually cheaper than other fencing options. However, you will need to repaint wooden fences every few years and you may need to do repairs on your fence from time to time, so you should consider this maintenance before you put one up.
Wrought Iron
If you own an older home, installing a vinyl or even wooden fence is probably not a good idea. Those types of fences will not fit the style of your home. Ornamental fences made out of wrought iron are a great option for traditional homes because they add a beautiful design element to them. A heavy-duty metal fence is also great for keeping intruders out as it provides an extra layer of security around your yard.
Chain Lin
Chain link fencing is one of the most popular fencing options because it is cheap and requires very little maintenance. It's not the most attractive fencing option on the market and it's difficult to differentiate one chain link fence from the next, but chain link fences are sturdy and do their job.

Ornamental wrought iron fencing is a great option for those people who own older, more traditional homes, but wrought iron fences can be difficult to maintain and very costly. Anchor Fence Contractors Inc. can provide you with a solution for this by putting up ornamental aluminum fences in Bergen County outside of your home.
While ornamental aluminum fences look very similar to ornamental wrought iron fences, they cost just a fraction of the price. Aluminum also requires less maintenance than wrought iron and will not corrode due to exposure to soil, water, and chemicals. This makes aluminum a great option for perimeter fencing as well as community fencing, security fencing, and more. An aluminum fence will look great outside of your home for years to come, and you will not have to worry about doing much to it. You can trust Anchor Fence Contractors Inc., a fence company that has been around for 15 years now, to properly install your ornamental aluminum fencing for you.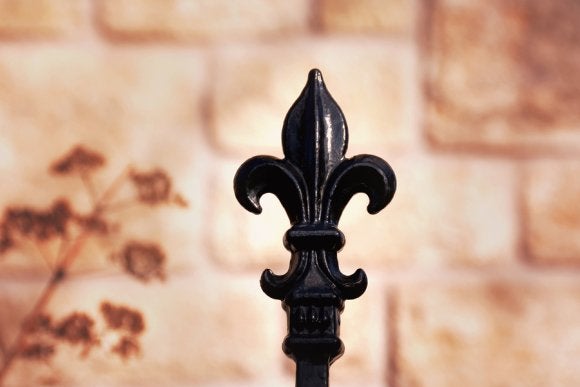 When you install fencing around the perimeter of your home, you can do more than just keep your kids and pets safely inside of your yard. You can also deter criminals from sneaking on to your property. By putting up security fencing in Bergen County , you can keep your family well protected and significantly reduce the risk of becoming the victim of a crime. Here are some things to keep in mind when designing security fencing.
Your fencing should be tall enough to keep intruders out.
While many municipalities will not allow you to build a fence that is any higher than six feet tall, you should consider making your fencing the maximum height allowable by local law. A tall fence will serve as a deterrent for those thinking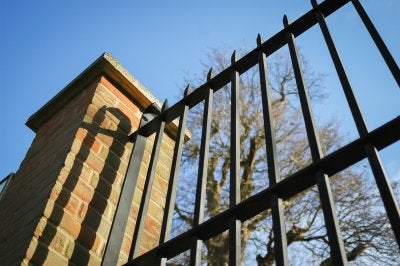 about trying to invade your home. It will also make it difficult for anyone to steal large items from your property.
Your fencing should be made out of a strong material that is difficult to bend or break.
If security is your number one concern when you are looking at fencing options, you should strongly consider purchasing a wrought iron or metal fence. Other materials like PVC and even chain link can be manipulated by potential intruders. A strong metal fence will be difficult to scale, and criminals will not be able to cut through it easily to gain access to your home.
Your fencing should not be easy to climb.
A chain link fence on your property will help keep kids and pets inside, but it will also invite intruders to jump over it. Chain link fences and solid vinyl fences are simple to scale. Go with a fencing option that cannot be climbed easily.
Your fencing should look intimidating to those who walk past it.
Above all else, your security fencing should look like it's meant to keep intruders out. By placing anti-climb spikes on the top of it, you will let others know that you don't want any unwanted guests on your property.

Wood and PVC fences can be beautiful on their own, but the addition of bamboo along the fence line can transform the look and feel of even the most visually-pleasing fence line. This video discusses the two main types of bamboo for planting along a fence line and offers tips on selecting the right type and how to grow bamboo along your fence.
Bamboo is a nice fence highlight, but it won't hide an ugly or damaged fence. If your existing fence is unsightly, contact a fence company in Bergen County to learn about your fence repair and replacement options. In some cases it may be advisable to build a new fence entirely. Your fencing contractor can help you pick the right fence for your home and even choose accessories and accents to elevate the look of your new fence even more.

In terms of aesthetics, no other type of fence comes close to the beauty and charm of a wooden fence. Adding a wood privacy fence around the perimeter of your home will add a tremendous amount of character to your property, and can also do wonders for your home's curb appeal. But while building fences is a popular DIY landscaping project, erecting a wood fence should really be left to a professional fence installation contractor in Bergen County . As you will learn in this blog post, the wood fence installation process requires a lot of steps and a lot of skill to pull off successfully.
Set the Corners – The corner posts dictate the entire fence line, so setting the corner posts correctly is extremely important.
Install Corner Posts – In addition to setting the fence line, the corner posts also play an important role in the structural integrity of the wood fence. Contractors will install these posts with care.
Measure Post Locations – After the corner posts are set, the contractor will connect them with string to establish straight line spans and then measure to determine the location of all other posts along the fence.
Install Posts – The contractor will then dig post holes and fill them with concrete before installing the posts to increase the durability of the fence and also to protect the wood from direct soil contact.
Attach Rails and Boards – Once all the posts are set, the top and bottom rails are carefully leveled and attached by nails or screws to the posts and the face boards are set.
Seal, Stain, or Paint – The final step in the wood fence installation process (and certainly one of the most important) is to finish the posts and boards with paint, sealer, or stain. Your choice will largely depend on the type of wood fencing you use and your desired look.
Archives
2017
2016
2015
2014