Whether you've got just a few tomatoes or an entire crop of farm-fresh fruits and veggies, your garden isn't complete with a garden fence. Not only will a good fence protect your garden from animals and pests, but it will also elevate the aesthetic appeal of your garden and your entire outdoor living space. A fence company in Bergen County can help you design the perfect garden fence. In the meantime, here are some tips to help get you started on a new garden fence.
Consider Fence Height
For starters, think about the desired height of your garden fence. If you mostly have herbs and root vegetables, you will probably want a shorter fence so you can keep animals and pests at bay without blocking the view of your garden. You may also need to consider the shadow created by the fence during the day and how it will affect the amount of sunlight your plants receive.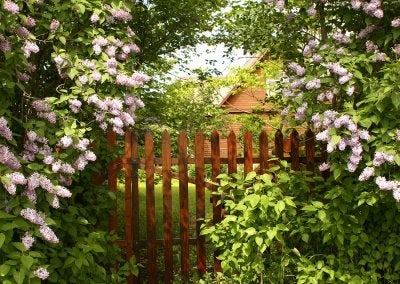 Make Your Fence Functional
A fence will protect your garden from hungry intruders like rabbits and squirrels, but it can also make your life easier while gardening. Your Hillsdale fence contractor can help you pick out fence hardware and accessories that will make your garden fence part storage shed and part boundary fence. You can install different types of hooks and bolts to organize your gardening tools along the fence for easy access whenever you need them.
Merge Fence with Nature
To make your family's garden look like something out of a movie or magazine, plant bushes and crawling vines around your garden fence to give it a reclaimed-by-nature look. Plants and vines can also increase the privacy of your garden fence so you don't need to worry about anyone spying on you while you're relaxing and tending to your garden.