Thanks to a resurgent interest in modern architecture, metal fencing is one of the most popular and fastest growing of all residential fencing types. Even if your home is more traditional in appearance, a metal fence can give your property classic old-world charm. To help you get started on your new fence, here are some great ideas for using metal fencing around your home. If you have questions or would like to bring your vision to life, contact a fencing company serving Bergen County that specializes in metal fencing.
Be Colorful
With the widespread use of powder coating, aluminum and tubular steel fencing is available in a variety of different colors and finishes. The classic wrought iron color is very elegant and beautiful,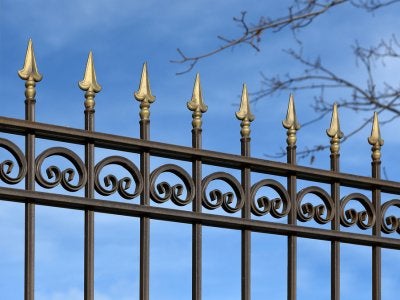 but you can now enjoy all the benefits of metal fencing in virtually any color imaginable! If you want to make your home stand out, contact a fence contractor in Hillsdale and discuss color options for your new metal fence.
Combine Different Materials
Metal fencing by itself looks great, but you can create an even more visually stunning barrier by combining different materials. Metal and wood is a classic design combination that looks great with any style of home ranging from traditional to contemporary. Metal and wood complement one another and help bring out the best qualities of each material. A custom wrought iron and cedar fence is also bound to get quite a few envious looks from neighbors and passerby.
Complement Your Home
When designing a metal fence, be sure to keep the style and theme of your home in mind. For example, if your home is very rustic or gothic, you should consider an ornamental wrought iron fence that evokes an old-world look. On the other hand, traditional metal fence embellishments may seem out of place around a home that is very modern and minimalistic. Your Bergen County fencing company can help you design a beautiful fence that will perfectly complement your home.