When deciding on the color and style of your Hillsdale vinyl fencing, you have several options. Vinyl fencing can come in a variety of colors and styles , making it an ideal fence installation for any home. Let's take a look how you can select the right color and style for your home's new vinyl fencing.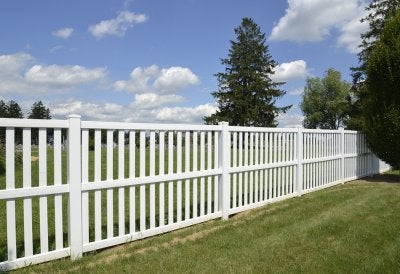 Review Neighborhood Policies
Many homes are part of a neighborhood or homeowner's association, sometimes called a HOA. Part of a HOA's job is to monitor the colors, designs, landscapes, and much more of a home's property, including a fence installation. Before you can have any new fencing installed, check with your neighborhood's regulations to see if there are specific requirements about the color and style of a new vinyl fence.
Check with Your Neighbors
As a common courtesy, it is nice to speak with your neighbors about new fencing, especially if that fence will be shared. Your neighbors may have some requests—such as not painting their side or choosing a style to complement both homes—so try to accommodate them as much as possible.
Match Your Home
After you have been given permission to install a new fence, look for the right fence design and color to match your home. For example, a rustic-looking home will match a brown, slatted vinyl fence over a white vinyl fence. Victorian and cottage houses will look best with short, white vinyl picket fences. Consider the style and color of your home to help you choose the right vinyl fence design. Ask your fence company for suggestions and look at different pictures of your house's style for ideas.
Complement Nearby Surroundings
Choose your fence color and style to encompass your neighborhood's style, but it should also incorporate your nearby landscaping. If you live in an urban area, then you may be able to choose a modern fence design with brighter colors. However, if you live in a quiet neighborhood surrounded by nature, then you should look to more natural colors, such as tan, brown, or dark green.