Whether you are an experienced dog owner, or are bringing home your very first puppy, you will want to make sure that your yard and garden are prepared to accommodate your pet. A sturdy fence and careful landscaping will provide the perfect environment for your four legged friend. With assistance from a company that offers fencing in Bergen County, you will be able to create a fence installation that meets the requirements of your dog. A vinyl fencing installation will come in a variety of fence designs that are both attractive and secure against digging dogs or runaway puppies. Here is an overview of some factors to consider when you are creating a pet friendly yard.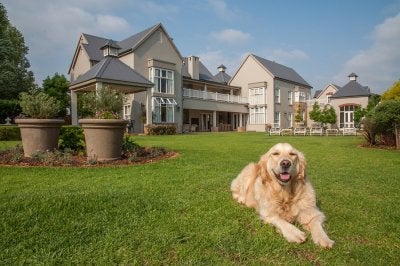 Measure Fence Height
In order to create a pet-friendly yard, you will want to start by measuring the height of your fence. Depending on the breed and size of your dog, your pooch may be able to jump a fence that is up to six feet in height. Installing a tall privacy fence will prevent your dog from escaping over the top.
Add Underground Protection
Along with making sure that your fence is tall enough, you will also want to add protection against digging. An ambitious dog will be able to dig several inches underneath the bottom railing of your fence. Subterranean chicken wire or secure underground posts can discourage dogs from digging. A fence contractor may be able to help you create an underground barricade around your fence.
Repair Any Holes
Intelligent dogs can slip through cracks and holes in a fence. To keep your dog secure inside your fence, you will need to repair any holes around your fence perimeter. Event a tiny hole can create the perfect escape hatch when it is left to get worse over time. Keeping your fence properly maintained will also preserve its overall appeal. With assistance from a fence company serving your area, you can make sure that your fence is secure enough to protect your dog from escaping.