There are lots of benefits of fencing in your yard, but there are even more fencing options to choose from. That's why the most difficult decision isn't the one about whether or not you should get a fence in the first place, but rather what type of fence is right for your home. To help you narrow down your choices, here are some important factors to consider when choosing a fence for your yard. For additional help, speak with a fencing contractor in Bergen County about the different materials and fence design options you can choose from.
Pets
How tall should your fence be? To help answer this question, consider the athletic ability of your pets (if you have any).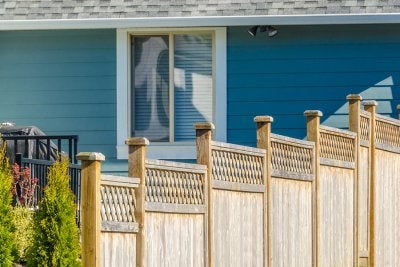 Certain types of dogs can easily clear that are between three and five feet high, so you might want to consider a taller fence to keep your pets contained in the yard. If you have dogs you should also ask your fence builder to bury the fence a few feet to prevent your pets from digging and escaping underneath.
Privacy
How much privacy do you want in your yard? If you want to sunbathe or take a swim in your pool without fear of prying eyes, you will feel more comfortable with a solid privacy fence. On the other hand if you want a fence that doesn't impede your view or block others from seeing your beautiful home, you should be fine with a standard picket fence.
Budget
Obviously one of the most important factors to consider when choosing a fence is your budget. The price for a new fence can vary widely depending on the type of fence and the materials used. Be sure to factor in the price of fence installation when coming up with a budget. Your Bergen County fence contractor can provide you with a quote for a new fence so you can get started.