New fencing in Bergen County is a great way to liven up your property in a universally appealing manner. Each different style of fence installation provides its own unique advantages, and they can all be designed to flawlessly complement your home and property. With limitless styles, colors, materials, and designs to choose from, you are sure to find an iron fence that perfectly suits your needs. Read on if you would like some help in brainstorming a few ideas for your iron fence design.
Outdoor Privacy
When most people think of privacy fences they think of tall wooden fences with pickets that are close together or touching. Although iron fences typically come with their slats spaced farther apart, with a little creativity they too can help you enjoy an elevated sense of privacy. A wrought iron fence creates an aesthetically pleasing backdrop for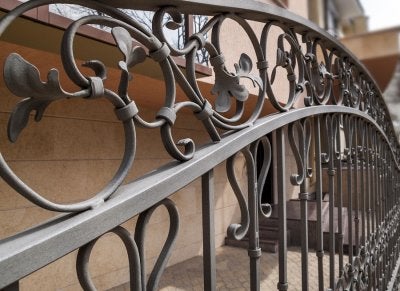 flowers, shrubs, plants, and other growth. If you enjoy the look of substantial vegetation, consider pairing a thick wrought iron fence with a considerable amount of plant life. This can offer an increased sense of privacy without resorting to a definitive, conspicuous tall wooden fence.
Modern Ornamental
An elaborate wrought iron fence may exude luxury and provide your property with an elegant contemporary aesthetic. When it comes to an iron fence in the front yard, consider elaborate ornamental designs that mark the boundaries of your property. This style tends to be particularly effective in urban and suburban areas, especially when the home behind the fence is an architectural beauty in its own right. Consider contrasting black slats of iron with larger white beams to achieve a modern contrast that takes curb appeal to an entirely new level .
Pool Fencing
Each iron fence that is erected is a multifaceted installation that mixes elegance and purpose. Many families choose to line the perimeter of their pool area with an iron fence because of its ability to translucently mark a boundary. An iron fence design that features close-together slats can keep children and pets away from the pool area, and it can do so while bolstering the aesthetic appeal of your backyard.