If you're looking for a cost-effective and long-lasting fencing option for your home, vinyl fencing could be the perfect solution. Vinyl fences are very easy to maintain, and they come in a wide variety of colors and finishes to complement your home's exterior. Whether you're looking for a garden fence, a pool safety fence, or a boundary fence, here are some of the benefits of using vinyl fencing.
Strength and Durability
Wood fences are touted for their strength, but did you know that vinyl fencing is even stronger? In fact, vinyl is nearly five times as strong as wood, making it the ideal fencing material in places that witness extreme weather conditions such as strong winds and rain. Vinyl is also resistant to many of the problems faced by wood fencing, including rot, splintering, and termite damage.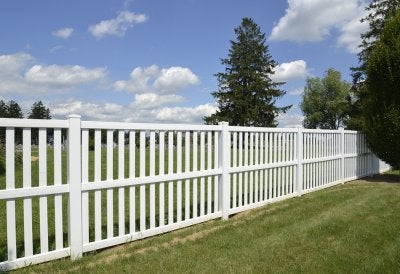 Easy Maintenance
Not only are vinyl fences much stronger than wood, but they are also easier to maintain. In fact, the maintenance requirements for vinyl fencing are next to nothing. Vinyl fencing does not change color or lost its color, so there is no need to repaint or refinish it often. General cleaning with soap and water is sufficient to keep vinyl fences looking like new.
Affordable
Compared to wood and iron fencing, vinyl fences are much more affordable. When you invest in a vinyl fence, you will also save on long-term maintenance and repair costs, including savings on repainting costs as well as costs of primer or any other treatments that might have to be done to keep the fence safe from termites and rot.
Contact a fence contractor in Bergen County to learn more about the benefits of vinyl fencing for your home. Your fence installation contractor can also help you pick the best vinyl fence design for your property.