Deciding to install a new fence around your home is much easier than deciding on the type of fencing material you like best. Each different type of fence material has its own pros and cons, and each type serves its own distinct purpose. Once you've identified a Hillsdale residential fence contractor , refer to this brief guide to help you choose the right type of fencing material for your home.
Wood
Wood is arguably the most popular fencing material in the United States. Few other fence materials offer the same beauty and craftsmanship as wood. That being said, wood fences do require a significant amount of maintenance. Rising lumber costs are also making wood fences more expensive, so you shouldn't wait any longer than necessary if you know you want to have a wood fence installed around your home.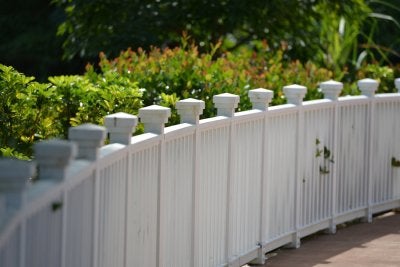 Vinyl
Vinyl is remarkably durable and adaptable to many architectural styles. Quality vinyl fences are known to last for 10+ years without fading, and they require very little maintenance. Color is limited, however, and wide gates areas will require reinforcement to prevent sagging.
Wrought Iron
The strongest of all common fence materials, wrought iron fences are great for protection and safety. A decorative wrought iron fence is also quite beautiful, especially when designed and installed by a Bergen County fence expert. Wrought iron can rust quickly if scratched, however, and the cost can be prohibitive for some homeowners.
Chain Link
In terms of low cost and low maintenance, nothing beats chain link fencing. Although chain link is not the most attractive fencing type, it is long lasting and can be made more beautiful with growing vines and other decorative touches. Chain link is obviously ideal for sports courts, dog areas, or any area needing a temporary fence.